By Bud Wilkinson of RIDE-CT.com
Winter sometimes ends abruptly, which is a good thing for both riders and RIDE-CT. While the proprietor of RIDE-CT yearns to ride during the cold, snowy months like all others who own bikes, what's sometimes really frustrating is the lack of fresh column ideas. Bikes have been put away and the riding mindset is in storage, too, meaning ideas, tips and suggestions don't come in like they do in spring, summer and fall.  Suffice to say, spring arrived over the weekend.
On Saturday, I was driving through the ATM at Thomaston Savings Bank in Harwinton when a young guy putted in on a very sharp looking 1982 Suzuki GS 300. After getting cash, I waited and stopped him. Seems his whole family rides – his dad, his mom and his younger brother. Bank one idea for a future column.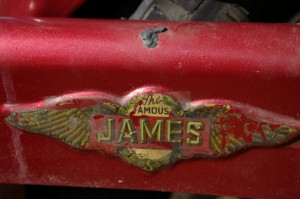 On Sunday morning, I drove to Naugatuck to meet a guy who last year was given a 1955 James, a single cylinder bike from England. He was curious about the brand and I was certainly thrilled to see it. The bike's the centerpiece of this Saturday's RIDE-CT in "The Republican-American."
Driving home, my phone rang and it was my friend Brian from Cornwall calling with another story, while Sunday afternoon, when covering a garage fire for the newspaper, I met a guy from New Hartford who has a collection of Harleys, including a Panhead and another with a Marilyn Monroe/James Dean paint scheme. Bank two more columns.
Combine those ideas with the fact there's a new motorcycle museum opening in Newburgh, N.Y. later this month that warrants a look-see and the bonus of Ducati loaning me a new Diavel for a week's worth of riding this coming Saturday and, well, it's very obvious that spring is here!