Ask someone on the street to name an Italian bike brand and Ducati will probably be mentioned first, followed by Moto Guzzi if that person is really savvy. Despite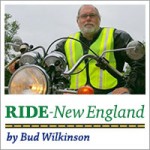 being owned by Vespa-maker Piaggio for the past 10 years, Aprilia isn't a motorcycle make that quickly comes to mind. Sure, Aprilia has had success in the race world but motorcycle racing in the U.S. is about as popular with the broad riding populace as quicksand.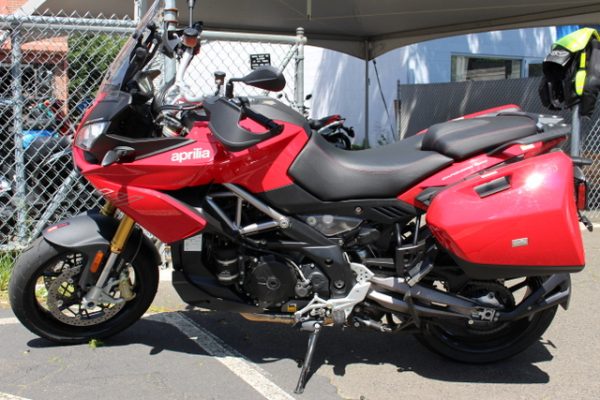 Aprilia is now out with a model, though, that has the potential to raise its profile, even if the model name is extensive – the 2014 Aprilia Caponord 1200 ABS Travel Pack. That's certainly an unnecessary mouthful. The "1200" refers to its engine size: 1,197cc with 125 horsepower. The ABS is self-evident, while the Travel Pack, I'm assuming, refers to either the hard luggage that makes the Caponard ready for long-distance touring or all the electronics that will make such touring joyful.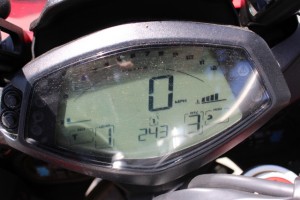 New Haven Powersports loaned me one for the afternoon on Thursday, and it was a treat. Ergonomically, the Caponard is a dream. I'm 5″ 10″ and have a 30-inch inseam. With its 33-inch seat height I could almost flat-foot it; not that the bike is tough to hold up at a standstill as it only weighs 502 pounds (dry).
The upright seating position is extremely comfortable with a natural reach to the handlebar. The large but not unattractive rear-view mirrors provide the best view behind of any bike that I've ever ridden. The digital instrument cluster is a breeze to read, especially the large miles-per-hour readout.
While the ride-by-wire throttle can be touchy, although nowhere near as spontaneous as other bikes that I've written, the roll-on is smooth and the clutch easy. There are three riding modes – Touring, Sport and Rain – as well as three suspension settings. The suspension can be set for a solo rider, for a rider with passenger, and a rider with passenger and full luggage.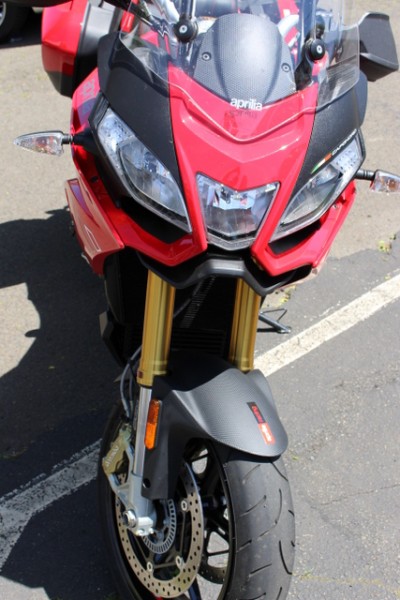 The ADD (not what you think, it stands for Aprilia Dynamic Dampening) is even capable of reading conditions on the fly and adjusting the suspension accordingly. If it rains, it softens the ride. If you're riding aggressively in twisties, it tightens it up.
The Caponord was set in "Touring" mode when I got it and I never felt it necessary to change the setting as the bike had strong pull from both at standstill and at speed. Handling was smooth and sure. The front fairing and windshield, and the hand guards, certainly protected well. This is one refined and well-engineered machine.
Yes, it has traction control and cruise control, another feature I didn't try because I stuck to state roads and didn't get on the parkway. I did manage to get it into all six gears, although the shift between first and second requires a little extra effort or you'll end up in neutral.
A 6.3-gallon tank gives the bike range and a price tag of $15,499 makes it a "reasonable" acquisition. While more expensive that a Suzuki V-Strom 1000 ABS Adventure ($13,999), it's cheaper than a KTM 1190 Adventure ($16,499) or Ducati Multistrada 1200 S Touring ($19,995).
The constant fear when demo riding is something going wrong and, yes, I broke it. A small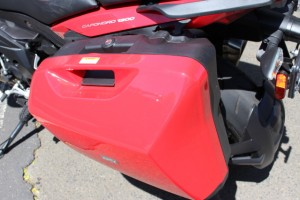 metal clip inside one of the side cases went flying when I tried to sneak my camera bag behind the interior restraints. It's probably somewhere in the parking lot at Katz's Deli in Woodbridge, CT.
The Aprilia Caponord demo bike, meanwhile, is back at New Haven Powersports. Having never ridden an Aprilia before, I'm impressed by the polish and by the technology. Riding home on my 2008 Suzuki V-Strom, which I love, it felt like going back in time.