STURGUS, SD – They came, they saw, they partied. Attendance at the 80th annual Sturgis Motorcycle Rally was only off 7.5 percent from last year's rally, despite the ongoing COVID-19 pandemic.
A 10-day total of 462,182 people rode into town from parts unknown, according to final numbers released by the state Department of Transportation. Attendance in 2019 was 499,654.
Monday, Aug. 11 had the highest attendance with 56,972, while Sunday (Aug. 16) had the least attendance with 21,058.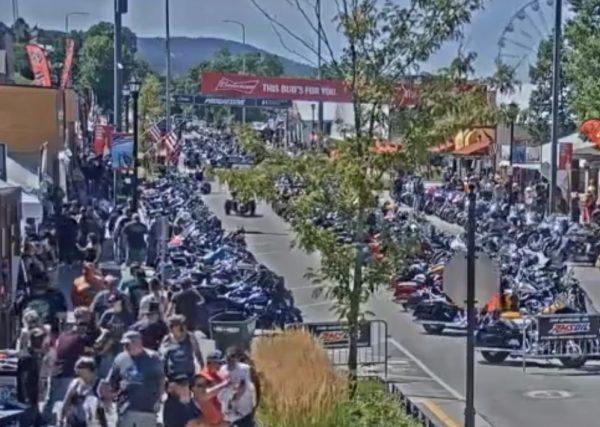 The rally ran from Aug. 7 until Sunday. Five people died from crashes during the event, up from two in 2019, the state Department of Public Safety reported.
Also on the upswing were the overall crime numbers, with increases in misdemeanor drug arrests, injury accidents, non-injury accidents and DUIs.
The number of felony drug arrests totaled 126, down from five in 2019. Misdemeanor drugs arrests rose to 241 from 213. Authorities seized $18,763 from rally attendees, mostly due to drug arrests made during traffic stops, DPS reported.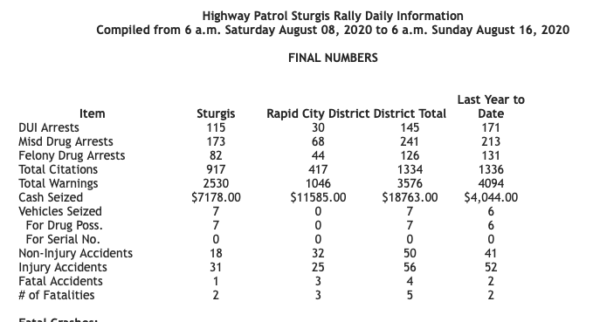 A total of 396 people got booked into county jail, a sizable jump from the 48 in 2019, by state Highway Patrol, the sheriff's office and local police departments.
Meanwhile, the state Department of Health reports that a bar patron who spent the afternoon of Aug. 11 at One-Eyed Jack's Saloon has tested positive for COVID-19.
"Due to the risk of exposure, individuals that visited the business during the specified dates and times should monitor for symptoms for 14 days after they visited," the health department said in a news release.
The incubation period for coronavirus is two to 14 days, so the impact (if any) across the country of staging the Sturgis Motorcycle Rally may still not be known for a while.
The only other big motorcycle rally this year begins Saturday with the start of Laconia Motorcycle Week in New Hampshire.
Hello! If you enjoyed this story, please share it by clicking on the social media buttons below.