SCOTTSBLUFF, NE – Seven cases of COVID-19 traced to the Sturgis Motorcycle Rally in South Dakota have been reported across the panhandle of Nebraska, the local health department said Thursday.
"They are scattered throughout the Panhandle," said Panhandle Public Health Director Kim Engel at a daily briefing covered by the "Scottsbluff Star-Herald."
Contact investigations identified Sturgis as the originating point for the Panhandle cases.
"These are actually people who live in our Panhandle Public Health District area and that we have investigated, who went to Sturgis, and that was the point of exposure," said Paulette Schnell, Scotts Bluff County Health director.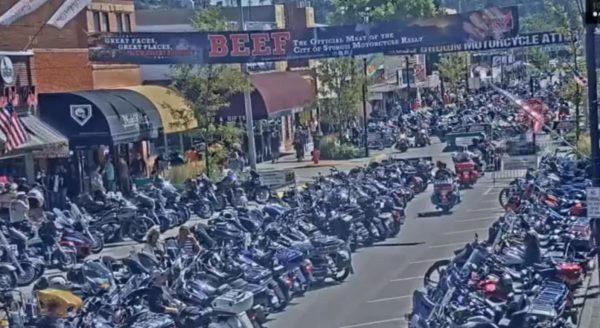 The 10-day Sturgis Motorcycle Rally ended Sunday and attracted 462,182 attendees, a drop of 7.5 percent from 2019.
Before it began, health officials were concerned that it might turn into a "superspreader" event. The incubation period for the virus is two to 14 days,. The Nebraska cases are the first to be reported outside of Sturgis, where one man who tested positive spent the afternoon of Aug. 11 inside One-Eyed Jack's Saloon.
"That gathering was the largest gathering that occurred in the world since the pandemic began," Engel said. "It was a pretty significant event."
South Dakota health officials have pinpointed a number of people who attended the rally and have now come down with COVID-19. The total number of rally-goers who have tested positive is currently under 25, The Associated Press reports.
Meanwhile, "The Washington Post" today quotes the president of the South Dakota State Medical Association, Benjamin Aaker, as saying the true impact of the rally being held may never be known.
The newspaper also quoted Aaker as saying that for every case that's identified, there are probably many more that South Dakota officials will never hear about: the people who never got tested but passed the virus on, the people further down those chains of transmission who will never be linked to the rally."
With the Sturgis rally completed, the COVID-19 watch now turns to the Northeast and the Laconia Motorcycle Week rally, which kicks off Saturday in New Hampshire.
Hello! If you enjoyed this story, please share it by clicking in the social media buttons below.