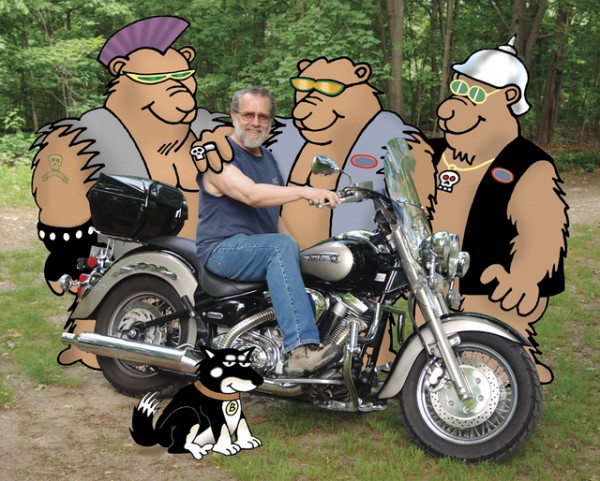 Paul Jamiol and Friends
By Bud Wilkinson of RIDE-CT.com
Paul Jamiol holds the opinion that bikers are animals. No, not animals like the thugs who attacked the SUV driver in New York in late September or the inconsiderate types who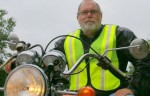 ride with excessively loud exhaust pipes and shatter the tranquility, rather actual animals, such as bears, cows, birds and lions. He has the drawings to prove it.
Earlier this month, Jamiol published his fourth children's book on motorcycling. It's titled "Bikers Are Animals 4" and is designed to introduce all youngsters – and not just the offspring of riders – to the joys of recreational riding.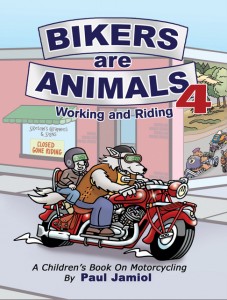 All of the books in the series depict animals as riders. They're shown riding cruisers and sport bikes and even off-road rigs. His first was published in 2009 with the other two sequels following in 2010 and 2012. The goal is simple.  "I hope (kids) get out of it a love of motorcycling, or an interest in motorcycling, or not to be afraid of motorcyclists," Jamiol said.
He realizes that the motorcycling population is graying and needs an infusion youth. "It's getting old and older and older. We need to bring kids into it," he said.
The 67-year-old Jamiol, who was born in Cambridge, MA and has lived in West Roxbury, MA for the past 25 years, is a longtime rider. "I started riding in my early 20s. I started with a Honda 450 Scrambler and then I went to a Yamaha 650," he said. Over the years, he's owned a few Nortons. Between 1986 and 2001, he rode a Moto Guzzi Le Mans. Since 2001, he's ridden a Yamaha Road Star 1600.
"My favorite right now is the one I'm riding," he said, allowing that his riding has been limited lately. I've had a couple of backs issues. I don't get out as much as I'd like to. You get on a motorcycle it clears your head."
Jamiol spent 34 years writing and cartooning for "The Motorcyclist's Post" before retiring. The idea for the books germinated prior to that after an old family dog passed away. He did a cartoon of him on motorcycle. "I started developing a few characters and I ended up with 10 characters. I did two centerfolds for 'The Motorcyclist's Post.' They looked really cool."
A book was the natural next step. The first two books were character studies that depicted a total of 25 different characters. The third book centered on a mountain adventure. The current book presented him with a challenge, though. "When I started it I wasn't sure what I wanted to do," he said, explaining that he eventually came up with 16 new characters, kids who show what the adults in their lives do for work. The common thread is that they ride, and take the kids with them, in their free time.
For instance, there's Maks, a wolf whose father Sketch is an artist. There's also Mya, whose dad Spike is a chef.  And there's also Gar…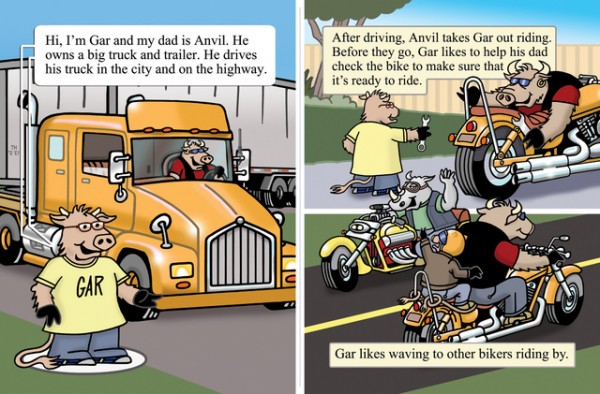 "I tried to balance it out and make sure there was a good representation of females," Jamiol said. "It was an eight-month project. Drawing, inking them in, doing scenes. It took me a good thousand hours to do it. Now I want to relax a little before I do another one. I think I'll definitely do one more. They're fun to do."
Jamiol has a website – bikersareanimals.com. His books are available from Amazon. The cover price of "Bikers Are Animals 4" is $14.95.
(Originally published in "The Republican-American" newspaper in Waterbury, CT on Nov. 23, 2013.)