By Bud Wilkinson of RIDE-CT.com
With Keith Bruno having closed The Shop in Winsted, CT and moved to South Carolina, Redline Powersports is prepping for a move up the street into The Shop's former quarters. Redline Powersports owner Shannon Fry hopes to occupy the cozier quarters at 920 Main St. by the second week of December.
Redline Powersports is currently located at 70 S.Main St. in Winsted. It sells and repairs used motorcycles, ATVs and snowmobiles as well as sells parts and accessories. "It'll be a nice move. It has better access in and out of the parking lot. We'll actually have a parking lot. It will be homier," said Fry of the new location. The move will also enable her to add a second mechanic as well.
—
When last we saw pro racer Kenny Coolbeth Jr. of Morris, CT, he was was riding a single-cylinder Kawasaki KX 450F motocross bike on a frozen pond in nearby Warren. That was back in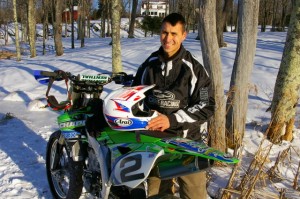 January. (Story here.) He was already in training for the coming season with Chaplin Kawasaki in Chaplin, CT backing him in the singles class and Harley-Davidson providing him a team ride in twins aboard an XR750.
However, after having ridden for Harley for eight years and having won the AMA Grand National Twins Championship for three consecutive years (2006-2008), Coolbeth and the company recently parted ways. Yesterday it was announced that he's found a new team to ride for – Zanotti Racing.
Coolbeth will still be riding XR750's in twins, but will switch to a Honda CRF450 in singles, with  Burt Ives Honda in Columbia, CT being his sponsor. The Honda dealership is in the process of being purchased. Kenny Ives, who already owns Chaplin Kawasaki, is buying the Honda store from his father, Ken Ives Sr., and expects the transaction to be completed soon.
The 36-year-old Coolbeth is enthused about being able to continue a pro racing career that began in 1994 when he was still in high school. He was named AMA Fat Track Rookie of the Year that year. "I am sure we will have the best equipment out there and I am looking forward to winning races and have fun doing it," he said.
The AMA has more here.
—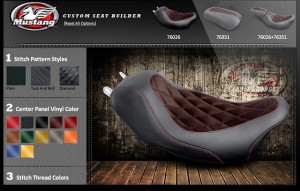 Mustang Seats, which is based in Three Rivers, MA, is expanding its seat options and adding a lot more color in the process. The company is now enabling customers to customize their seats with a variety of stitch patterns, panel colors and stitch colors. So much for the standard basic black.
"This gives you the opportunity to make your seat as unique as your ride," said Mustang's director of sales, Steve Veltri, in a press release.
"We added distressed brown to the mix last year, but now we have a full spectrum of colors to choose from, including everything from Sky Blue and Burgundy to Goldenrod and Gun Metal," he added.
Color swatches will be sent to those who maybe wonder if the colors appearing on their computer screens are accurate. There's more info from Mustang Seats here.
—
Is Harley-Davidson really a "celebrated chopper company?" I never knew that Harley built choppers, but that's what a press release issued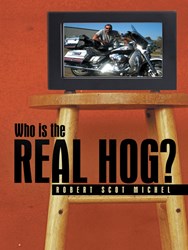 yesterday out of Milwaukee firmly declares.
The release, distributed by prweb.com, touts a new softcover book titled "Who is the Real Hog?" It's described as a "memoir" by Harley dealer Robert Scot Michel, whose "stories invite readers to experience international motorcycle trips, pitfalls and perks of working in the motorcycle industry and rendezvous with a diverse group of women." Huh?
If the book is as poorly-written as the press release, it's certainly one to avoid. The book's available from Amazon as well as Barnes and Noble. Would love to tell what the price is, but the press release neglected to mention that basic fact.