This evening I found myself sifting thru pictures of motorcycles that I have owned. I like to do that from time to time. In doing so, I got stuck looking at several pictures of the 2003 BMW K 1200 RS currently within my herd.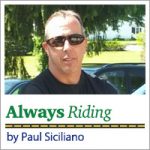 Though it wasn't purchased new, I can say I knew of her since she was born. When the model was introduced, I walked myself into Adventure BMW in Chesapeake VA (not far from where I lived at that time) with my two children to allow myself a look at this new K bike. After all, where would any other motorcycle enthusiast dad go with their children but to look at motorcycles right?
The sticker price was way too much for me at that time to own this beauty. As a result, it became my unicorn of sorts. I remember leaving the dealer convinced that someday I would have one. The years that followed that day put me in the saddle of many other fine motorcycles – some sport some touring and, of course, a bagger or three – but that K12RS was always special to me even though I never rode it.
While every other bike that I have owned has left me with a story or two – some for difficulties working on them or maybe a roadside episode perhaps – the K12RS became a very special bike to me for no other reason than I had been aware of. At least at that time of my life.
My wife and I moved to Connecticut several years ago. We bought an old farm house in the country and moved my mother in with us. My mom, who was now diagnosed with Alzheimer's as well as being a cancer patient, was at a time of her life when it was she who needed to be cared for rather than caring for others as she always had. My wife, Emily, and I became her full-time caregivers.
Two weeks after moving into our new home and beginning a new way of life, the unthinkable happened. I was struck down with a near-fatal medical issue that hospitalized me. While recovering, I was tethered to a hospital bed for an extended period. What does one do with this kind of unexpected time? Scan the internet for used motorcycles.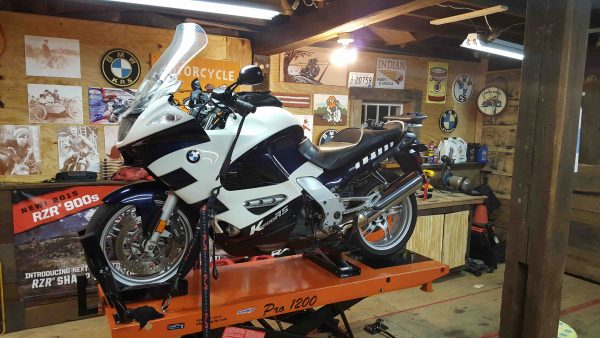 The first bike I stumbled upon on Craigslist was – you guessed it – a 2003 K12RS in the exact same color scheme I have dreamed about for nearly a decade. I wasted no time and called on it.
The price was right. There were service records. And, get this, it is located not two miles from my new home. How is this not meant to be, right? I explained to the owner that I was in the hospital but that if the bike was what he said it was, the day I was released I would come by and purchase it – even if I had to crawl there.
That is in fact what happened several weeks later – except for the crawling part. It took several months for me to get strong enough to ride again, but I had the unicorn to look forward to as motivation to heal.
Over the next couple years, I added about 40K to the odometer of that bike. Great times, great rides and countless thrills had. I had become one with this machine. I even gave it a name – "The Fraulein."
As Mom progressed in her disease, things became very complicated. I found myself needing to escape the reality of what was happening to her and the Fraulein was my vehicle of choice to do that. Emily would allow me to head out every Sunday to recharge my mind and my spirit, and she alone would care for Mom. She linked our phones so she could track me via GPS as I never had a destination.
Rain, sleet, cold. No matter what conditions I would get in 300-500 miles of riding every Sunday stopping for nothing but gas.
For me, helmet time is medicinal. Upon returning, I would tell my mother where I had gone. Recounting how had I ridden to the top of Vermont for breakfast would fascinate her. Each trip and our discussion of it was like a fairy tale for her. I will always remember these talks.
When life's hourglass began to run out for mom, I wished to have a picture of her and the Fraulein together. The bike I always wanted that took me away each Sunday became a bond. Mom still comes with me on every ride. "Where are you going on that thing today Paul?" is something I hear in my head each time I fire it up and probably will so for the rest of my life.
Because this bike is not for sale!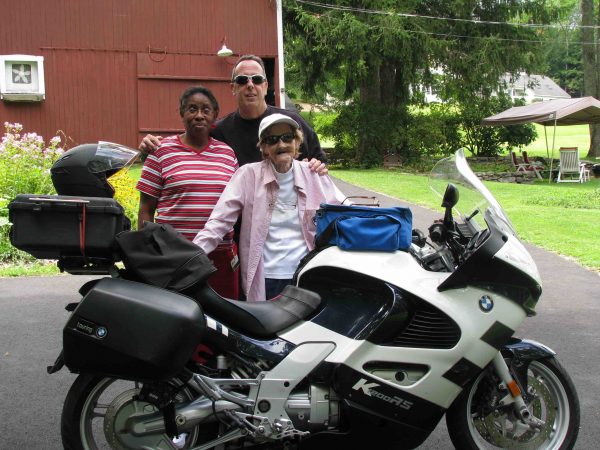 The above picture is Mame, myself and Mom. Mame helped care for my Mom at the very end.
Without her, this picture would have never happened.