EAST HAMPTON, CT – Only at Brit Jam is it possible to see a rare, pricey and legendary Vincent Black Shadow from the mid-20th century at one end of the show ground and a strikingly clean Suzuki GT750 two-stroke "Water Buffalo" from the 1970s at the other end.
The title of the annual show staged by the British Iron Association of Connecticut suggests that it's solely a British meet, but the club wisely welcomes and celebrates all brands and vintages.
On Sunday, the 36th edition attracted a large crowd, and no one went away disappointed by the wide variety of makes and models displayed at the Haddam Neck Fairgrounds.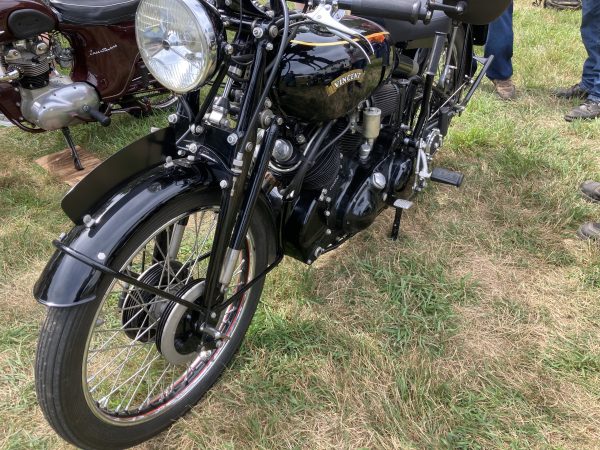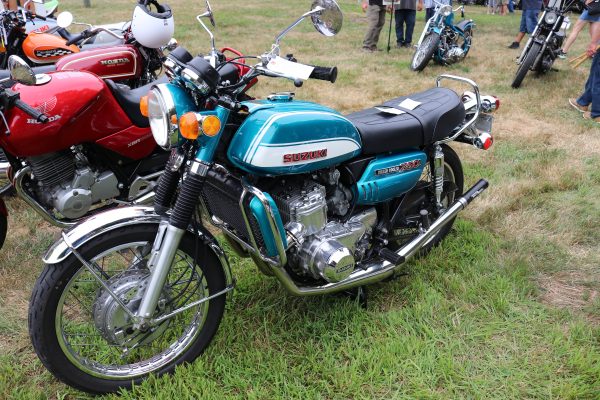 "As far as I can tell, this is the biggest turnout we've had to date. All of the categories have been full or over-full. It's the largest show field we've had, too," said Tom Higgins, president of the BIA of Connecticut. "We're all seeing friends we haven't seen in some time and making new friends as well."
In addition to show bikes, Brit Jam features vendors selling everything from parts and gear to food trucks offering a variety of eats.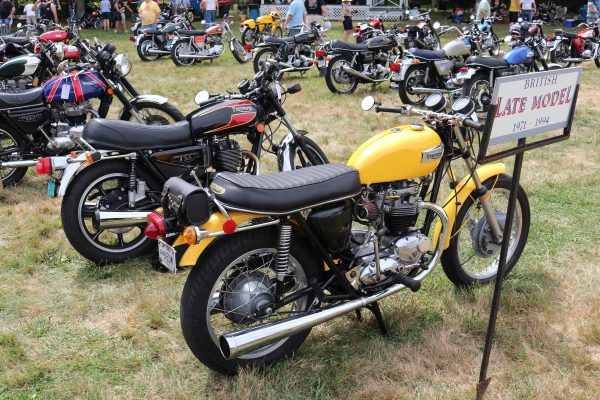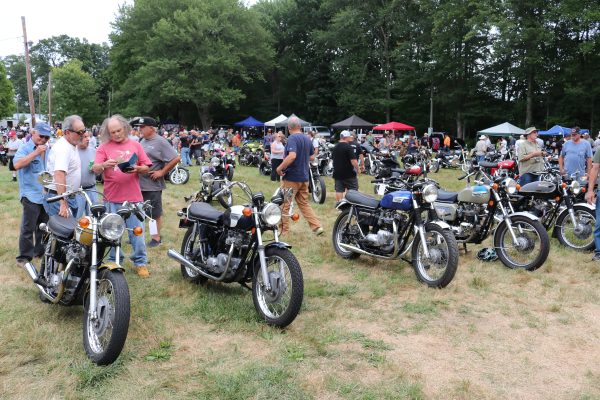 Among the amazing motorcycles found on the show ground was an original 1957 Triumph Twenty One/3TA, a 349cc, entry level twin that came out in 1957 and lasted into the mid-1960s. Paul Hoshyla of Manorville, NY on Long Island brought the example that he bought at auction some 18 years ago. It had 3½ miles on the odometer at the time of purchase and only shows 165 miles today.
"I happened to like it," Hoshyla said matter-of-factly. He recalled that it had been sitting for 50 years but started on the third kick once fluids were added. Hoshyla added that he's been told his is the only one ever made in deep red; that it was built as a display model for a London show at the time the model was introduced.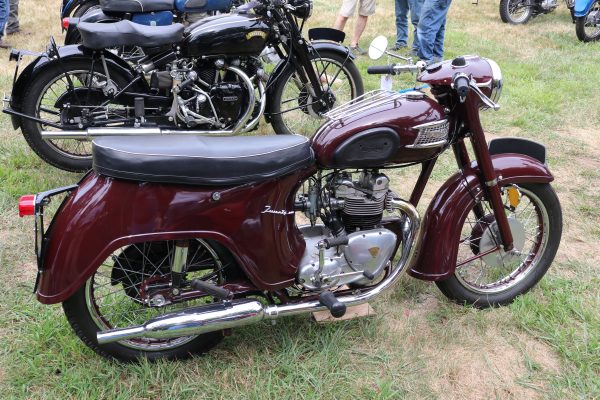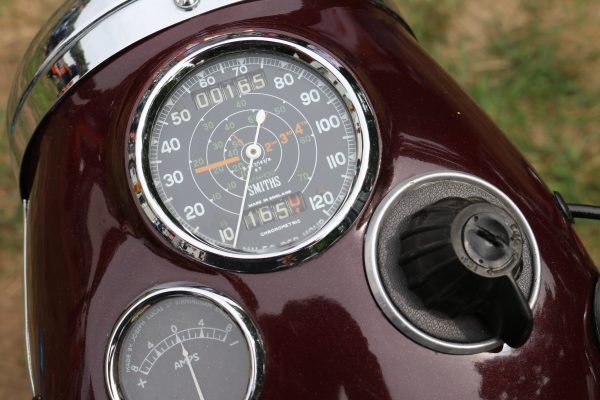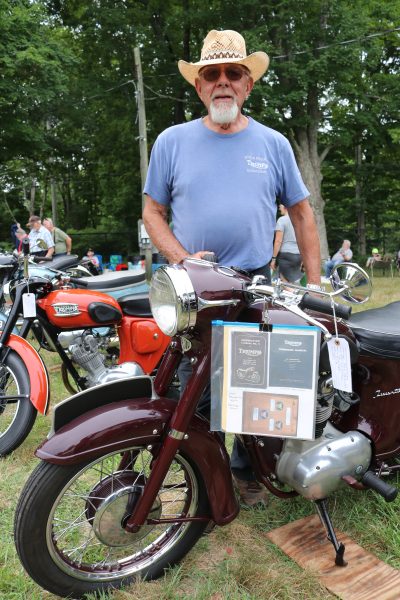 If Hoshyla's Triumph was practically new, over at the vending area, Ben Delmonico of Prospect, CT had an attractive item for sale that was unmolested and in its original packaging. It was a gas tank for a Honda CB350 (which was built from 1968 to 1973).
Delmonico explained that he bought a bike recently and the seller tipped him to a cache of parts from a long-defunct Honda dealer in New York. The store closed in 1980 so the parts had been sitting for decades. He was able to make contact a month or two ago and buy 15 never-sold gas tanks. They fit such models as the CB750, SL100, SL125, CL450 and more.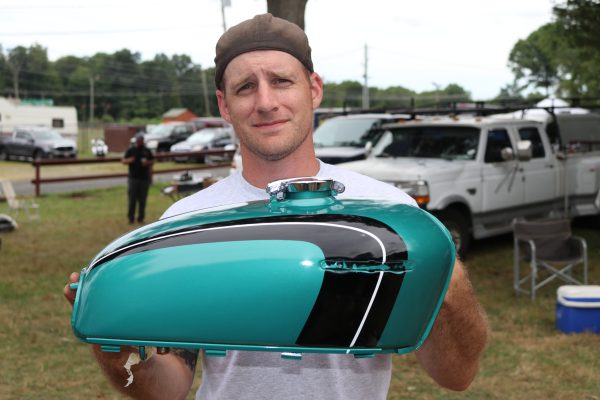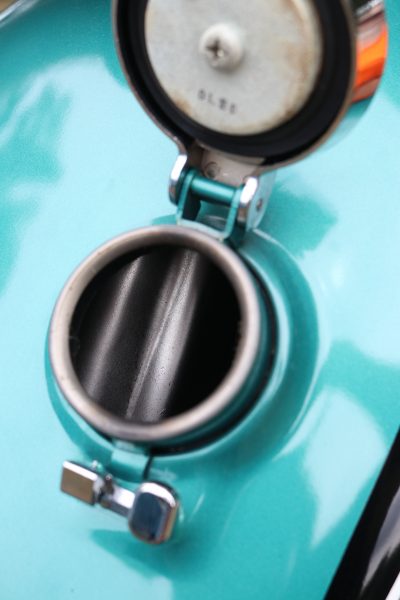 Delmonico rerported that he has already sold five of the tanks. He's priced them from $800 to $1,500. He made sure RIDE-CT & RIDE-New England got a good look inside the CB350 tank.
Brit Jam does give British brands special preference on the show ground, exalting the past by showing off such brands as BSA, Velocette and Norton. But this year's show also provided the opportunity to see rarities from BMW, Harley-Davidson and even MV Agusta. In addition, there were choppers, "bitsa" bikes and café models.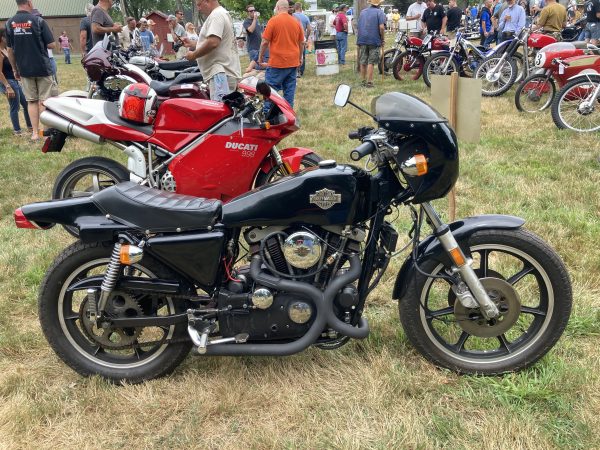 As always, the nearby parking lot provided a show within the show as many riders attended on vintage models.
Hello! If you enjoyed this story, please share it with other riders by clicking on the social media buttons below.