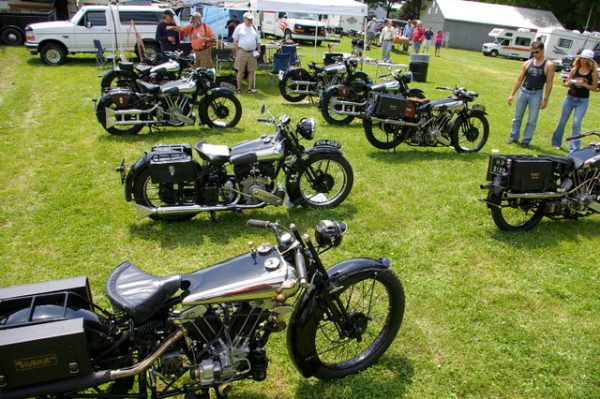 It's a bike brand that most riders probably don't recognize – Brough Superior. Only 3,000 or so were ever built, fewer than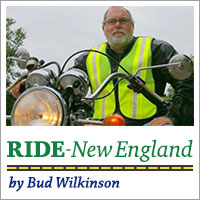 1,100 exist today worldwide and there may only be 175 in the entire United States. Seeing eight of these rare, elegant and pricey motorcycles assembled in one location was an unforgettable experience that will not likely be repeated in this lifetime.
"They cost the same as a house then. They cost the same as a house now," said Bryan Bossier, an asphalt highway contractor from Woodworth, La. and a "hobby collector" who owns three Brough Superiors – a 1926 SS100 Alpine Grand Sport, a 1937 SS100 Bentley Draper model (one of seven ever made) and a 1939 SS80.
He's not exaggerating. Brough Superiors, custom crafted in England between 1919 and 1940, are valued from $100,000 to more than $1 million apiece. The eight on display in June 2009 at the Duchess County Fairgrounds in New York were possibly worth $3 million.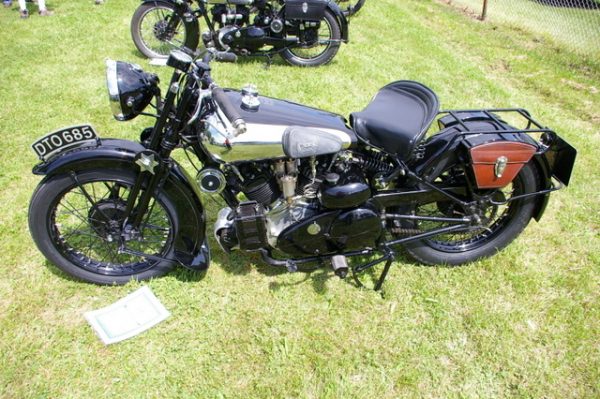 The fact that many spectators at the Rhinebeck Grand National Super Meet didn't know how to correctly pronounce the name – Brough is properly pronounced "bruff" – suggests that they couldn't fully appreciate what they were seeing. Owners Bossier, Michael FitzSimons of Greenwich and Victor Olson of Putney, Vt. are used to such ignorance from the general riding populace.
For those who could appreciate them, though, seeing them together, hearing one fire and run smoothly, and absorbing tales of the specific bikes and tales of yore from their owners was truly memorable, the most commonly known tale being that T.E. Lawrence ("Lawrence of Arabia") died in a crash while riding a Brough Superior. It was the seventh Brough Superior that Lawrence had owned and he had an eighth on order at the time of his death in May 1935.
"These are the finest motorcycles ever built," said FitzSimons, who has worked for both Sotheby's and Bonhams assembling motorcycle collections for auction. FitzSimons hesitated in disclosing how many Brough Superiors he owns, and would only disclose that he'd brought a 1925 SS100 to the show, a bike that company founder George Brough had personally owned. FitzSimons managed to find it in India.
"He made bikes that suited him," said FitzSimons, explaining that the earlier models were sportier, while the ones made from 1935 through 1940 had larger gas tanks, tires and seats and were more of a "gentleman's bike."
Brough Superiors used primarily J.A.P. (J.A. Prestwick) engines from 1919 through 1934 and then switched to Matchless motors from 1935 through 1940. SS80 models were street tested at 80 miles per hour before being turned over the buyer, while SS100 models were tested at 100 miles per hour.
"It's magic to ride – the power, the feel," said Bossier, who owns 75 motorcycles in all and rides two of them every day. He rides one to work in the morning and then back home at lunchtime. He then grabs another bike.
While the fit and finish of Brough Superiors were incomparable for the time, they were – and are – maintenance intensive. They need to be serviced every 200 to 300 miles, and the SS100 model has 16 grease fittings that need to be addressed each time, according to Olson, who is regarded as the leading Brough Superior mechanic in the country having worked on approximately 35 over the years.
"I fix what's wrong with them," he said. But that's only temporarily. "They're 70-year-old motorcycles and they break again."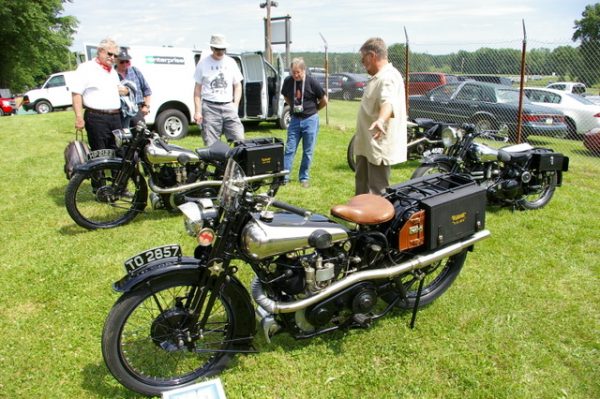 Olson owns both an SS80 and an SS100, putting roughly one thousand miles on each every year. "I said, 'To hell with it, if I break it, I can fix it.' If you can't ride it, you shouldn't own it." He doesn't plan to stop riding them, either. "When I can't start 'em, I'll sell 'em," he said, referring to when he gets too old because his bikes are already older than he is.
While FitzSimons has ridden the Brough Superior that he brought to Rhinebeck, he no longer does so for physical reasons. "I don't ride presently. My reactions are terrible and my vision is awful," he said.
Brough Superiors aren't without their shortcomings. "They have horrible brakes – really, really horrible," said Olson, who got his first Brough Superior, a 1938 SS80, in 1979 by trading a 1936 BSA for it. "I rebuilt it – a couple of times, because there was no information out there," he said.
He acquired the 1937 SS100 two years later. "It was in many, many boxes. Many, many parts." His success in getting them running prompted other owners to start calling him when repairs were needed. He currently has four sitting in his workshop awaiting service or repairs.
Olson's favorite time to ride is around dinnertime when the roads have the least traffic, and he takes rural routes. "They're nice old friends," he said of his Brough Superiors.
In talking with the three Brough Superior owners, it was evident that all three appreciate their motorcycles on several levels – as historic, romantic relics, as investments and as legitimate riding machines.
"You can appreciate it, while it's appreciating for you," said Bossier. "They've gone through the roof. Houses have gone down (in price). These things may stop skyrocketing, but they'll never fall."
There are just too few of them and each one of them is unique, made from parts that were outsourced.
"Brough didn't make any of them himself. They were assembled from components – the finest available. They were all 'bespoke,' which is an English word for custom," said Bossier. "They're very coveted, so they have a very high survival rate."
Can you name any other bike maker that has nearly one-third of its total output still around nearly 70 years after it went out of business? This fact alone confirms why the Brough Superior was considered the Rolls-Royce of motorcycles.
(This column originally ran in "The Republican-American" newspaper on June 20, 2009.)