***CLASSIC RIDE-CT***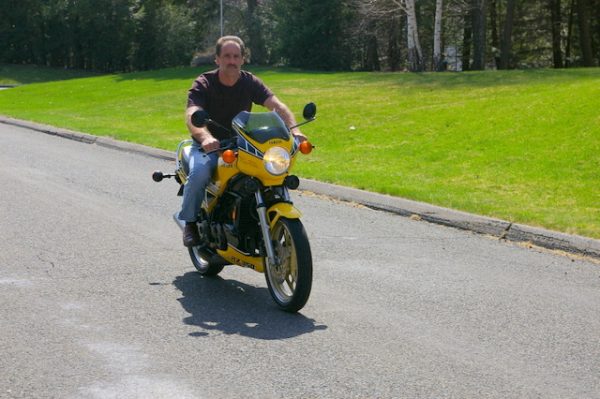 By Bud Wilkinson
Tim Van Deusen was mystified when a postcard arrived at his Torrington, CT home from Forza Motorsports inquiring whether he might be interested in selling his 1984 Yamaha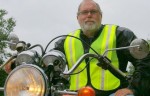 RZ350. Forza Motorsports is a dealer of high-end exotic cars and motorcycles in Gaylordsville, and Van Deusen wondered how the company had heard that he owned such a collectible bike.
For the record, Van Deusen has no interest in selling the pristine Kenny Roberts race replica that he's owned (at that point) for 26 years. He bought it new in 1984 when he was in the U.S.
Army stationed at Fort Carson in Colorado. When he got shipped to Germany, the RZ350 went with him.
"The bike got more miles on it going overseas than it's got on the odometer," said Van Deusen from a perch on the elevated rear deck of his home after taking the bike out of winter storage and riding it from a heated basement to the garage. He pegged the bike's mileage that day at 9,928 and promised, "I'll break the 10,000 mark this year (2010)."
Yamaha only sold the RZ350 in the U.S. for two years, 1984 and 1985, and it is a sought-after bike today because it is regarded as the last road-going two-stroke motorcycle in America. Street legal two-stroke bikes vanished with the emergence of emission standards.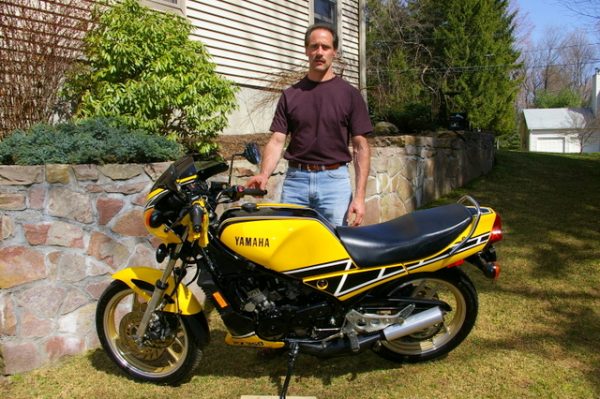 Van Deusen's RZ350 doesn't show its age or the fact that it has actually been ridden. Its bright yellow and black "bumble bee" paint scheme is flawless and it brushed aluminum and gold wheels show no grime. "My theory is just kind of clean as you go," said Van Deusen, whose house, car and yard are equally well maintained. To a suggestion that he's fastidious, he replied, "Yeah, I've been called a lot of things."
Despite the RZ350's low mileage considering its age, Van Deusen does have some stories to tell about it from abroad and home. "I took it on the Autobahn and had it wound up as tight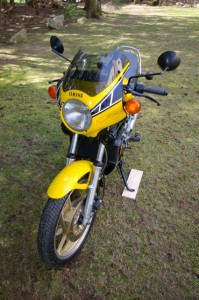 as it would go," he said, estimating the RZ350's top speed at 115 miles per hour. "It's a racing bike. You've got to keep it tached up to five or six grand. Otherwise, it's kind of a pig."
With a high-revving engine and a six-speed transmission, Van Deusen acknowledged, "You spend a lot of time shifting." The overall experience, though? "It's a great bike to ride. They're a lot of fun – the power and the handling. It's very light."
Another story involving the RZ350 happened closer to home. "I got pulled over by a cop – because he wanted to look at the bike," he recalled, declining to get into specifics about where the incident took place to protect the officer's identity.
A 1983 graduate of Torrington High School, Van Deusen owns Pro-Film, a residential and commercial window tinting company. His workload and "a couple of scares on the road" over the years partially explain why the RZ350 has such low miles.
Another reason has been a balky CDI (Capacitor Discharge Ignition) unit. "I'd ride it and it would just shut off on me," he said. The problem was eventually solved by sending it to RZ's Unlimited, a company in California that specializes in parts and service for RZ350s.
What interested him in the bike originally was the fact that it bears Kenny Roberts signature on the fairing. "As a kid, I used to follow Kenny Roberts," he said, referring to the Motorcycle Hall of Fame racer.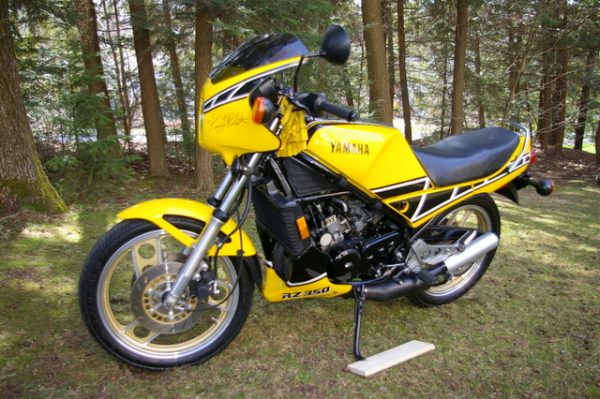 The RZ350 is an eye-catcher, whether parked or on the road. "I take it to bike shows and it's the star attraction. Nothing's been touched up, repaired or painted. I've had people show up at my door wanting to buy it. No matter where you take it, it's the center of attention. There aren't that many of them around," he said.
The longer that Van Deusen holds on to it, the more valuable it becomes, too. He estimated that he paid between $1,200 and $1,500 for the RZ350, which also got him a helmet and cover. N.A.D.A. book value on a 1984 RZ350 is currently $4,240 in excellent condition, an increase of nearly $1,000 since we talked three years ago. Van Deusen's bike is certainly in excellent condition. You can bet that an eager collector would no doubt pay much, much more.
Update: Tim reported today (4/8) that the RZ350 has now topped 10,000 miles, and that he's just purchased another one in red and white with less than 900 miles on the odometer. It has 900 original miles and should arrive from California sometime this week.