A life-long print and broadcast journalist, Bud Wilkinson is a native of Harwinton, CT. He is a graduate of Vermont Academy in Saxtons Rivers, VT and Ohio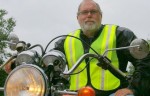 Wesleyan University in Delaware, OH where he earned a B.A. in journalism.
Early in his career he was a reporter and TV/Radio Writer for "The Columbus Dispatch" in Ohio before spending 10 years as TV/Radio Columnist for "The Arizona Republic" in Phoenix. That was followed by a an eight-year stint as Entertainment Reporter for KSAZ-TV/Fox 10 in Phoenix. While at Channel 10, he covered Super Bowl XXX and the Grammy Awards in Los Angeles. He also won a Rocky Mountain Emmy Award for commentary and a Scripps-Howard National Journalism Award.
Simultaneously, he also served entertainment reporter for news/talk KTAR radio and as "off-ice" reporter for Phoenix Roadrunners' International Hockey League telecasts on the regional ASPN sports network.
In 1997, Wilkinson launched the radio show "Broadway's Biggest Hits," which became nationally syndicated a year later, airing nationwide on such stations as K-Surf in Los Angeles, KABL in San Francisco, KEZW in Denver, CKWW in Detroit, KOY in Phoenix, KIXI in Seattle, WOKY in Milwaukee and WDRC in Hartford, .
For the past 14 years, he has written the RIDE-CT motorcycle column for "The Republican-American" newspaper in Waterbury, CT. He currently rides a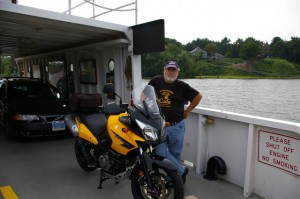 2014 Triumph Bonneville and a 1987 BMW R 80 RT.
Among some of the other bikes that he's owned are a 2011 Moto Guzzi Norge, 2008 Suzuki V-Strom 650, 1994 Moto Guzzi California, 2003 Harley-Davidson V-Rod, a 1994 BMW R100RT, a 1974 Honda CB750 Four, 1999 Triumph Legend, a 1985 BMW K 100 RS, 2004 Triumph Sprint ST and a 1969 Triumph T100R Daytona.
Besides writing the column and hosting this website, Wilkinson also writes occasionally for "Motorcycle Classics" magazine. He has been riding for 14 years.
When not riding or writing, Wilkinson is an active member of the Harwinton Volunteer Fire Department and is deputy chief of the Harwinton Fire Police.
Email: budw@ride-ct.com
Phone: 860-485-3118