NEWBURGH, NY – After a couple of hours of scanning vendor tables and eye-balling the displays at the heavily-attended winter swap meet Sunday at the Motorcyclepedia Museum, we were famished. But where to eat? Acting on a tip, three of us headed down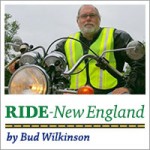 nearer the Hudson River to Liberty Street where we had been told we would find several good options.
It was at this point that a problem arose when one member of our trio vetoed patronizing any place that looked trendy or had the word "bistro" in its name. As he put it, no cucumber sandwiches or lattes for him. Even with the dingy winter backdrop, the area gave the impression of being in the process of undergoing a bit of gentrification, and some eateries seemed to be tuning into the trend.
Unlike the eternally sparring political parties, though, we quickly compromised and found ourselves entering The Wherehouse at 119 Liberty St. It's a pub with an eclectic decor and psychedelic bent (as evidenced by the posters in the restroom). While the bar section looked like any other, with roughly 20 taps dispensing a variety of craft beers from the region, the dining area evoked a different time.
One wall and the ceiling were covered with vinyl – as in LPs. You know, record albums that play at 33 1/3 revolutions per minute. Remember them? It was certainly weird seeing the once-familiar Atlantic, Capitol, RCA and Motown labels again.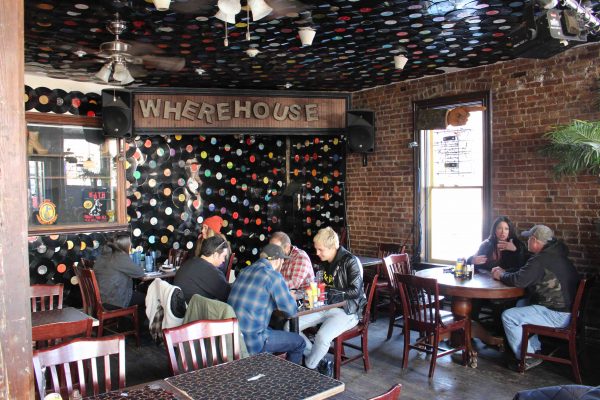 Having selected a table, we began scanning the menu, which came in the form of a tabloid-size newspaper. Atop the front page was the slogan "All The Food That's Fit To Eat" and a picture showing motorcycles parked in front the place.  The menu also had numerous ads, including a half-pager on the back page for Motorcyclepedia. What a great, if minor, ancillary revenue stream for the pub.
The food offerings were predictable – wings, burgers, sandwiches and salads, some pub fare like mac and cheese and shepherd's pie, and quite a few veggie options. Brian opted for the Mondo Bizarro Wings at $12.95. They feature buffalo sauce blended with blue cheese, tamarind, dates and cumin.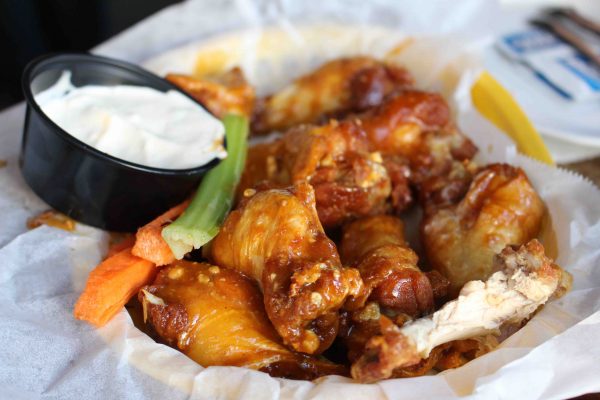 Bob and I chose the Blue Pig Burger at $14.95, which is topped with bacon, fried onion petals and blue cheese. It comes on a toasted bun with fries. One medium-rare and the other medium-well, please. Bartender/server Anita Rodriquez informed us that it's the pub's "most popular burger."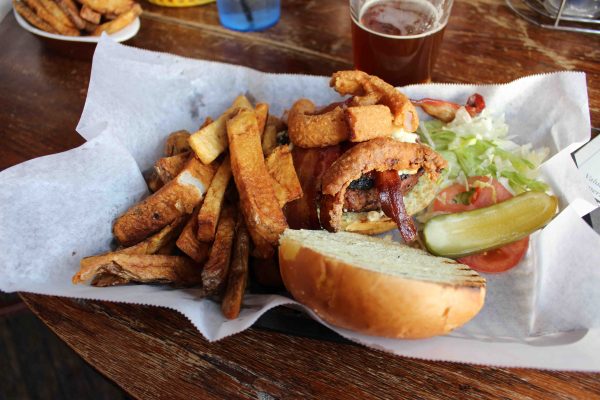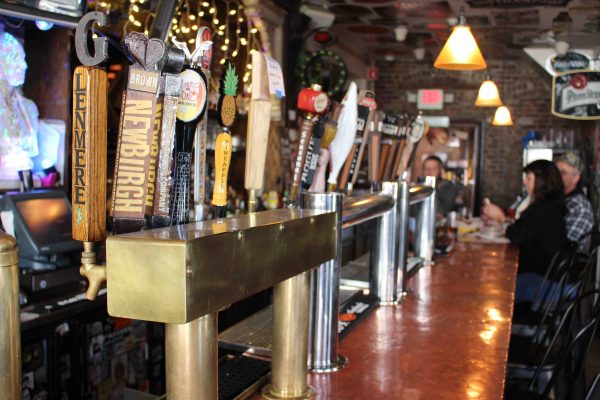 Seeing as how we were't riding, two of us decided to do some taste-testing, beginning with a $6 pint of frothy, deeply-dark Newburgh Brown Ale from the nearby Newburgh Brewing Company. We followed that with a $7 pint of Chatham Maple Ale from Chatham Brewing, which is up the river in Chatham, NY. It proved tasty as well, if a tad sweet. Kudos to The Wherehouse for offering variety. So many bars these days have hopped on the IPA express (pun intended) and offer little else, derailing those of us who enjoy maltier beers.
As it turned out, the beers were helpful diversions as it took a while for the kitchen to prepare our simple food. When we ordered, the place wasn't that crowded, but soon became so as more people arrived from Motorcyclepedia. Rodriquez was slammed, but that didn't dampen her upbeat attitude.
It did slow down the service, however, and Bob's burger was cold upon arrival. Mine was only slightly warmer, but the beef was tasty. The thick-cut fries were a nice change, too, from the string cut fries that so many places rely on.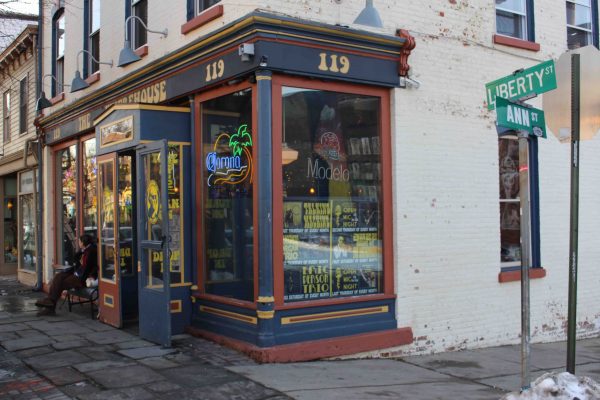 Overall, The Wherehouse was a marginal experience. It gets points for beer choices and for Rodriquez's friendliness. And, yes, the burger was flavorful but I walked out when done feeling that the kitchen has a dispassionate attitude when it comes to service and presentation. It was nice to discover some different crafts beers and enjoy the company of friends.