CONGERS, NY – It's Saturday night at 11:40 p.m. There's a strip of tape on the side of my helmet that says "9 PS." After weeks spent riding at all hours and in all types of conditions to prepare for the 100th running of the Crotona Midnight Run, followed by a one-week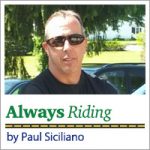 postponement, the night has finally arrived.
I've used the last 90 minutes making friends with other participants, all of whom have willingly shared secrets to winning tonight's 139.2-mile event. There are 29 riders and we're incredulous that the routes have been printed using tiny 9 pt type.
Suddenly, there's a shout: "All riders mount up and head to the line!" Here we go!
I get in the saddle. My route sheet is secured atop the gas tank of my BMW K 1200 RS. My nerves already have me second guessing my strategy. Bikes start and engines rev all around me. It's like the Moto-GP starting, not a slow speed race.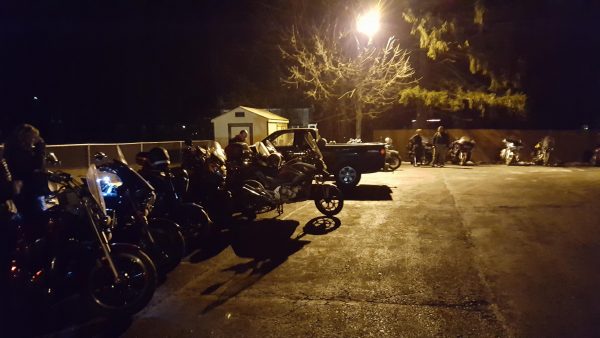 It's now 11:59 p.m. and the first rider is at the start. I will synchronize my clock for midnight when he leaves. I get in line and discovered that the #10 rider is in front of me. The first rider leaves. I set the clock and reposition as the next two riders go. I can't help wondering what they are talking about up at the start line.
I am now next. My adrenaline is high. Rider #8 leaves and I see 12:08. I roll up. Dick Roberts, a Ramapo Motorcycle Club road captain, says, "Hey, that's a nice set-up. 40 seconds."
My heart begins to race.
"30 seconds."
A woman on my right says, "Dear, do you know your helmet is not fastened?"
Thank god, she noticed. I somehow manage to fasten it and leave on time. Whew!
I head out and watch the clock. A tenth of a mile should be about 12 seconds travel time and a mile is about two minutes. The first five miles I obsess at finding an average speed, which I decide is 38 miles per hour on my speedo.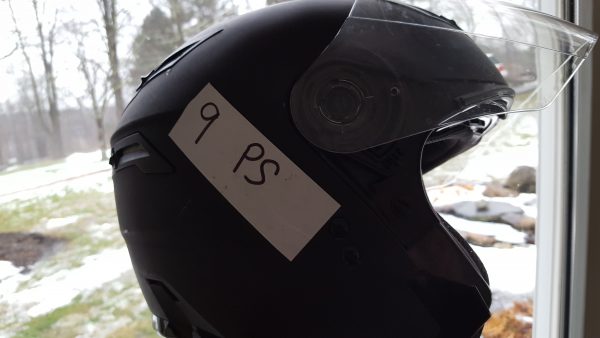 About seven miles out, I stop at the first checkpoint and rider #10 comes up behind me. The checker shouts to a colleague, "#9 PS" and I pull away wondering "Am I going too slow or is #10 going too fast?"
What road am I looking for now? My head goes down to the route sheet – damn the 9 pt font – and then to the odometer and the clock. How fast am I going? It all starts to become quite challenging.
Eventually, I find a zone and become comfortable. I laugh aloud thinking how crazy this is to be riding unknown roads in the middle of a January night. Each time I run the numbers, calculating time ridden against mileage, I'm sure that I'm within five minutes of what is needed.
The ride continues and #10 passes me, then than slows to get behind me. This happens several times throughout the night. I miss spotting one checkpoint but notice the checker's arms in the air as I pass. I turn around.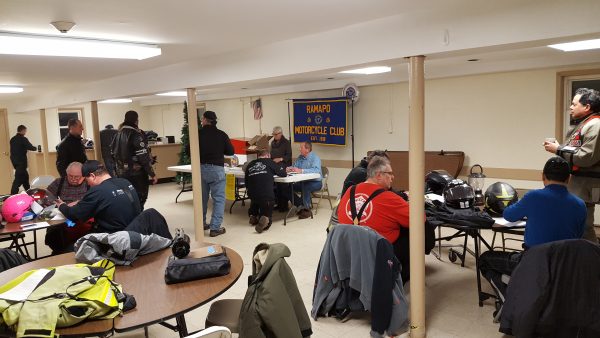 The first half ends at the Ikaros Diner in New Windsor, NY and not a moment too soon. I'm cold and weary. With all the excitement, I failed to plug in my electric gear.
A light breakfast is my plan. It is now 4 a.m. and the stories are already being shared by riders. The guy to beat – a guy who has won the Crotona Midnight Run eight times – shares a mishap that was greater than anything I did. Yep, I am in this I think to myself.
I finish eating and ride out to gas up, making sure I am back for the second start. Now in line I notice eight bikes do not start before me. I estimate we lost two up front. The start time seems off and I pull out at 4:14 by my clock.
In spite of this I believe I am still in it. In re-starting, I realize how tired I am. The road conditions have changed drastically and calculating on the fly seems impossible. It is clear my abilities are impaired.
At 18.6 miles out, a colossal mistake happens. I read 0.9 miles as an increment when in fact it was nine miles. After riding off in more directions than I remember at speeds far greater than my average, I suspect I am no longer in it. I ricochet around the Hudson Valley for 15+ minutes before getting back on course. I am no longer in control of my time.
As the miles wind down, I realize that fatigue is the real winner tonight. My only sense of measure is when I pass #10 to position myself one minute in front of him just 10 miles from completion. I can only hope I did not miss a checkpoint disqualifying me.
Upon arrival at the clubhouse I found few riders and the parking lot was empty. The sun is rising. As I dismount I yell, "I want my mommy," which draws some laughs. I think to myself, well, I found my way back safely and I've now ridden the Crotona Midnight Run.
Can't wait until the results are announced, and can't wait to do it again next year.
(Photos by Paul Siciliano)