STAFFORD SPRINGS – A lengthy investigation by state police and federal agencies has resulted in the owner of Shark Cycle and two

employees being charged today with larceny, money-laundering, and 12 counts each of identity theft and forgery for allegedly scamming Polaris Industries.
Dealership owner Robert Charland, 53, and employees Risa Bazinet, 26, and Nicholas Wargo, 33, were taken into custody and later released on bond, according to the "Hartford Courant." Fox 61 reported that bond was set at $100,000 for Charland and $5,000 each for the employees.

Differing versions of what went down were presented tonight by the two Connecticut news operations.
Fox 61 said the investigation began nine months ago when a lawyer for Polaris, which makes Victory and Indian motorcycles, Slingshot three-wheelers and Polaris-branded ATVS, alerted authorities that the then-Victory-Slingshot dealer might be committing government document fraud.
"It was determined that the employees of Shark Cycle were stealing the personal information – names, birthday and Social Security numbers – of customers who were veterans. They would then use the factual information on fraudulent Department of Defense documents, which were submitted to Polaris for a $1,000 credit. Polaris was running a rebate called 'Hero's Medal,' so that anyone with a military, police or firefighter identification who bought a new Victory motorcycle from a licensed dealer would get a $1,000 rebate.
"It was found that the fraud scheme was done so that Shark Cycle could present lower prices to customers, thus spiking its sales numbers. In turn, Shark Cycle received an additional monetary bonus from Polaris for high sales numbers," F0x 61 explained in its online story.
The newspaper, meanwhile, reported that the trio had been taking military discharge forms, then creating and submitting fraudulent paperwork to the Minnesota-based company, which would then give $1,000 credits to the dealership's parts account.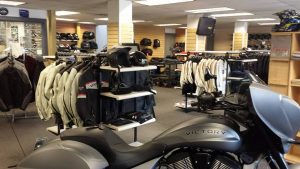 The credit was used to buy parts and accessories from Polaris. Shark Cycle then sold them at a profit, according to the "Courant" account that quoted state police. A total of 12 cases of fraudulent paperwork resulted in $12,000 in credits. The "Hartford Courant" story is posted here.
The investigation into Shark Cycle involved the state police, the U.S. Department of Defense and the U.S. Army Criminal Investigative Command. In mid-May, state police served a search and seizure warrant on Shark Cycle and hauled away boxes of files.
This isn't the first time state troopers have visited Shark Cycle, according to the state's Judicial Branch website. In 2005, state police arrested Charland and charged him with larceny for selling stolen ATVS and motorcycles. He pleaded nolo contendre in 2007 and was found guilty. He was given a one-year jail sentence, execution suspended, and placed on 18 months probation.
In 2007, Charland was arrested for tampering with physical evidence. He pleaded guilty in 2009 and was sentenced to three years in jail, the execution suspended after 120 days. He was again given 18 months probation.
– By Bud Wilkinson