I really did give it some thought when I decided to call this column "Always Riding." That's a big part of who I am. I am always riding. But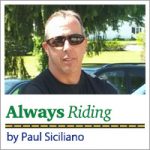 I must admit this last month I have logged minimal miles on two and/or three wheels. It hasn't been because the air has chilled or because of a little snow. It's not even because of all that evil white pre-treatment stuff they dump on the roads that eat motorcycles. (I bathe my bikes in WD-40 to combat it.)
My lack of riding is because I've joined the ranks of the seasonal, part-time U.P.S. workers doing a bit of Santa's work. When I tell you that these guys and gals work incredibly hard, I mean it. I can only compare the level of professionalism, dedication and tenacity these workers have to a military commitment. At least the guy I work with anyway.
If your U.P.S. person comes to your home mid-afternoon there is a good chance they ran about 200 driveways, stairs and crooked walkways to get to you. Take notice they still have a smile for you, even with all the aches and pains they have.
OK, I mentioned U.P.S. and I mentioned Santa, right? You know what they have in common? They both know where you live and they both know what you do at your house. That package you had delivered can tell a lot about you. If that package has something to do with motorcycles, you can bet I might have an interest in chatting with you upon delivery.
At U.P.S., I've been working alongside a really nice guy named Ray. Running the gauntlet all day shoulder to shoulder I learned early-on Ray is a proud husband and father. I also learned Ray is not a motorcycle guy. How do I know that? It was probably my first question after asking what his name was. And, if you ask him about me, I wager to say Ray would tell you I too am a proud husband and father and that, unlike him, I am a huge motorcycle guy.
When Ray learned how much of a motorcycle nut I am, he told me of a customer he delivers to almost every day before I come to work. Ray said, "This guy restores old bikes and I bet you will probably enjoy going there, but he kind of keeps to himself about what he does so please be respectful of his wishes when we go."
Hey, I work on bikes in my barn and have used the word restore when discussing some of my projects, too, so I assured Ray that I understood.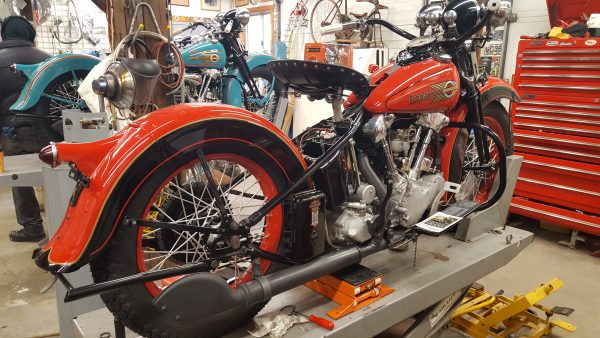 Recently, upon coming to work, Ray told me that we were going to work the route a bit differently and start at the bike place. We headed  there and backed down the driveway: Small garage at the back of a very modest house. Two small packages, neither of which seemed motorcycle-related, needed a signature. Ray pointed to the garage and said, "In there. I will be there in a minute." I was not prepared for what I saw as I opened the door to this small two-car garage.
After an audible gasp and huge smile upon entry, I laid my eyes upon three motorcycles upon lifts. Each was nearly completed in assembly. I asked of the three men in the garage who would sign for the packages. The owner stepped forward and smiled. "I will. You like bikes?" Apparently, my expression said it all.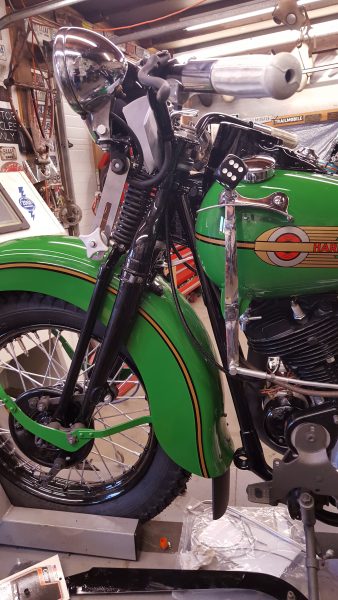 The man has been restoring American-made motorcycles for more than 40 years. He is someone many riders would love to connect with, but probably won't as he is driven by the love of the machine and not the notoriety for bringing them back.
The three bikes that I salivated over are of museum quality and are owned by a collector who has more than 150 motorcycles currently. These three beauties and the owner's entire collection are all riders and not just for display.
If meeting this builder was not enough to make my day, I was invited back to meet the owner when he visited to see the completed projects. Not being a very knowledgeable Harley-Davidson man, I learned a bit more about these vintage treasures from the owner and builder who on a Saturday were very generous with their time and allowed me to take some pictures to share here.
What was even more exciting was when the owner said when these three are complete, I am invited to ride one of them with himself and the builder. What a thrill!
The Venician red and black is a 1936, and was a first-year overhead valve model.
The Delphine blue is a 1937.
The Hollywood green is a 1938.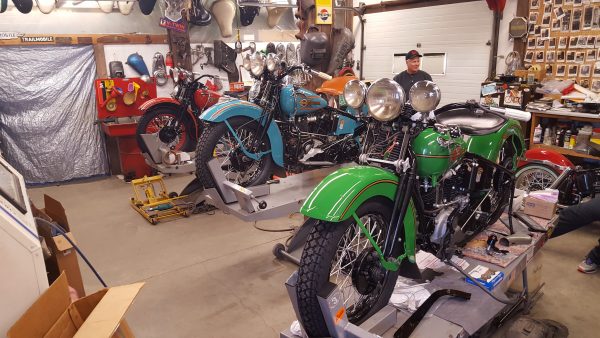 The motorcycle community is like no other. I just added two more great people to the list of friends I have made all because of that thing we love, which is to be always riding.
Happy Holidays everyone and ride safe!