HARTFORD – A day after posting incorrect information under a "BAD NEWS!" headline on its website, asking members to protest to state legislators against a bill that it believed called for a universal helmet requirement for riders, the Connecticut Motorcycle Riders Association has now corrected the blunder and called off its protest.
A new post headlined "GREAT NEWS!" went up this evening, confirming a Thursday story on RIDE-CT & RIDE-NewEngland that contained a full explanation of how H.B. 7140 had been voted out of the Transportation Committee but in substitute form with the helmet provision carved out.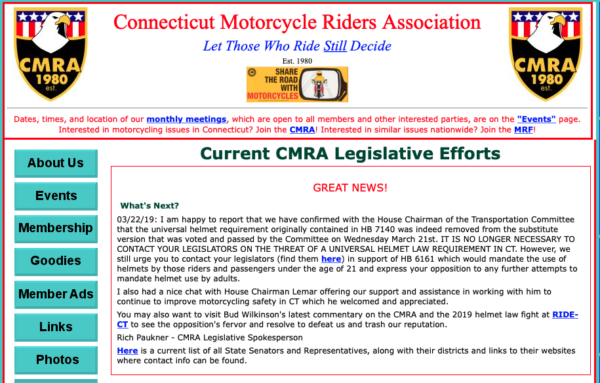 In the new post, CMRA legislative spokesman Rich Paukner told C.M.R.A. members that "IT IS NO LONGER NECESSARY TO CONTACT YOUR LEGISLATORS ON THE THREAT OF A UNIVERSAL HELMET LAW IN CT."
The original post under a "BAD NEWS!" headline urged members to "write your own legislators" and "vehemently oppose any effort to remove from adults the ability to choose when to wear a helmet (HB 7140)." It later added, "It is imperative that your legislators vote the way you want them to. The more people they hear from, the better! This needs to be done as soon as possible."
It still isn't known just how many legislators have received unnecessary missives from C.M.R.A. members urging rejection of the non-existent legislation. The C.M.R.A. was presumably unaware that a substitute version of H.B. 7140 had been voted upon.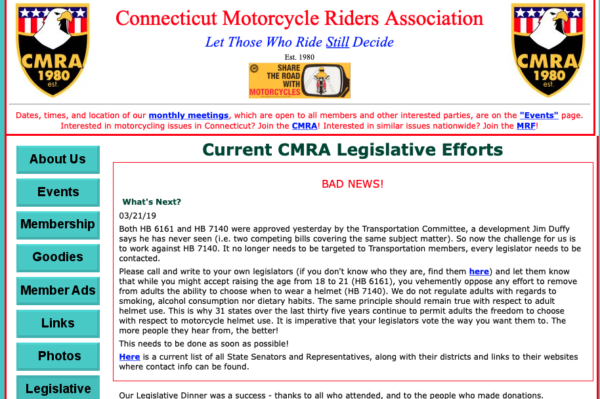 In updating members, Paukner also suggested that members visit RIDE-CT & RIDE-NewEngland and read a story from earlier today on how his organization had misinformed its rank and file; the purpose being "to see the opposition's fervor and resolve to defeat us and trash our reputation."
The story was prompted by a pre-breakfast message from a RIDE-CT & RIDE-NewEngland reader who wanted to know who got the original story right – the C.M.R.A. or RIDE-CT & RIDE-NewEngland?
Unlike most news organizations, which routinely correct errors, the C.M.R.A in its new post neither noted that it was a correction nor admitted that its original post was false and that it had mislead its members for roughly 24 hours.