HARTFORD – It doesn't quite rise to the level of "Dewey Defeats Truman," the grossly inaccurate front page headline that appeared in the Chicago Daily Tribune" after the presidential election back in 1948, but an inaccurate "Bad News!" notice posted Thursday on the website of the Connecticut Motorcycle Riders Association created instant confusion for some RIDE-CT & RIDE-NewEngland readers and perhaps headaches for state legislators.
The C.M.R.A. website headline needlessly and erroneously urged members to lobby state legislators against a universal helmet provision in a bill – a provision that had actually already been scrapped by the Transportation Committee.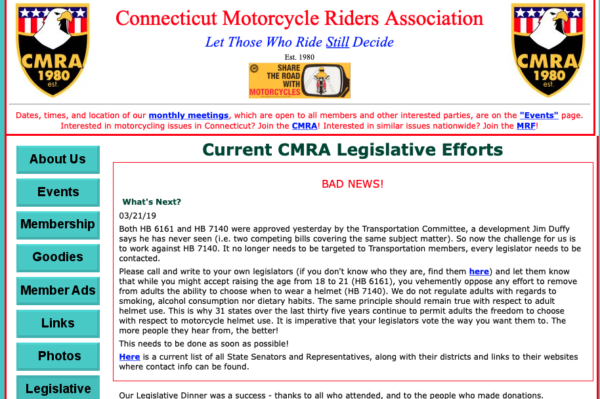 As RIDE-CT & RIDE-NewEngland reported Thursday, the Transportation Committee did indeed vote H.B. 7140 out of committee on Wednesday on a 28-8 vote, but it was a revised version of the bill (screenshot below) that got approved. The "Substitute Bill" had carved out – that is, deleted – the helmet section from the original bill.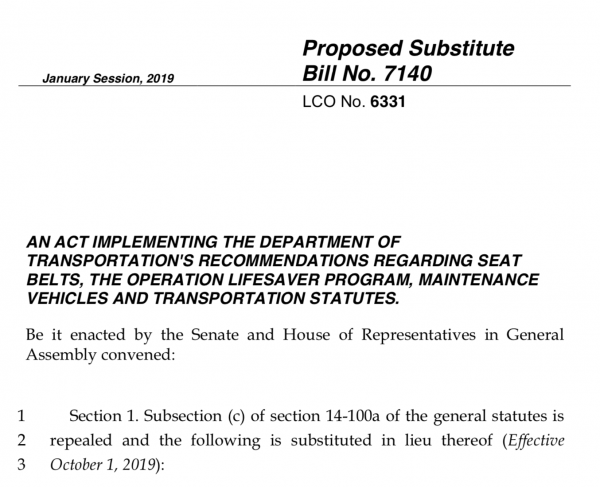 Presumably not realizing this, the C.M.R.A.'s post wrongly told members that "…the challenge for us is to work against HB 7140. It no longer needs to be targeted to Transportation members, ever legislator needs to be contacted." It then urged members to "write your own legislators" and "vehemently oppose any effort to to remove from adults the ability to choose when to wear a helmet (HB 7140)."
The post later added, "It is imperative that your legislators vote the way you want them to. The more people they hear from, the better! This needs to be done as soon as possible."
It isn't known this morning just how many legislators have received unnecessary missives from C.M.R.A. members urging rejection of the non-existent legislation.
While the original bill did contain a universal helmet provision (screenshot below), as RIDE-CT & RIDE-NewEngland reported, the excising of the provision before Transportation Committee members voted effectively killed universal helmet legislation for this session of the General Assembly.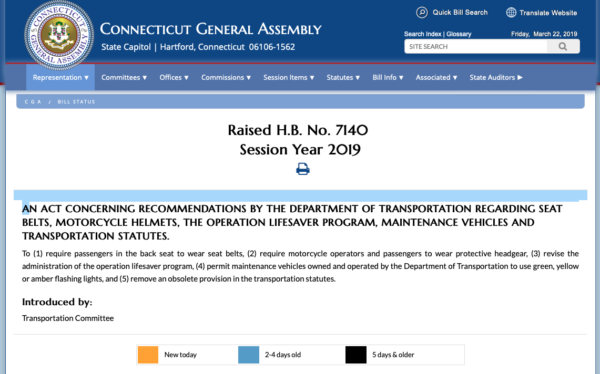 In the C.M.R.A.'s defense, as of Friday morning, the Connecticut General Assembly's website lists the"tally sheet" on the bill's page of how Transportation Committee members voted to send H.B. 7140 to the House, but has not yet posted the substitute bill on that page, which may be the reason behind the confusion. Nonetheless, someone made a bad assumption, potentially launched an assault on state legislators and splattered egg on the face of the C.M.R.A. – just as the "Chicago Daily Tribune" had yolk on its face 71 years ago.