NORTH GRANBY, CT – I'm exhausted. From nighttime training. And now the Crotona Midnight Run has been postponed a week until the night of Jan. 20-21.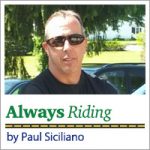 Conditioning for the 100th event has been quite revelatory, and I don't know yet what I'll do with what I've learned. We've had extreme weather swings the past few weeks and I've been riding in every bit of it – rain, snow, wind, frigid temperatures. No matter the conditions, I have been out there.
In my last column, I alluded to preparations being problematic. Here's the background: I began losing mobility in my neck, elbows and wrists, combined with extreme pain and near paralysis. I attributed it to the cold when in fact it was severe, undiagnosed arthritis in my neck that was affecting elbows and wrists.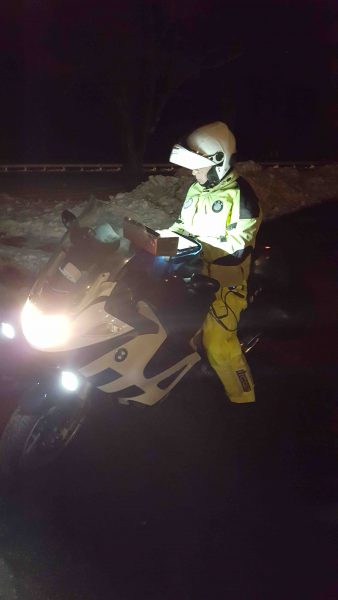 An MRI revealed some ugly stuff, which forced an orthopedic visit, physical therapy and traction treatments. Ever said, "Doctor, it hurts when I do this?" Imagine the discussions had when I arrived at all the appointments in full riding gear. The good news is there is relief to be had, but it will require regular exercises and possibly home traction. Regardless, I decided to ride on.
What is it like on the roads of New England at night when the wind chills are sub-zero? Empty for starters. Laying the bike down is a constant fear, compounded by the knowledge that no cars will be coming by to offer help if that were to happen. Speed and constant self-evaluation is key.
Reading the snowy road is difficult because tar snakes, pot holes or black ice are not obvious, yet they are still there. Many people complain about the calcium chloride pre-treatment that the state uses. I can tell you that is exactly the lane position I look for. What gets difficult is distinguishing between the salt lines and snow while your glasses freeze up. For the run, you must open your helmet to navigate and keep time on your course while fighting wind gusts and body tension.
For me, as I practiced, this added up to accelerated fatigue. Eventually, though, after riding in these conditions fairly regularly, I begin to speculate that the Crotona Midnight Run just might not be as bad as the back roads of Connecticut and Massachusetts.
One night it snowed and, despite my best plowing and shoveling efforts, there was no way I could get my BMW R 1200 RS down the driveway. I took my sidecar rig instead to practice. My sidecar may now be the ride of choice as a result.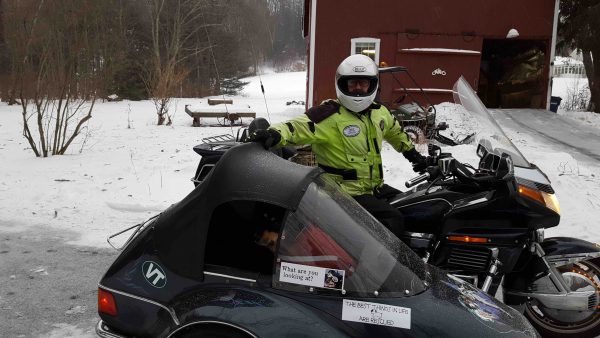 Practicing in the sidecar allowed me to take my best friend, Adicus, with me. Riding the snow-covered roads was tiring. There is no way to not tense up when other vehicles "slide" up on you. Some flicked their lights even though I was able to keep to the posted speed limits. Adicus and I had choice words for those who did that, but only he and I know what they were.
After weeks of anticipation and much practice, I had assembled combinations of gear to fit all weather or temperature conditions, and the aches and pains were somewhat managed. My mental attitude was really good, too, despite a forecast that said two days of rain and flash flooding in advance of the Crotona Midnight Run, followed by plummeting temps the night of the event.
I had been planning to ride down to Congers, NY for the run – before the forecast that made me reevaluate and think that maybe trailering might be wiser. Last night, getting in some final practice, I headed out for one last ride to cement the ride in my mind. Timing myself in two 30-mile measures I was off a total of four minutes. Two minutes for each measure. Ecstatic at my results, I rode home.
This morning, I opened Facebook and noticed in my newsfeed "POSTPONED!!!" The potential for glare/black ice and localized flooding had prodded the organizers of the Crotona Midnight Run to delay the 100th running for a week.
As I mentioned, I'm exhausted. But what's another week?
To be continued…