LEEDS, AL – It's named "The 1" and has a hefty $120,000 price tag. Only 120 hand-built examples will be assembled of Curtiss Motorcycle Co.'s first luxury electric model. The company calls it the "Tesla of Motorcycles."
The new model's debut was officially announced today, although nine months ago "Forbes" magazine had a detailed story with pictures on the model and listed a retail price starting at $83,000. "Motorcycle Cruiser" also had a story almost a year ago, putting the price at $90,000 and promising mid-2022 delivery.
"As the first and only luxury electric motorcycle in the world, The 1 demonstrates how the new age of electrification has forever changed what is possible on two wheels," said Curtiss CEO Matt Chambers in a press release.
"The 1 turns heads everywhere it rides with its beautiful, harmonious balance and proportion. Its patented, modular proprietary platform architecture will serve as the basis for every future Curtiss motorcycle."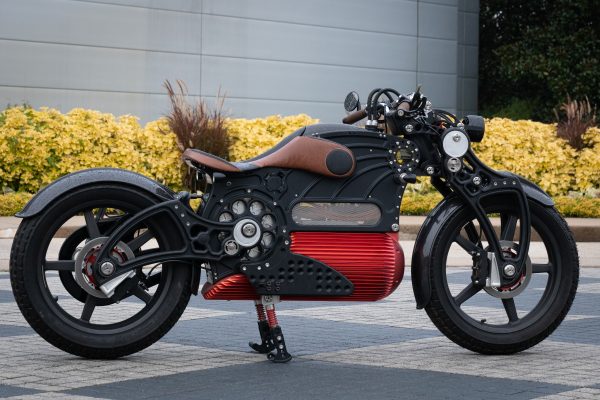 Curtiss claims The 1 offers seven "firsts," including…
It's the first to feature "perfectly centered construction" and the first with "geometric and ergonomic adjustability." It's also the first to be "precisioned-machined from aircraft-grade billet aluminum and titanium" and first to feature"a full immersion, liquid-cooled battery pack."
"The electric motorcycle industry is poised for huge growth and we are proud to
be leading the charge," said Chambers said.
Highway Range Is 125 Miles
The 1 has a 217 horsepower axial flux motor. Range is predicted to be 120 miles highway and 75 miles in the city. The company is currently accepting orders and now says deliveries can be expected to begin in the spring/summer of 2024, according to company website.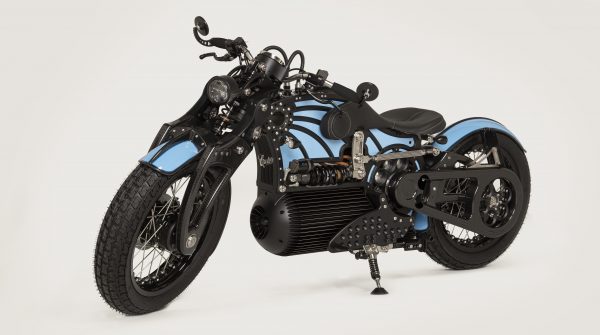 In its press release, Curtiss also disingenuously says that it's celebrating its 120th anniversary as the claim suggests continuous operation. It was only back in 2017 that the Confederate Motors, which Chambers founded in 1991, announced that it would rebrand itself as Curtiss and shift to EV models.
What was Confederate's internal combustion line got rebranded as well in 2020 to Combat Motors and also got new, different ownership.
The Curtiss name itself originated in the early days of motorcycling. It was first used by Glenn Curtiss in Hammondsport, NY for his G.H. Curtiss Manufacturing Co. The company made its first motorcycle in 1902 and built motorcycles for only 10 years. It later shifted into aviation.
The standalone Curtiss name disappeared in 1929 when It merged with Wright Aeronautical Corp. to become Curtiss-Wright Corp. That company still exists today.
Chambers is a Louisiana State University graduate and former attorney. His LinkedIn page lists him as CEO and Chairman of the Board of Curtiss from "April 1992 – Present – 31yrs 1 mo."