There may not be a more low profile, secretive brand on the planet than BSA, which is owned by Manhindra in India.
Since announcing in late 2021 the revival of what was once a British marque that stood for Birmingham Small Arms, BSA has without trumpets assembled a growing dealer network in the U.K. and begun selling a single-cylinder, 652cc Gold Star model.
What it hasn't done is tooted its horn, or revealed any further plans for expansion – such as to the United States where once former rival Triumph is flourishing. Its stealthy approach to revival no doubt deters premature anticipation by potential buyers, but the longterm impact is to raise questions about BSA's seriousness and commitment.

While BSA's website shows its U.K. dealers, the remaining countries on the worldwide map are blank. A "Coming Soon" tag on target markets would give hope. Its press website hasn't posted a release since November. Does this mean nothing's happening in product development or that growth has stalled?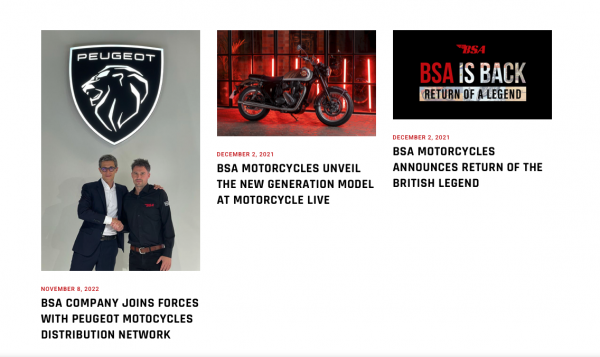 These comments are merely setup, though, to passing on that "Cycle World" yesterday revealed some information that suggests that BSA is indeed quietly moving forward. In a story posted on its website, "Cycle World" reported that BSA has submitted trademark applications in the U.S., Australia and New Zealand for the model names "Lightning," "Thunderbolt" and "Bantam."
Those model names were used by the original BSA, which launched its first model in 1919 and folded in 1972.
"Cycle World" noted, "The US trademark applications in particular are interesting, as recent legislation changes have limited the scope for brands to hold trademarks on names they don't use; applicants are only meant to apply for protection of trademarks they're genuinely planning to use in the near future."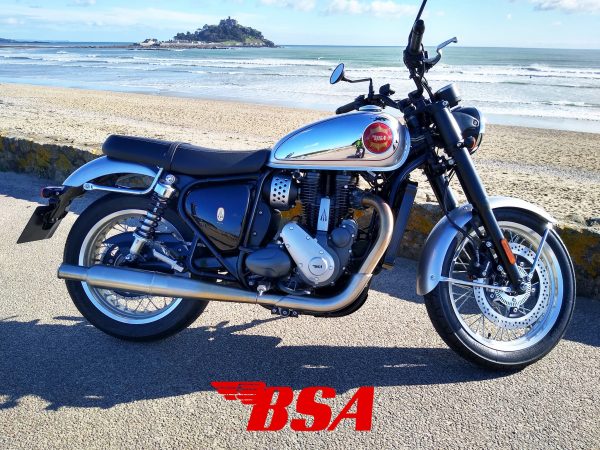 BSA is making headway in its return to the U.K.
Having sold 35 new Gold Star models in February after going on sale in January, BSA sold 253 units in March and was the leader in sales in the 501-750cc category.
There certainly appears to be a market for a revived BSA. Just wish BSA was a bit more forthcoming and a bit speedier in its execution.