CONGERS, NY – It's "not your average road-run." Not by any stretch of the imagination. It's a slow-speed, overnight road rally in the dead of winter and in the dead of night that dates back to 1917, and the Ramapo Motorcycle Club announced Monday that it will stage the 100th anniversary Crotona Midnight Run on Sunday, Jan. 14 (with a snow date set for Sunday, Jan. 21).
Sign-in will begin at the RMC clubhouse here at 10:30 p.m. on Saturday, Jan. 13 with the run starting at  midnight. Riders will leave in one-minute intervals for a timed rally that will have hidden checkpoints and a required speed of only 30 miles-per-hour.
Several years ago, RMC member Dick Roberts explained the appeal of the Crotona Midnight Run to RIDE-CT & RIDE-NewEngland. "For the most part, people are drawn to it because it's the middle of winter, it starts at midnight and it's frigging cold. It's a challenge," He said. "We have people who show up with absolutely no preparation."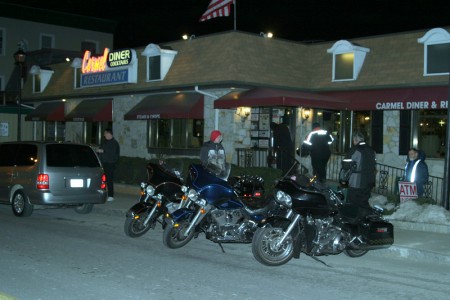 Others arrive with heated gear and other apparatus to make the rider easier.
The entry fee is $25 for a rider and $15 for a passenger. Riders who finish the prescribed route within the allotted time receive a commemorative medallion. Trophies will be awarded for the first three places in expert and novice categories. Participants are prohibited from using computer mapping, GPS units and smart phone apps.
The Crotona Midnight Run was founded by the Crotona Motorcycle Club. The Ramapo Motorcycle Club picked up the torch more than 15 years ago after the Crotona Motorcycle Club experienced aging and declining membership.
Photos by Steve Smith