NEW YORK – The biggest attention-getters at the Progressive International Motorcycle Show each December are the new models displayed by manufacturers, but old bikes are also part of the show. Making its debut this weekend, and bringing nearly 20 classic models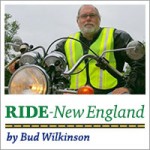 to display to show-goers, is the group known as the New York Classic Riders.
New York Classic Riders was founded by Dominique Dutronc, who serves as CEO of what is a loose-knit group of nearly 850 riders who share a passion for riding. "Membership" comes from New York, Connecticut and New Jersey.
"It's a riding community," Dutronc reported, explaining that New York Classic Riders began in 2013 on Facebook after he arrived from his native France. "I was really excited about riding in the U.S.," he said, and wanted to locate other like-minded motorcyclists.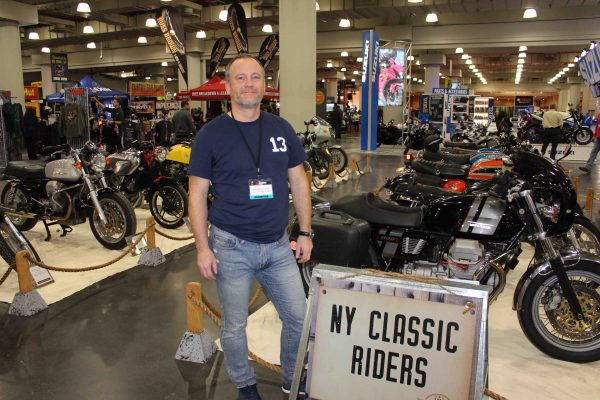 He certainly found them. "We ride every weekend. We do social events. It's not a club. There's no membership. I'm just putting people together," he said. Anyone is welcome "as long as you like riding. There's no formal admission. It's just a Facebook group."
Group participants have brought a variety of bikes to the show, including vintage Hondas and a couple of old Moto Guzzis. "It's a mix – a little bit of everything," Dutronc said.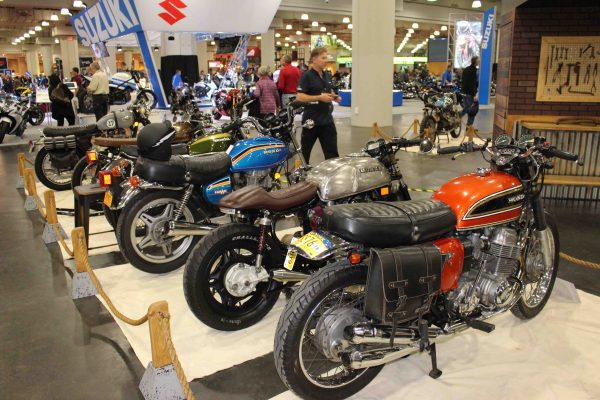 Adam Zuckerman brought his customized 1998 Moto Guzzi V11 EV, a bike that he stripped down and redesigned to suit his taste. "It's really cool having a bike here. I'm proud to be flying the Guzzi flag," said Zuckerman, who works for Hamlin Cycles, the Moto Guzzi dealer in Bethel, CT.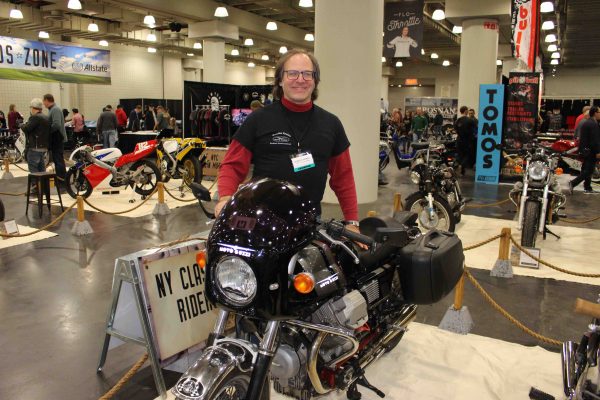 "I did almost all of the work myself. I even did the paint job myself," said Zuckerman, while giving credits to the many friends who helped him with advice and with a hand. "No matter where I look (on the bike), I can see where friends have helped."
The display by New York Classic Riders took Dutronc about six weeks to pull together. He's re-couping the cost of the space at the show by selling group-branded T-shirts.