Motorcycle dealers in the Northeast are temporarily closing or curtailing operations in reaction to the ever-changing COVID-19 situation as some states have ordered non-essential businesses to close.
Some dealerships in New York and Connecticut are closed, while others are shutting showrooms while keeping service and parts departments open.
Empire Harley-Davidson in New Rochelle, N.Y. closed as of 3 p.m. Sunday and used Facebook to advise customers who have bikes in winter storage that pickup may be arranged and that the store will continue to hold bikes beyond the contracted term at no extra charge.
In an email to customers late Saturday afternoon, BMW of Manhattan Motorrad said it "will close until further notice."
In Hartford, Kawasaki dealer New England Cycle Center has closed. Its used motorcycle sister store Columbia Motorsports in Columbia, CT is also closed. "We will continue to monitor the COVID-19 situation and follow guidance from public health and government agencies," said management in a Facebook post.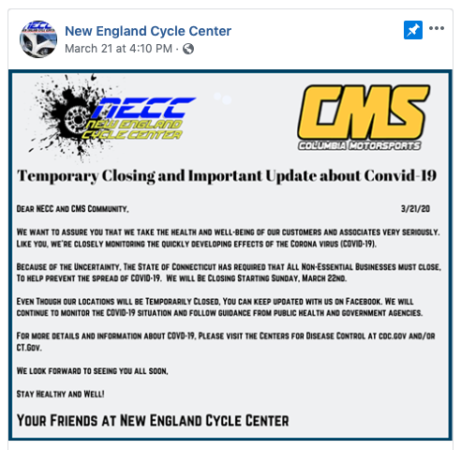 Some dealerships are just closing their showrooms, but keeping service departments open as they fall under what's deemed as an essential service.
How dealers are interpreting state orders seem to vary.
Street Stuff, the Triumph dealer in Norwich, CT, has temporarily closed its showroom but its service department is open, scheduling appointments via text. It is also taking and shipping parts orders.
Hudson Valley Motorcycles in Ossining, N.Y. is keeping its service department open, but has closed it off to the public. The dealership says pickup and delivery may be arranged as well as remote drop off and pick up.
Hudson Valley's parts department is closed to the public but is offering pickup at a "designated area." While the showroom is closed, the dealership says purchases of motorcycles are possible "with little-to-no physical contact."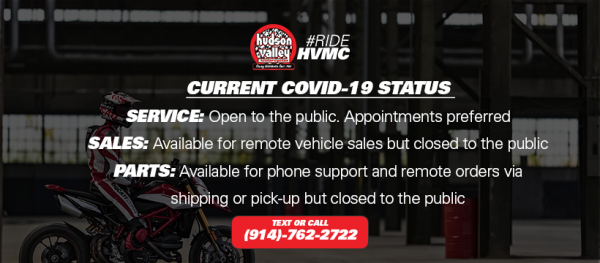 In Brooklyn, Union Garage NYC said in an e-newsletter to customers that "we'll be directing all of our operational efforts online for the immediate future. We're going to keep coming in to ship orders, but in the spirit of the public edict we won't be inviting non-staff inside."
While some dealers have been aggressively addressing the situation, others have yet to give status reports either on their websites or on social media. Given the "stay at home" climate that currently exists, it's doubtful that they'd be experiencing a crush of customers.
It is stating the obvious, but the best way for motorcyclists to learn about the status of their specific dealership is by checking social media or a website or direct contact. The same goes for dealers needing to keep the public updated, some of which been appallingly lax in doing so.
Hello! If you enjoyed this story, please click on one of the social media buttons below and share it.