SOUTHBURY, CT – It's unpretentious, casual and a Southbury institution. Denmo's, the outdoor eatery at 340 Main Street South, will celebrate its 40th anniversary on July 1 having sold countless hot dogs and hamburgers since opening under the original name of Cedar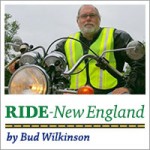 Hollow Snack & Dairy. The name changed to Denmo's in the early 1980s to reflect the nickname of founder Denis Lucarelli.
Popular with locals and out-of-towners alike, Denmo's attracts riders, too. Every time I've stopped over the years, there have been motorcycles in the parking lot, and Saturday was no exception. Everyone comes for what is simple yet tasty fare, and the menu is more extensive than a first-timer might imagine.
Most sought after are the dogs and burgers. A split and charred foot-long is $3.99. A 1/4-pound hamburger is $4.49 (and $4.99 for a cheeseburger) and a 1/2-pound is $5.79 (and $6.06 for a cheeseburger). Extras such as chili, bacon or roasted peppers are 75 cents each. The most expensive menu item is a lobster roll at $17.99. Fried shrimp and clam strips cost a little less.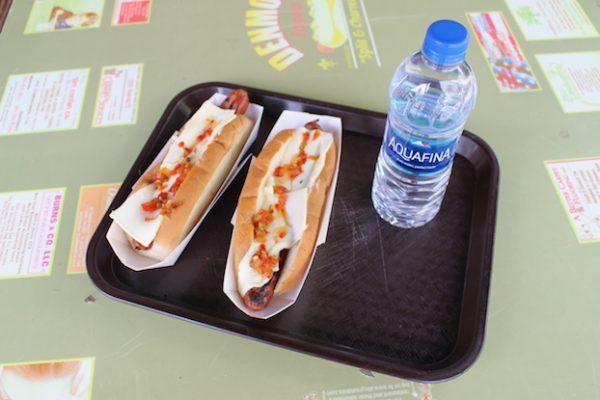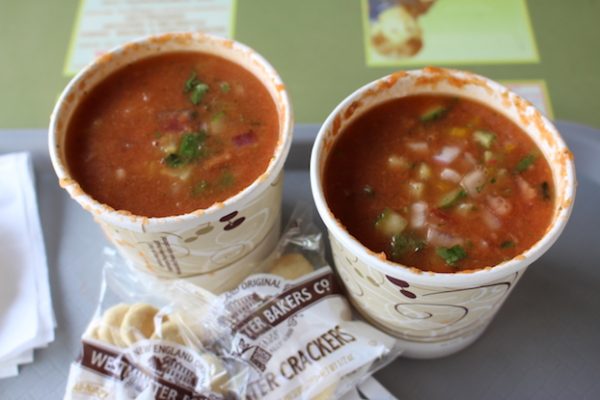 Opting for two foot-longs, I added just a little of the red homemade relish (there's a green version, too) and found it to be tangy and pleasantly spicy. Too much, though, might overwhelm the overall flavor. Perhaps because it was such a hot day, my luncheon buddies ordered gazpacho.
Our timing – arriving about 11:30 a.m. – enabled us to secure a picnic table on the covered patio alongside Denmo's. (There are also uncovered picnic tables and more seating in the rear  as well as additional parking.) Within a short time, though, there was a line at the counter. The procedure is obvious – order and pay at one window, wait a few minutes, and pick up at another.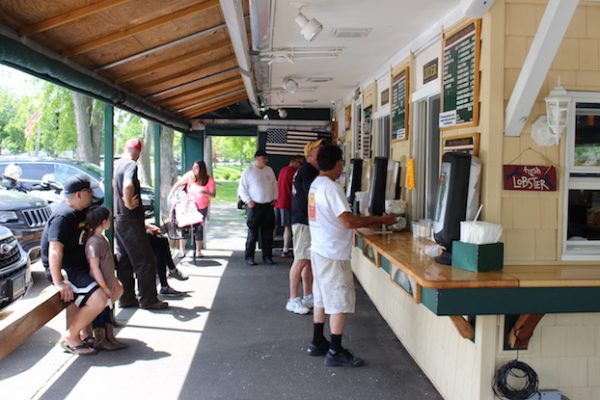 What isn't immediately evident is the location of the restroom. It's on the back side of the building near the picnic tables.
Denmo's is open daily from 9 a.m. to 10 p.m. Yes, there are egg sandwiches with ham, bacon or sausage and cheese for $3.79 for those into a late breakfast.
And, yes, there's ice cream for dessert.
Frankly, stopping at Denmo's becomes a habit when an outsider happens to be in Southbury. It's old and reliable, and never disappoints.