By Bud Wilkinson of RIDE-CT.com
Yes, the Great Recession caused motorcycle manufacturers to cut back on bringing out new models for 2010, but next year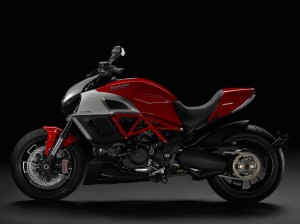 looks to be better for riders looking for some entirely new rides. Ducati's Diavel sport cruiser is one bike that loads of motorcyclists are certainly looking forward to seeing in person, sitting on and scrounging to find money to buy.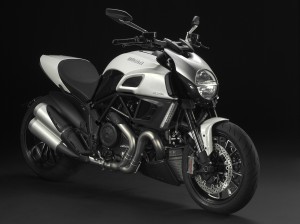 Unfortunately, the Progressive International Motorcycle Show in New York City (and the first up close look for Connecticut riders) is still two months away, and dealers won't get them until February. All we can do for the moment is ogle photos and read the stats: 162 horsepower, ABS and lots of carbon fiber. Pricing for the 2011 Diavel has been set at $16,995. The Diavel Carbon will run $19,995 and it'll cost $20,395 for the Carbon "Red" version. 
Ducati only unwrapped the bike last month in Milan, but it's getting positive buzz – even at the Los Angeles Auto Show last week where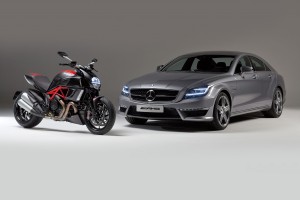 Ducati racer Nicky Hayden did burnouts as it was announced that Ducati and Mercedes-AMG have struck a "cooperation agreement" and "will work closely together in the future." What this means exactly isn't known, but autospies.com quotes industry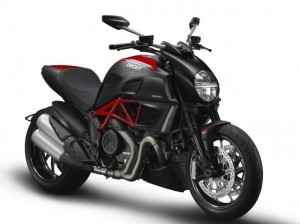 sources as saying it might mean AMG eventually taking over Ducati. AMG is a wholly-owned subsidiary of Mercedes-maker Daimler AG and turns out high-performance versions of Mercedes-Benz models.
For now, the Ducati/AMG arrangement has the appearance of a first date. One fact is for sure – Ducati is on a roll. Last year, the Italian manufacture brought out  new version of the Multistrata. It tops it this fall with the Diavel. One question: Am I the only person who thinks the Diavel bears a resemblance to the not-so-popular, under-powered and long-gone BMW R1200C?