By Bud Wilkinson of RIDE-CT.com
Every married guy should be blessed with a spouse like Scott Kegelman's wife, Debreh Gilbert. When he learned that a 1993 Moto Guzzi 1000S was about to be sold by its owner in Danbury to someone in Texas, she told him, "If you don't leave the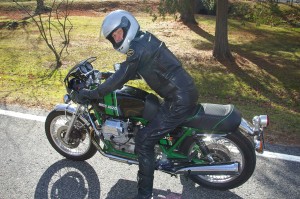 house now with a check, we're divorced."
That was in 2002. He paid $7,000 for the rare Italian bike. Now he's looking to pass the green and black machine on to someone else who will appreciate it as much as he has over the years – unless he's victimized by the same emotions that others experienced when he first went hunting for a 1000S. At least a half-dozen times he responded to a "for sale" advertisement only to be told, "I rode it one last time and I decided not to sell it."
In fact, that's what he heard from his bike's former owner. Kegelman told the guy "ride it for the summer and I'll call you after Labor Day." Not wanting to seem too anxious, he then waited until two weeks after Labor Day before picking up the phone. Had he waited a day or two longer, or had his wife not been so supportive, the Moto Guzzi might have been gone. 
Gilbert understands because she rides, too.
"It's a dream machine. It's a very fast, stable bike with a beautiful, beautiful sound," said Kegelman, who is a judge in New York City but who has a weekend home on 35 acres in Cornwall Bridge. He laughs that the house is 900 square feet while the garage for the couple's motorcycles is 1,000 square feet. In addition to the 1000S, he has a 1969 Triumph Bonneville and a 1986 Moto Guzzi Lario. Gilbert has a 1978 Moto Guzzi V50. "One of the reasons we're in the area is to ride," he said.
Five years ago, though, Kegelman was involved in a crash while riding on Route 37 south of Sherman. A 50- to 60-year-old woman in a station wagon turned in front of him, he said. He suffered a fractured collarbone, mutilated kneecap and five broken ribs. The injuries would have been worse had he not been wearing a helmet and an expensive Vanson leather riding jacket. "Had I had body armor, I might not have suffered such serious injuries," said Kegelman, who now always wears a full Vanson riding suit with armor.
What galls him about the accident is that the woman who caused the crash quickly drove off and her identity was never determined. "The fact that a mature adult cannot accept responsibility or ownership is unbelievable," he said.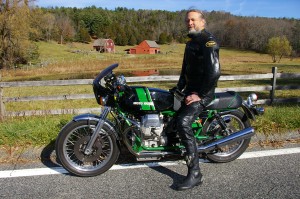 It wasn't the 1000S that got damaged, rather the Triumph, which he hopes to finally get repaired this winter. He'll need it if he sells the 1000S, which Moto Guzzi only produced for four years (1990-1993). Only 1,360 were built and fewer than 200 made it to the U.S. between 1991 and 1993. The green and black model was only offered in 1993, making it ever harder to find.
"I was always interested in that model; never really expected to find one," said Kegelman. "It was probably one of the first retro-style bikes," based on the Moto Guzzi Le Mans models of the mid-1970s. "It was relatively expensive. The first two years it had the Le Mans motor, cast wheels and black frame. The third year they went even more retro-looking with spoke wheels." The accent color was changed from orange to green and the frame was painted green as well.
Smaller valves were also used during the final model year. "It gives it more mid-range and low end grunt," reported Kegelman, who has used the bike as his weekend rider, usually putting on a "couple hundred miles" each time he's taken it out.
Kegelman, who is 64, has several reasons for wanting to sell the bike – the economy, his age and his "growing interest in older and older bikes."  Since he bought the 1000S, it has appreciated in value and could fetch as much as $10,000 today.  All a future owner needs is cash and, if married, a spouse with an attitude that matches Gilbert's.  Of course, that's assuming that Kegelman can actually part with it.
(Originally published in The Republican-American on Nov. 20, 2010.)