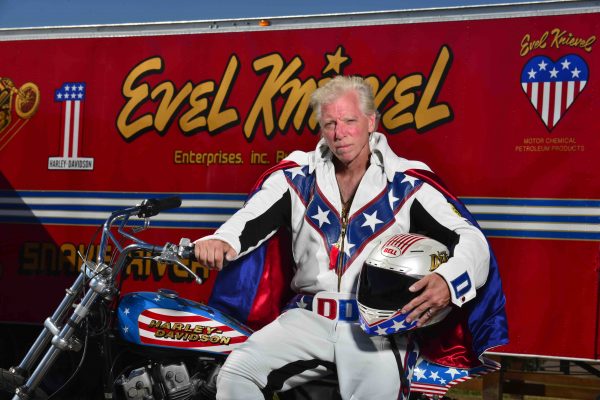 WALES, MA – Stuntman Doug Danger returns to Sturgis, SD this summer with plans to jump a vintage motorcycle some 120 feet over a pit of 2,000 live rattlers. The motorcycle? Of course, the 1972 Harley-Davidson XR750 once owned by Evel Knievel. The rattlesnakes will be prairie rattlers.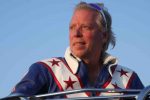 When not wearing white leathers flamboyantly decorated red and blue trim, Danger lives here and goes by his real name, Doug Senecal.
Danger's jump is scheduled for Aug. 10 in the amphitheater at the Sturgis Buffalo Chip.
"Doug is a professional who's completed some incredible jumps, but this one is truly over the top," said Rod Woodruff, president of Sturgis Buffalo Chip.
"He's either the most courageous man I've ever met or he's got a genuine lack of fear. While we are doing all we can to ensure the safety of everyone in the amphitheater, including Doug, the threat to his life is real. These poisonous vipers will kill him nearly instantly should he fail."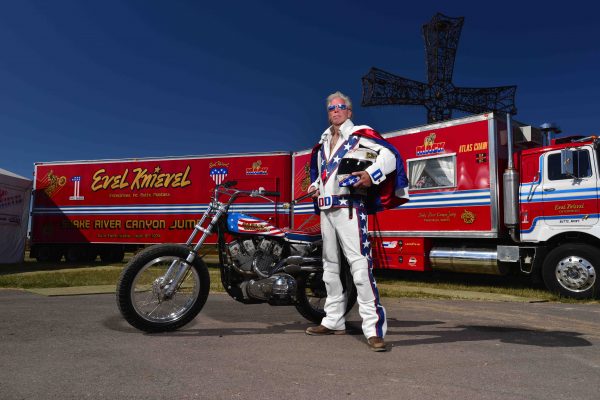 In 2015, Danger successfully jumped the XR750 over 22 cars at the Sturgis Buffalo Chip.
Here's a teaser video for this summer's event: