WATERBURY, CT – Mother's Day weekend didn't go as uneventfully as Taig Rehmel had hoped. He'd anticipated a wonderful reunion with a fondly-recalled motorcycle model from his earlier street riding days and an exhilarating ride from Connecticut to his home in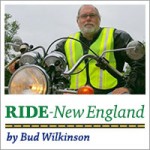 Georgia.
Instead, he was confronted by pain and the challenge of being stranded some 900 miles from home with a newly-acquired motorcycle that would no longer run.
The 34-year-old single father from Athens ended up bruised, frustrated and downcast by the experience after flying to Connecticut to buy a used motorcycle from Roost Powersports in Thomaston. Rehmel had spied the 2008 KTM 990 Adventure on Craigslist. He had surrendered that exact model a decade earlier upon becoming a father, while continuing to ride dirt bikes. Now that his sons (ages nine and 11) were getting older, he had decided to return to the street.
Rehmel searched for three years until he found a perfect specimen with a mere 2,016 miles on the odometer. His intention was to pay for it and, despite rain, immediately ride it home. His ride lasted only 6.4 miles. The weekend ended with the bike strapped to the bed of a rental pickup with Rehmel behind a steering wheel instead of handlebars.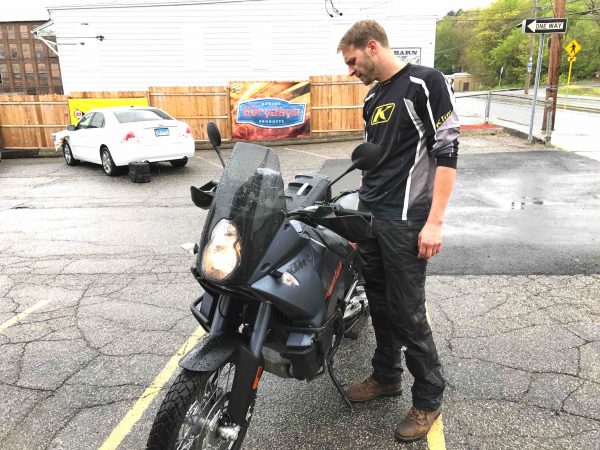 What caused the change in plans was a car that pulled into his path and the crash that injured Rehmel and damaged his bike. The car was operated by a man who has 20-plus years of motorcycle riding experience, who owns two motorcycles, and who was on his way to buy some parts at Doc's Motorcycle Parts in Waterbury, CT.
I actually first spotted the KTM when stopped for gas at Cumberland Farms in Thomaston late Saturday morning (May 13). Coincidentally, I was on my way to Doc's for a battery for one of my bikes. What made me notice Rehmel was the fact it was raining. "Only an adventure rider would be out on a day like this," I thought. I only got a quick glimpse of the KTM – sort of like seeing a flying bird out of the corner of one's eye – as it went behind a pump. Rehmel had just left Roost and needed to gas up.
A short time later, arriving at Doc's, I heard a thump as I pulled into a parking space. Getting out of the truck, I instantly spotted a white 2007 Ford Fusion with its left front fender torn off. It was stationary in the street at the entrance to Doc's, resting over the center line with its nose halfway across the oncoming lane. Plastic shards littered the street. Rehmel and the KTM were farther down the street.
No one was seriously hurt. The police were called. The car and motorcycle were soon moved into Doc's parking lot so as not to block traffic on Thomaston Ave. I bought my battery but, being curious, got chatting with those involved in the accident.
"I did not see him," said the driver of the car, Brian Galek of Waterbury, who owns a 2011 Yamaha V Star 1300 and 2001 Harley-Davidson Fat Boy. The weather was certainly gloomy, the bike was dark gray and Rehmel was wearing black. Galek noted the optics of being a rider, who like all of us complains about unobservant drivers not seeing motorcyclists, and being involved in such an unfortunately commonplace accident.
"It can happen to anyone at any time – in the blink of an eye," said Galek. "It's unfortunate. I'm just glad he's not hurt."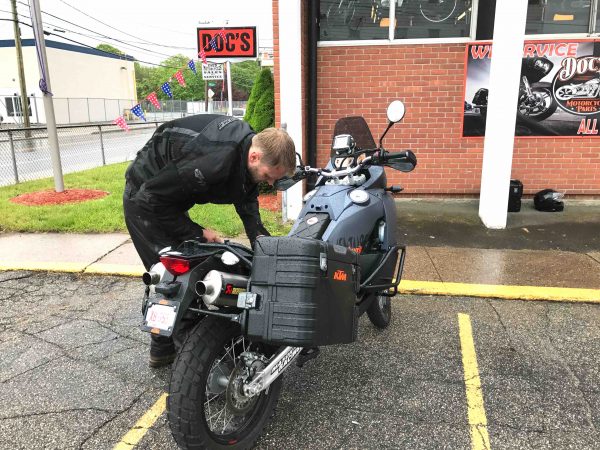 The hard luggage case on the left side of the KTM had been ripped off on impact. Closed circuit video from Doc's later showed the KTM, with Rehmel beneath it, sliding down the street on its left side down and Rehmel immediately popping to his feet, turning back toward the car, and raising his arms in a "What the heck?" manner.
Rehmel said he had been headed to Target to get some duct tape and a belt before hitting the highway. He recalled his three-year search for his dream bike. "I'm a little shook up and I'm crushed – three years of checking nationwide," he said.
Rehmel spotted the KTM the day Roost posted it online and put down a deposit the next day, he said. He then booked a plane ticket to Bradley International Airport (near Hartford). Now, though, he wondered, "Is this a sign from the world that I should stick to dirt bikes and be a dad?"
That the driver of the car was a rider and that the accident happened in front of a motorcycle shop was a coincidence. "That's pretty crazy," Rehmel said. If a do-over were possible, he said, "I would be wearing a high-viz yellow rain suit and probably put on LED lights that I could engage on a day like today."
The police were called at approximately 11:10 a.m. As hours passed, Rehmel tried to get the bike running, but it wouldn't turn over. Engine guards had saved it from serious damage. Both Rehmel and Galek called their insurance companies. Given the circumstances both were admirably civil and cordial. Accidents do happen.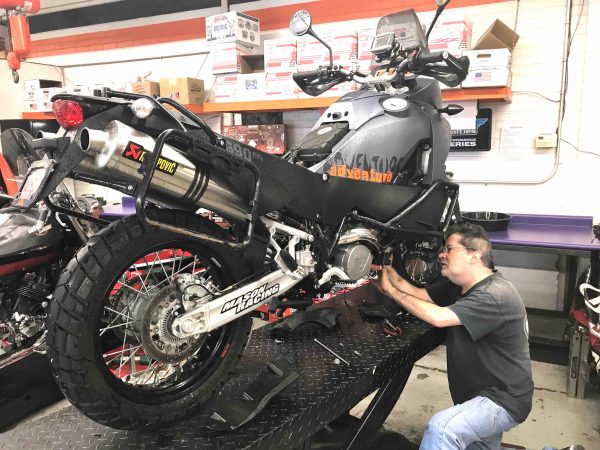 Rehmel sustained a scraped shin and sore wrist. "I'm shook up. I'm bummed," he said. By Sunday morning (May 14), though, his ribs were hurting and he had a large bruise on his leg. He was popping naproxen for pain relief.
Eventually, it dawned on everyone that maybe disconnecting the KTM's battery might reboot it. Roost had sent a truck to haul the bike back to Thomaston, but Mike D'Occhio of Doc's stepped up and offered his service department to help.
It was just about the time the bike (with a new battery installed) fired back to life that a Waterbury police officer finally arrived at Doc's to get details and begin a report that the insurance companies would need. The officer arrived at 5:05 p.m. – five hours and 55 minutes after 9-1-1 was dialed. Rehmel was incredulous that a police response to an accident could take so long. The officer gave Galek a verbal warning.
A short time later, he headed out, but within a mile or so, the KTM quit again. That forced an overnight stay and a trip back to BDL on Sunday afternoon to rent a Ford F-250 pickup. It wasn't the Mother's Day weekend that he'd planned.
Postscript: Rehmel did get to enjoy a bit of riding on a borrowed bike in Litchfield County, CT before getting the pickup and heading for home. He arrived home on  Monday (May 15). Parts for the KTM have been ordered by his mechanic and the bike will soon be back running.
(This column originally appeared in the "Republican-American" on May 20, 2017).