CANTON, CT – A global pandemic can quickly cause folks to reflect on all the simple pleasures that many of us have had to do without lately – like a leisurely ride through the countryside on a warm, sunny afternoon with an ice cream stop along the way. 
Together, motorcycles and ice cream make a good ride a great one.
So, to assist riders in getting in some good licks, RIDE-CT & RIDE-New England is launching "The Great Northeast Ice Cream Run."
It will be a regular feature; designed to provide fun and tasty riding destinations as well as  help our local small businesses and their employees get back on their feet after the financial devastation many have suffered over these last few months.
I'll have more details on the feature in the future, but let's get to it with the inaugural destination – Canton Creamery.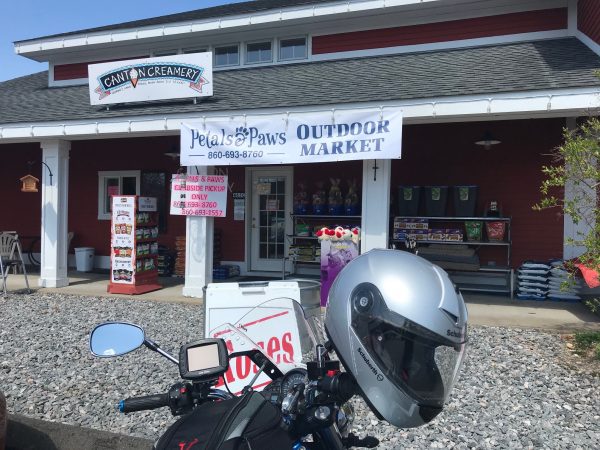 Located at Petals & Paws Plaza at 465 Albany Turnpike (Rte. 44) , the site houses both a pet supply store and garden center, in addition to the creamery.  All ice cream is made fresh on site, concocted in micro batches for patrons to enjoy. 
The menu boasts a variety of unique offerings such as Guinness Stout Chocolate Chip, Chamomile Tea and Chai flavors in addition to a large selection of traditional favorites. Several seasonal flavors are mixed into the menu as well. Hot fudge sundae lovers will want to know that the topping is homemade, too. 
The owners gave me a free sample of their amazing chocolate. A subtle but distinct note of cocoa powder made it especially delicious. Being a coffee ice cream aficionado, I decided on the Kahlua Coffee flavor, and it was superb!
As a promotion for the 2020 season, Canton Creamery is offering $1 off any medium or larger ice cream cone, cup or shake to anyone who comes by via motorcycle and mentions the RIDE-CT & RIDE-New England discount.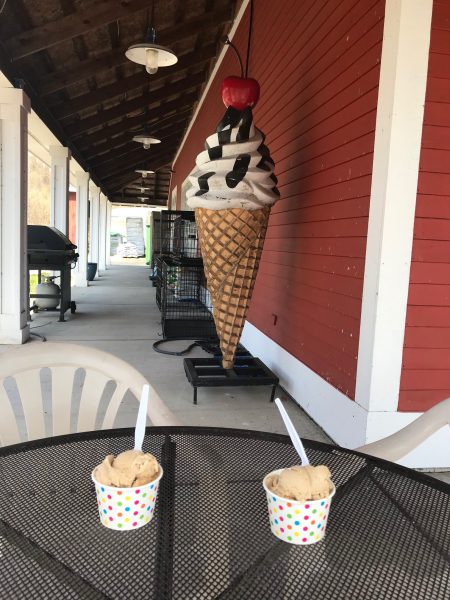 Some nearby route suggestions to head to/from the Canton Creamery: Route 179, a north/south route that heads up towards Barkhamsted and Hartland areas. Route 202 west takes you to Torrington where it joins Route 4 to Goshen, Cornwall and beyond. Both routes offer an abundance of scenic countryside. 
Just a short distance away from Canton Creamery is Matterhorn Mini Golf, a rather extraordinary take on a recreation from our youth, while the nearby town of Collinsville is also a great spot to browse shops.
Canton Creamery is open Monday thru Friday from 9:00 a.m. to 7 p.m., Saturday from 9 a.m. to 6 p.m. and Sunday from 11 a.m. to 5 p.m.