RHINEBECK, NY – Foster's Coach House has been rejuvenated. When I first stopped there a dozen or more years ago, our group had a pleasurable visit and I even considered purchasing a pint glass embossed with the tavern's logo to add to my small collection. A second visit just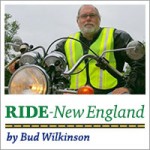 a few years ago proved far less satisfying and, upon inquiring, was curtly told beer glasses were no longer available.
It was on a whim during a nearly day-long ride around Duchess and Columbia Counties last week that four of us stopped in to find the pub and restaurant undergoing improvements.
Craftsmen were attaching a copper panels to a side roof above the outdoor patio. Rather than being a distraction during lunch, it was educational watching them work as we lounged amidst buzzing bees.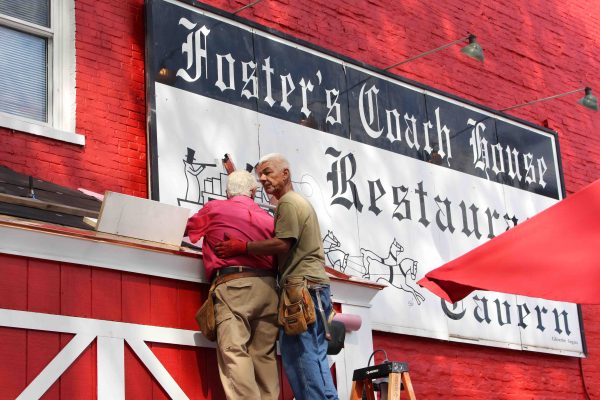 The roof re-do was just one of many changes that general manager Michelle Miller later detailed. It seems more than a simple spruce-up was necessary when new ownership took over in December.
First some history: The place originally opened just footsteps from the main intersection in downtown in 1890. It was then called The Village Tavern and it became a favorite watering hole of New York Yankees' owner Col. Jacob Ruppert, the man who brought Babe Ruth to the Bronx from Boston. Wally Foster bought it in 1941, renaming it Foster's Coach House and giving it a horse country theme.
Bob and Karen Kirwood assumed ownership in 1965 and kept things cooking until 2009 when Bob passed away. Afterward, Foster's apparently treaded water until Elijah and Neil Bender, a son and father, bought it in December. The local men set about to revive it as a town touchstone – both from an infrastructure and culinary standpoint.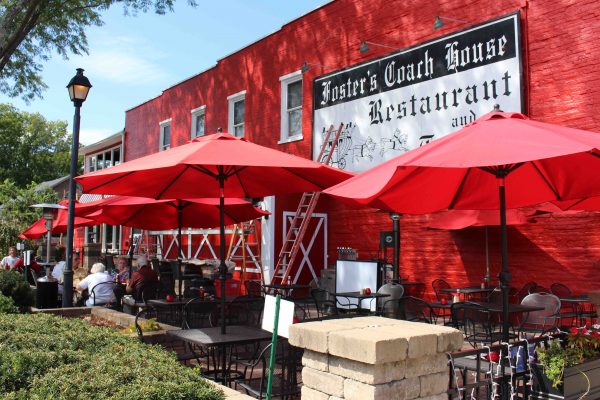 "They're restoring it where it needed to be," said Miller, listing a new main roof, new side roofs and new kitchen equipment. Exterior bricks were fixed and the outside given a new coat of bright red paint. The party room upstairs got remodeled and the downstairs improved as well. "They're bringing it back to what it used to be."
The menu also got attention, too. "Everything on the menu is made in-house," said Miller. The mozzarella wedges are hand cut, the pasta salad, cole slaw and soups are homemade. Lobsters are steamed and cracked on the premises. The goal was to upgrade the quality of the food offerings but keep the prices reasonable.
The menu offerings are pretty much what you'd expect – burgers and wings, steamers and clams. London broil is a specialty. There's a kids' menu and for dessert there's cheesecake and pie – apple, blueberry and pecan.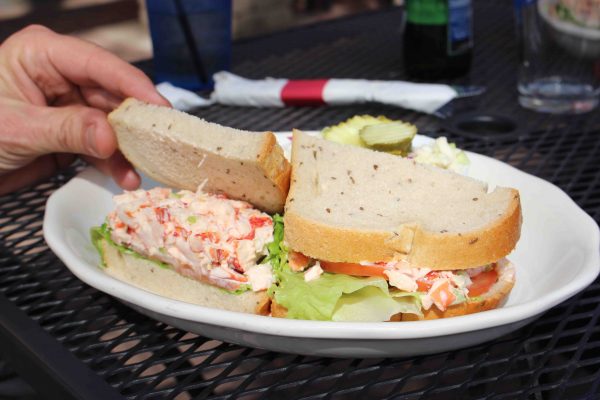 "We're trying to target the families," said Miller, explaining that there are other places in town for trendy, more expensive entrees and craft beer. "It's a place you can go where you can afford to bring your family."
What's nice for riders is that the parking lot is adjacent to the outdoor seating section. "They love the fact we have a patio," Miller said.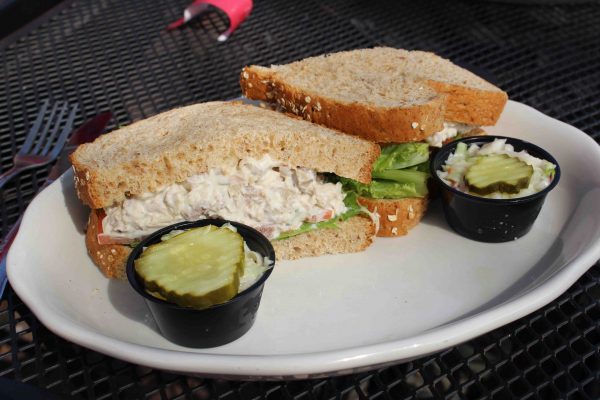 Our quartet decided to keep it simple by simply ordering sandwiches – two lobster salad, one sliced turkey and a chicken salad for me. All were hefty and tasty. It being a warm afternoon in late summer, Foster's Coach House was busy and the waitress was running. She forgot a side salad as well as the minestrone soup that I ordered as a side. It wasn't a big deal and she later brought them. As Miller had promised, the soup was homemade and flavorful.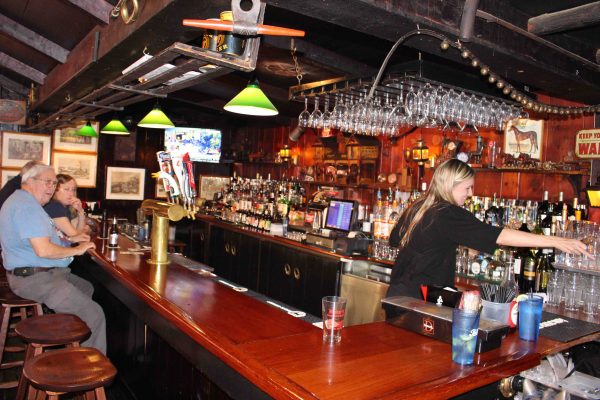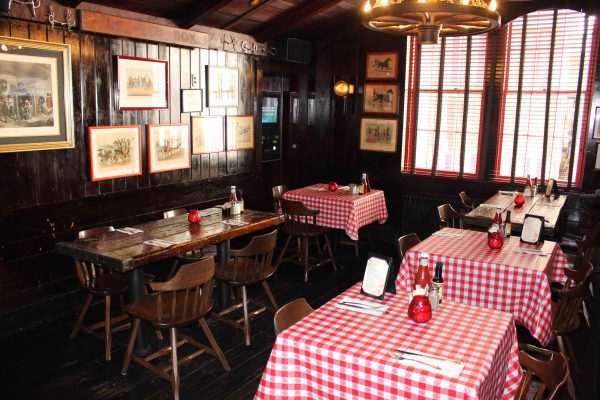 All of the changes have seemingly made Foster's Coach House a reliable and friendly place to stop again. The dark interior retains the old-time feel, although with autumn here now is the time to sit outside while you still can. Gas heaters are already in place. It's closed on Monday and is open 11 a.m. to 9 p.m. Tuesday-Thursday and Sunday, and from 11 a.m. to 10 p.m. Friday and Saturday.
For the record, logo pint glasses are now back in stock. This time, I bought one.