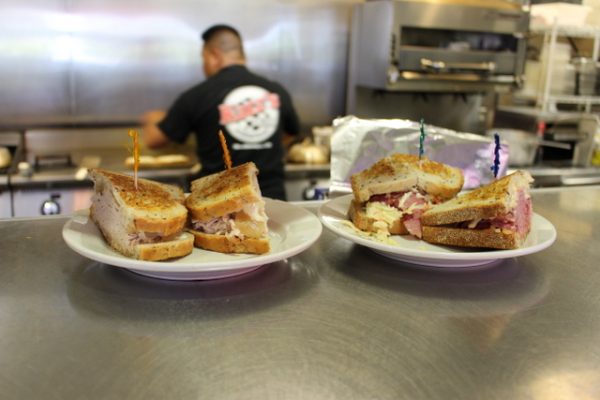 WOODBRIDGE, CT – Being a gentile with an English heritage, I've been known to commit the inexcusable act of bringing a small jar of Hellmann's mayonnaise (called Best Foods out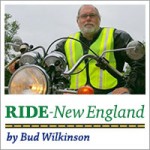 west) with me when visiting a Jewish deli, so as to slather it on a corned beef on rye sandwich.
Lately, though, I've been leaving the Hellmann's at home, and not because I've suddenly developed a love of mustard. Still can't stand it, but I have come to love a good beef Rachel that pairs a pile of corned beef with melted Swiss cheese, cole slaw and Russian dressing between two slices of grilled rye. Adding mayo to that combination would indeed be a sin.
The place that's caused me to ditch the Hellmann's and simply dig into the sandwich is Katz's Deli, which is just off the Wilbur Cross Parkway in Woodbridge, CT. Riding buddy Ken Engelman introduced me to Katz's a couple of years ago and I've made it routine place to eat whenever a trip to New Haven was necessary, more than a half-dozen times in the past year. I've taken friends there, and they, in turn, have taken others.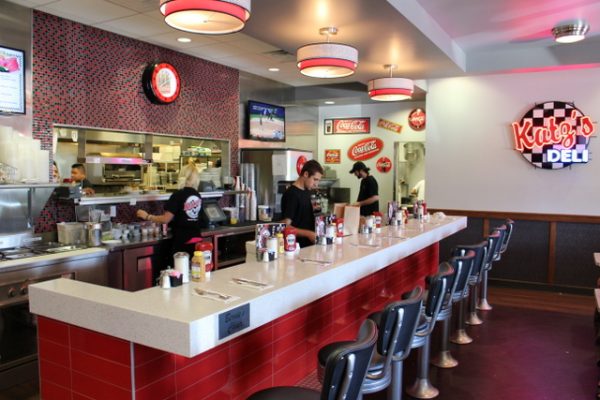 The accompanying pictures may show empty seats, but that's only because management asked that I get permission from customers if I wanted to include them in a  picture. That would have been too time-consuming and taken me away from my Rachel. Suffice to say, though, that the place has been packed every time I've visited – and with good reason. Tasty food.
An alternative to the Rachel is the Reuben with Swiss, sauerkraut and Russian dressing, and both are available with various meat choices – corned beef, pastrami or turkey pastrami, turkey breast, brisket, roast beef, tongue or tongue tip or in combo form. "Steve's Sky Highs" – a refer to owner Steve Katz, I assume – provide additional combo choices, including chopped liver. (The full menu may be found on the deli's website here.)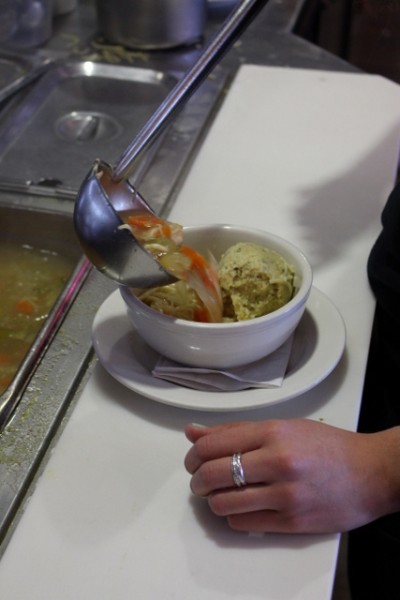 Before your sandwich arrives, cole slaw and pickles are brought to your table. I like pickles about as much as mustard, but the cole slaw, well, it's remarkable. It has always been explodingly fresh. Chicken Matzo Ball soup may be a staple at Katz's, but another friend swears by the cabbage soup. Having tasted it, it's rich and thick and flavorful.
What makes Katz's special, in addition to the food, is the wait staff. Invariably, they've been prompt, friendly and efficient, with an occasional and welcome bit of "attitude" that adds to the atmosphere. If there isn't time to wait for a table or booth, the counter at Katz's provides a spot to really watch the staff in action.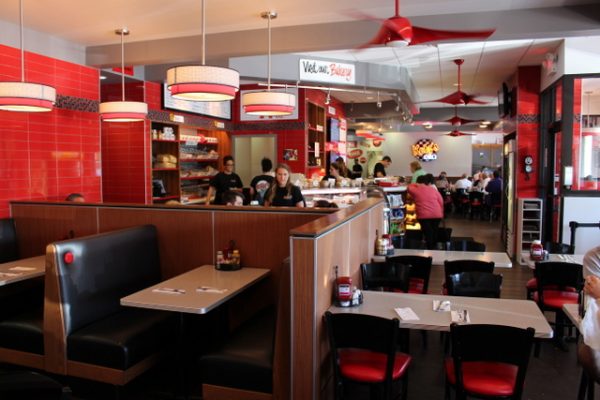 I've never tried breakfast at Katz's but dessert is another story. The rugelach is mouth-watering. The only disappointment I've experienced is with the coconut macaroons. They weren't as moist or gratifying as they could have been.
Katz's Deli is located in a strip center at 1658 Litchfield Turnpike (Route 69), north of the intersection where Route 63 from Naugatuck and Route 69 from Prospect meet and on the north side of the Wilbur Cross Parkway. The proximity to the parkway makes getting in and especially getting out of the parking lot problematic at times, and a bit more risky if you're riding a motorcycle.