GRAND RAPIDS, MI – Almost two years after shutting down, EBR Motorcycles is back in business with limited production. The American-made superbike line created by Erik Buell and built in East Troy, WI is now being hand-built by two of its former assemblers at a facility here.
"We are going to keep the iconic brand in production with specialized and performance builds," said company owner Bill Melvin in announcing the re-start of production. EBR plans to build both street and racing models, but only three units initially.
"The approach is to keep it boutique and high performance driven, ala Bugatti, Koenigsegg, or Lotus," said Melvin, adding that more updates and motorcycles are planned for 2019.
According to a press release, "Engine builder Eric 'Eroc' Weber and chassis builder Elliot Malzahn recently put the finishing touches on their first three editions, whose fairings will get custom paint treatments to celebrate their return. Weber began building motorcycles at the Buell factory in 1996. Malzahn began in 2000."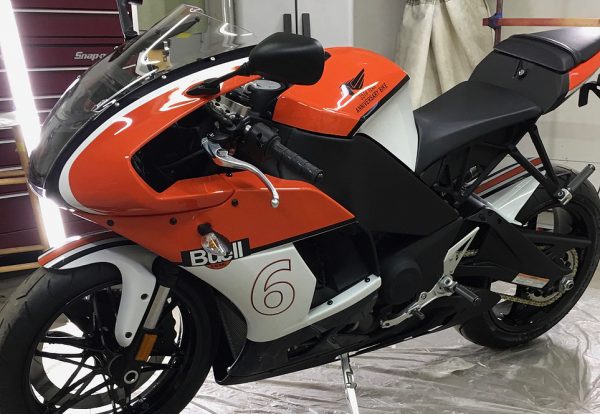 EBR recently received its 2019 EPA certification. "It's great to see the iconic legacy in experienced hands like Eroc and Elliot. We are fortunate the team of legacy employees stay involved to keep the only American Superbike in production," Melvin said.
In announcing its return, EBR did not give a price for its bikes, saying only "final pricing will be determined by the custom finishing touches." The model lineup in 2016 included the 1190SX with an MSRP of $12,995 and the 1190RX with an MSRP of $13,995.
The company said, "The Erik Buell-designed motorcycle is unique with its fuel tank incorporated into the aluminum frame to keep its center of gravity in an ideal position. The front brake rotor is located on the perimeter of the wheel with an 8-piston inside-out caliper to maximize stopping power. The hand-built fuel-injected 1190cc V-twin engine produces a peak of 185 hp at 10,600 rpm."
EBR was the most recent chapter in Buell's legacy. Buell began as a racer and engineer for Harley-Davidson, then launched the Buell Motorcycle Company in the 1980s. Harley-Davidson later acquired it and eventually folded it. Buell then started EBR. Melvin acquired EBR's assets 2016.
– By Bud Wilkinson