ENFIELD, CT – A two-generation, family-owned dealership that began in 1971 when Bruce and Shirley Miller opened Enfield Arctic Cat has quietly exited the power sports arena. Known for now as Enfield Motor Sports, and offering Kawasaki, Suzuki and Yamaha motorcycles at 27 Palomba Drive, the dealership recently sold. The buyer was the growing chain of MOMS motorcycle stores in New England.
"It was time – 50 years," former co-owner Dale Badura said Saturday. "I'm 64. I've been here 44 years." While the sign out front continues to say Enfield Motor Sports, Badura was wearing apparel bearing the MOMS logo as she sat behind a desk in the showroom. "It's finalized. It just hasn't changed the name."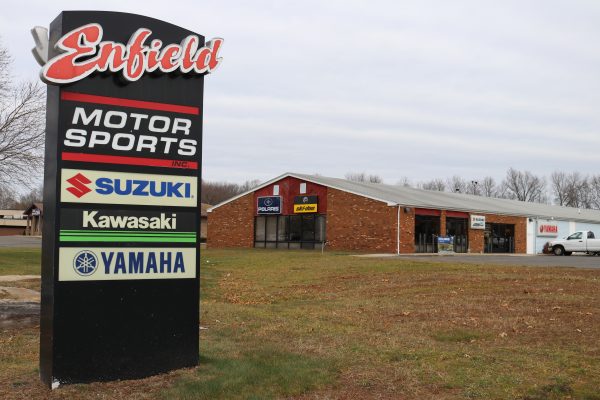 Badura and her sister, Diane Waterman, have owned the store since 1995, having taken over from their parents. "We're Enfield Motor Sports for a couple more months," Badura continued, explaining that a few other details in addition to a name change need to be completed. One item is the installation of a new computer system that will tie the store into the MOMS mother ship.
Badura, who declined to have her picture taken, acknowledged mixed feelings about selling. "I'm happy. It's weird," she said, adding that it's "time to walk away." She has a new granddaughter to help fill the space formerly occupied by the demands of running a business. "It's very hard to be a woman and work the hours that you do and run a home and run a family, but I wouldn't have changed it for anything," she said.
Store Was For Sale For Three Years
While the deal with MOMS was only consummated earlier in the fall, the store had been on the market for three years. The sale reflects a changing industry where multi-store corporations are gobbling up small family-run operations. "You couldn't be a mom and pop store anymore," said Badura, reporting that manufacturers favor the big operators.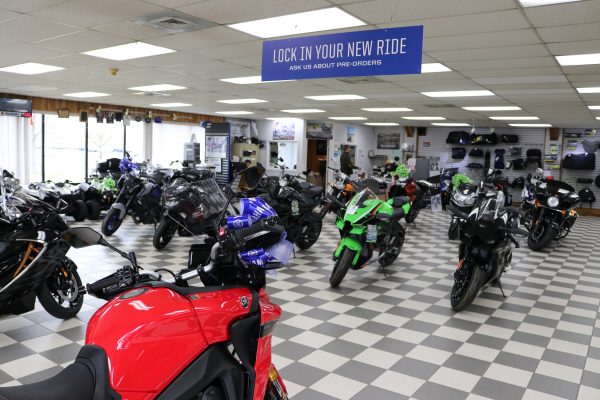 Another challenge recently has been difficulty in getting new models and parts because of the COVID-19 pandemic's impact on the supply chain.
Badura is still working at the store for the time being. "We're not leaving. We're staying for a while," she said, adding that MOMS may add more lines to the stores offerings.
MOMS Continues To Grow
Just how many motorcycle dealerships MOMS currently owns isn't precisely known. The acquisition in late 2020 of Absolute Powersports in Gorham, NH brought the total to five stores. It joined MOMS Manchester in Manchester and MOMS North Country Powersports in Groveton, both in New Hampshire, along with MOMS stores in Foxboro and Revere, MA.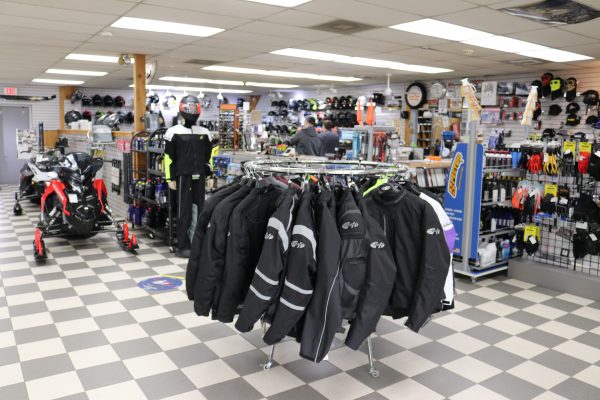 Earlier this year. MOMS picked up Route 3A Motorsports in North Chelmsford and Indian Motorsports of North Boston in Tyngsboro, both in Massachusetts. Route 3A Motorsports sells the Kawasaki brand, while Indian Motorcycle of North Boston has the CF Moto, KTM, Triumph and Zero lines.
That lifted the total in the MOMS collection to seven, with Enfield Motor Sports being store number eight. However, Badura said MOMS has acquired six stores in roughly the past year, with another newcomer to the group being Valley Motorsports, the Ducati, Honda, Kawasaki and Yamaha dealer in Northampton, MA.
RIDE-CT & RIDE-New England contacted a MOMS representative more than a week ago, who confirmed the purchase of Enfield Motor Sports. He promised that someone else would provide more details. No word has been received yet.
Hello! If you enjoyed this story, please share it with other riders by clicking on the social media buttons below.