By Bud Wilkinson of RIDE-CT.com
Wearing a varsity jacket with an Indian motorcycle logo embroidered on the back and holding a half-smoked cigar in his left hand, Mark Ruccio stood in the sun-drenched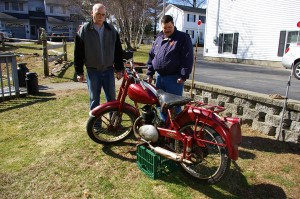 backyard of his Naugatuck home on a Sunday morning earlier this month assessing a small red motorcycle balanced atop a plastic milk crate and trying to determine just how difficult it will be to get the single cylinder bike buzzing again.
"I don't think it's going to take much to get it running," Ruccio surmised after depressing the kick starter and clicking the right-foot shifter through the gears. "It's not frozen. She'll kick. She's got compression." The "she" that held Ruccio's attention is a 1958 James Commando, a 197cc machine originally owned by his wife Pam's uncle, Joseph Rossi.
The James Cycle Company Ltd. was founded in Birmingham, England around 1880 as a bicycle manufacturer. But during the first half of the 20th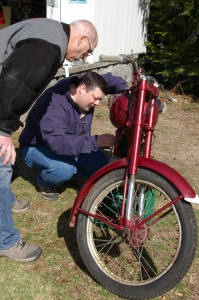 century, it specialized in lightweight motorcycles and had a habit for assigning models names that began with the letter "C" – the 98cc Comet, the 147cc Cadet, the 175cc Cavalier. Other models included the Colonel, Captain and Commodore. Later purchased by A.M.C., which produced Matchless and AJS motorcycles, the brand disappeared in 1966.       
Rossi, who served in the U.S. Army in World War II, presumably learned about James motorcycles while serving overseas in the infantry – teaching servicemen how to ride motorcycles. Well-known in Naugatuck for his half-century of ownership of a downtown shoe store and for his boxing prowess, he also raced motorcycles. He bought the Commando on Feb. 13, 1958 from F.E. Rowe Co. Importers in Muskegon, Mich. for the seemingly astronomical price of $458. "You could have bought a car for that price," Ruccio noted.
Rossi died last year at age 92 and his son, Joe Jr., gave the James to motorcycle enthusiast Ruccio, who rides a 2005 Harley-Davidson Road King Custom police edition. At the time, Ruccio believed the bike to be a 1955 Cadet, but recently Rossi's son came up with the original bill of sale. It shows that the bike is a 1958 Commando fitted with "motocross equipment," chrome tank, Dunlop sport tires and twin seat – definitely a dirt bike.
Rossi evidently modified it as a rear rack rests where the passenger seat should be and the tank is painted red. For a 53-year-old bike that was raced, though, the James is in great shape. The odometer only shows 2,116 miles. The fact that the two-stroke Villiers engine hasn't seized is an especially good sign. "We're trying to get it running. Since it's a two-stroke, it might be a little easier," said Ruccio, referring to friend and Rossi relative Ed Pilat of Prospect, who was on hand for the bike assessment session.
Pilat rides a 2005 Harley Fat Boy, but he, too, was caught up in the uniqueness of the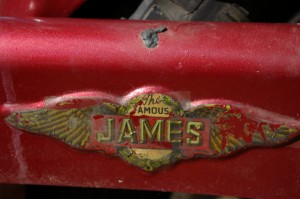 James brand. "Everybody's seen Hondas and Harleys and everything else," he said. But hardly anyone here has seen a James, loftily touted as "The Famous James" in a decal on the Commando's chain guard. As best as RIDE-CT can determine, street motorcycles made by James were never sold in the U.S. In the U.K., James motorcycles were generally considered affordable commuters. As noted, Rossi's Commando wasn't made for on-road use even though it did have a pillion seat.
The bike has elements that impress and even confuse Ruccio and Pilat. For instance, the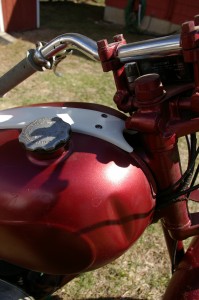 gas tank has matching indentations on either side in front to enable the forks to rotate all the way to either side.  The gas cap has engraved instructions – "Four measures of oil to one gallon of petrol" – as well as recommendations for what kind of oil to use: Mobil Oil A, Castrol XL, Essolube 40, Double Shell Energol. "The gas cap is worth a fortune," Ruccio suggested.
Overall, the James is "in good shape for the year. What amazes me is the two spark plugs with one cylinder," said Ruccio, who is unsure of whether both fire or whether one is a spare as the bike only shows one spark plug wire. The bike also has "The Terry Spring Seat Saddle" and has been "Bonderized for rust resistance." 
The goal now for Ruccio and Pilat is to get the James running. You can be sure that Ruccio won't part with it once that happens. He'll ride it. "I'm not going to sell the thing because it's got so much sentimental value," he said. It's just too uncommon and too cool, the kind of bike made for worshipping on a sunny Sunday morning by parishioners of the Church of Two Wheels.
(Originally published in "The Republican-American" on April 9, 2011.)