EAST HARTFORD, CT – A year after buying TSI Harley-Davidson in Ellington, CT and renaming it Old School Harley-Davidson, Chad Clark and Bryan Castor have now reportedly picked off Gengras Harley-Davidson as well, according to industry sources.
Details of the deal are not yet known. RIDE-CT & RIDE-New England has reached out to Clark and Castor as well as left a message for Gengras Harley-Davidson general manager Joe Barone, but has not heard back.
Clark and Castor also own Sheldon's Harley-Davidson in Auburn, MA, just southwest of Worcester, which they acquired in January 2013. The acquisition of Gengras Harley-Davidson marks the pair's third purchase in two years. They bought Spitzie's Harley-Davidson of Albany in NY as well in May 2018.
Gengras Owned Store For 17 Years
Gengras Harley-Davidson at 221 Governor St. opened in January 2003 after car dealer E. Clayton "Skip" Gengras bought out Hartford Harley-Davidson, which had been located on Wawarme Ave. in Hartford.
Gengras Harley-Davidson was the Gengras family's lone motorcycle franchise, although the company once tried a European motorcycle store that sold BMW, Triumph and Ducati motorcycles. Gengras car dealerships sell the BMW, Chrysler, Dodge, Jeep, Ram, Chevrolet Volvo, Honda, Ford and VW brands.
Only 18 miles separate Gengras Harley-Davidson and Old School Harley-Davidson. The addition of Gengras Harley-Davidson gives Clark and Castor a brand monopoly along I-84 and the Mass Pike (I-90) between Hartford and Worcester.
Sale Surprises Competitor
The lone other Harley-Davidson dealer in central Connecticut, Yankee Harley-Davidson in Bristol, CT expressed shocked over the news of the sale of Gengras Harley-Davidson. "It came out of left field," said general manager Mike Keehan.
Gengras is selling the Harley-Davidson store at a time when the Milwaukee-based brand is experiencing sagging sales. Keehan said Clark and Castor buying Gengras may help move the brand forward in the region. "I think they'll do well," said Keehan. "They're good guys. It could be what we need."
Clark is a former district manager for Harley-Davidson, while Castor has worked at several Harley-Davidson dealerships, including a stint as sales manager at Gengras.
It is not known if Gengras Harley-Davidson will get a new name. When Clark and Castor bought TSI Harley-Davidson, the name was quickly changed to Old School Harley-Davidson. That wasn't the case when they bought Sheldon's and Spitzie's.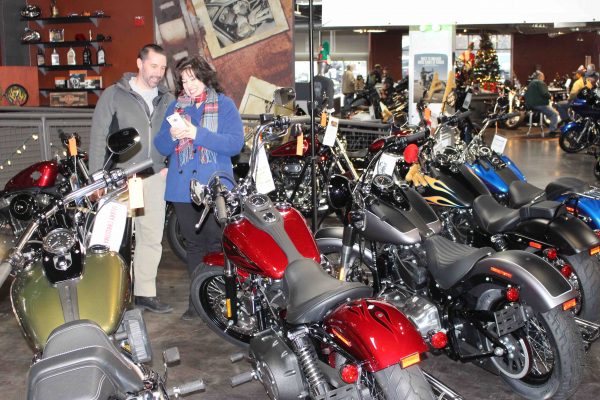 Hello! If you enjoyed this story, please click on one of the social media buttons below and share it.