MILWAUKEE – With violent protests over the death of George Floyd while in police custody in Minneapolis taking place in U.S. cities coast to coast in recent days, motorcycle manufacturer Harley-Davidson this evening issued a statement on social media condemning racism and bigotry in American society.
"Racism, hatred or intolerance have no place at Harley-Davidson," the statement read. "We stand in solidarity with our Black colleagues and riders, as we condemn acts of racism and bigotry of any kind, and move forward together toward an equitable society for all."
It concluded, "United we will ride."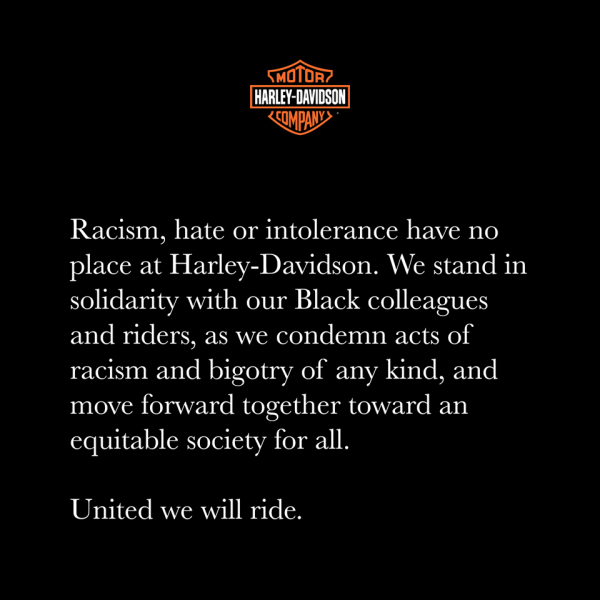 The statement resulted in an immediate outpouring of comments on Facebook, more than one thousand within a period of two hours.
The majority of the comments appeared to be supportive, but some chided the company for stating the obvious, while others questioned the necessity of putting out a statement.
Here's a short sample of comments posted on Facebook:





Harley-Davidson's statement came in the wake of looting and fires being set over the weekend in the company's headquarters city of Milwaukee.
Multiple stores were looted and multiple fires were set, according to the "Journal Sentinel" newspaper, which said 109 people were arrested for curfew violations over the weekend.
Floyd died May 25 and two autopsy reports issued today ruled the 46-year-old Minnesota man's death was a homicide. Floyd was handcuffed on the ground and a Minneapolis police knelt on his neck for numerous minutes as he cried that he couldn't breathe and pleaded for help.
Harley-Davidson provided no indication of what prompted it to release a statement.
Indian, the other major maker of motorcycles in the U.S., has not commented on the chaotic situation in the country prompted by Floyd's death.