HINCKLEY – A significant drop in sales due to the COVID-19 pandemic is forcing British motorcycle maker Triumph to lay off 240 at its U.K. plant and a total of 400 worldwide.
The company employs 2,500 people around the world, with 1,044 in the U.K.
Employees were told of the layoffs on Monday. Triumph said the pandemic "has significantly reduced global demand for large capacity motorcycles."
The website Leicestershire Live reports that between 6,000 and 7,000 of the roughly 65,000 motorcycles that are built annually by Triumph come from the U.K.
Bloor Calls Times "Challenging"
"These are not only challenging times for everyone as individuals, but also for the company," said Triumph's chief executive, Nick Bloor.
"No business could have anticipated the scale of the coronavirus crisis and its economic consequences. The pandemic has caused significant damage to the global motorcycle market, and, sadly, we have to respond and react according as both a responsible employer and as a business that invests in the future."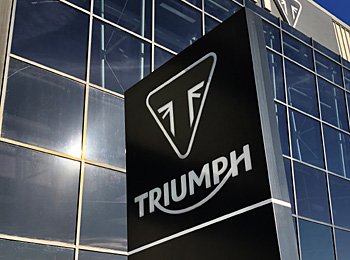 Triumph is the largest motorcycle maker in the U.K. The company reports that sales of 500cc-plus models in countries such as France, Italy, Germany, the U.S. and the U.K. have fallen between 40 and 45 percent over the past three months – the key springtime selling season.
"These are not easy decisions to make, especially when individuals' livelihoods are affected; however, regrettably the scale of impact of COVID-19 necessitates us to restructure now in order to protect the long term health and success of the Triumph brand and business, " said Bloor of the layoffs.
Hello! If you enjoyed this story, please share it by clicking on one of the social media buttons below.