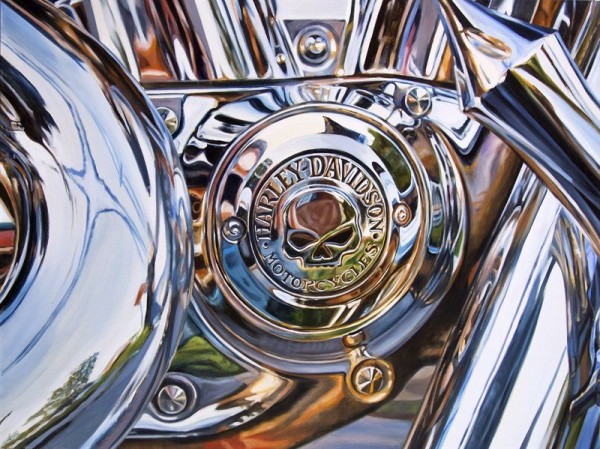 To an owner, a Harley-Davidson motorcycle is already a piece of art. To New Jersey artist Allan Gorman, it's the pieces of a Harley-Davidson – the engine, exhaust, derby cover or gas tank – that are worthy of being turned into actual oil paintings. Gorman's done nine Harley-Davidson paintings so far and is working a tenth. "They take about a month; a month to six weeks each. It's a custom build," he said Thursday afternoonwhile taking a break from applying paint to canvas on that tenth painting in his studio in West Orange, NJ.
While he doesn't want to become known solely as a "Harley artist," he nonetheless hopes that Harley-Davidson paintings will raise his profile. Starting in May, he's taking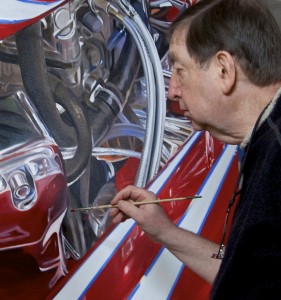 the series on tour. "The Ready to Rumble Road Show" will visit numerous Harley-Davidson dealers in New York, New Jersey and Pennsylvania. The paintings will be displayed, limited-edition signed prints will be sold and there will even be tour posters, a portion of the proceeds from which will go to charity via local H.O.G chapters or the dealership. "I thought I'd do this like a rock and roll revue, like a band would," said Gorman (pictured).
Gorman knows a little something about getting a message across. His professional career was spent in advertising, starting on Madison Avenue just after the "Mad Men" period. He retired in January. "I painted back in the '80s a little, but I just dabbled. It wasn't creative back then," he said. A self-taught painter, he took up the brush again in 2008 after a hiatus of more than 25 years.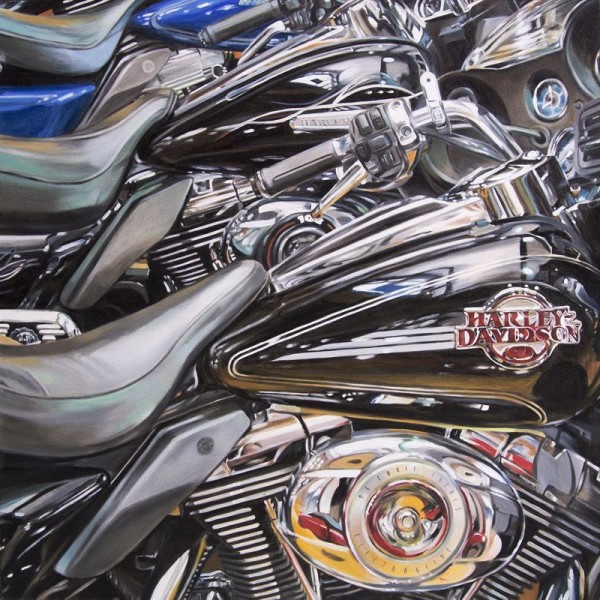 "Three in a Row" By Allan Gorman
"I used to paint people," he said. That was followed by landscapes, architecture and, eventually, trucks. "I started going to truck stops," he recalled. What he noticed, though, weren't the hulking 18-wheelers, rather the parts on them, details such as mirrors and grills. From trucks, he moved to watch mechanisms. "That kind of ran its course," he said.
Up next? Motorcycles. "Somebody said, 'Why don't you approach Orange County Choppers," he reported. "When you have celebrity, everybody wants a piece of you. That was sort of a closed door." Painting Harley-Davidson motorcycles provided the solution.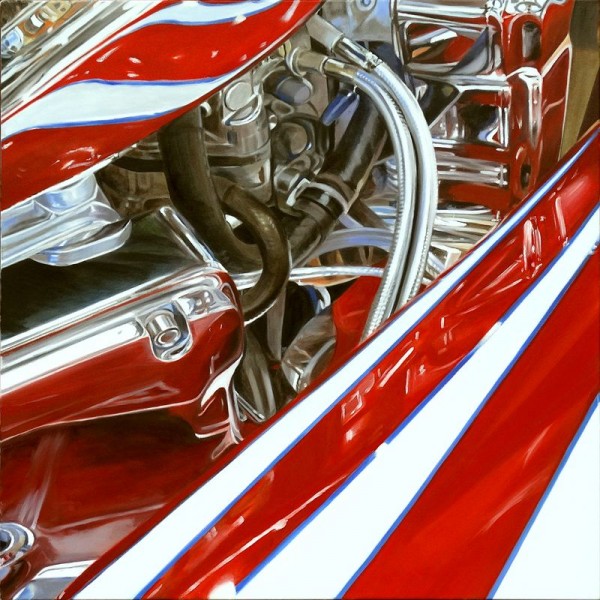 "Candy Cane Chopper" by Allan Gorman
Gorman"s paintings are striking for their realism, detail and vibrancy as he looks for "the dance that's going on inside" the subject. "The paintings are not your typical flames and skulls and stuff like that. I'm more interested in the abstract compositions that I find; the reflections, the juxtaposition of circles and straight lines; the chrome that has a reflection in it," he said. "It's more about the abstractions than the objects themselves. I haven't seen Harley-Davidson presented this way before."
"Yellow Frame" by Allan Gorman
"The Ready to Rumble Road Show" tour kicks off May 1-3 at Garden State Harley-Davidson in Kinnelon, NJ followed by an extended May 5-26 stay as Hots Rods n' Harleys in Rahway, NJ. Other locked-in dates include Tramontin Harley-Davidson in Hope, NY from May 20 through June 1, Keystone Harley-Davidson in Parryville, PA from June 6-8 and Bergen Harley-Davidson in Rochelle Park, NJ on June 13-14. Miracle Mile Harley-Davidson in Great Neck, NY will be visited in August, Brian's Harley-Davidson in Langhorne, PA in September, Liberty Harley-Davidson in Rahway, NY on Oct, 3-4 and Valley Forge Harley-Davidson in Valley Forge, PA in November.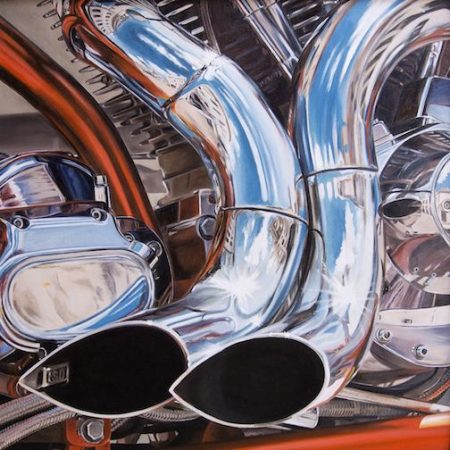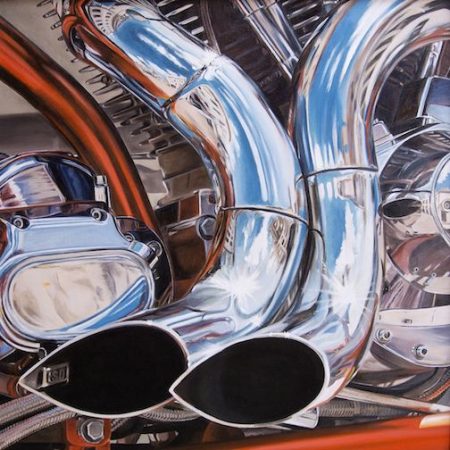 "Double Trouble" by Allan Gorman
"I'm in northern New Jersey, so I kind of looked at what's in striking distance of New York City," said Gorman of the dealerships that are hosting tour stops. His hope is that each visit will be "a good traffic builder for the dealer." Some invitation-only parties and "meet and greets" are planned, just like in the concert world.
Gorman is already looking ahead to the next subject area that he'll tackle with paint, although he didn't disclose it. His long-term hope is "that my work is meaningful and will endure. It's not just commerce that I'm after," he said.
Learn more about Gorman at his website Alan Gorman Fine Art.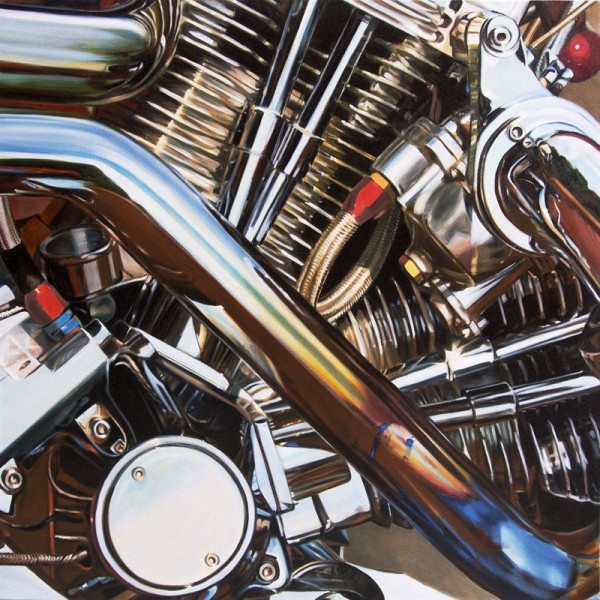 "Macho Dream" by Allan Gorman