(Update: Dates for the IMS stop in NYC will actually be Dec. 1-3.)
NEW YORK – Here's an item for those riders who like to plan well in advance. Nothing's been announced yet regarding 2017-2018 dates and tour stops for the Progressive International Motorcycle Shows, but the days for the New York City visit may have been leaked by Moto Guzzi.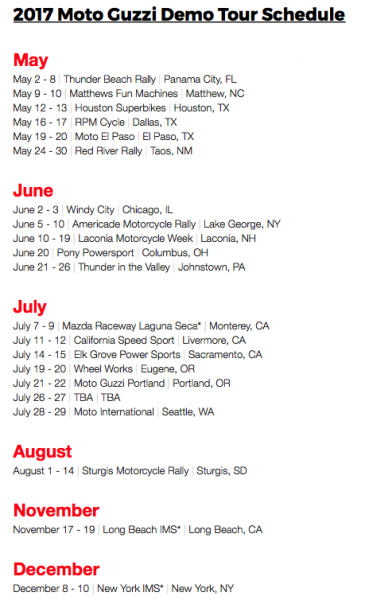 RIDE-CT & RIDE-NewEngland has discovered that buried on the manufacturer's website – on a page listing a demo tour schedule for 2017 – is a line giving Dec. 8 -10 as the dates for the next IMS at the Jacob K. Javits Convention Center in NYC.
The line carries an asterisk noting that Moto Guzzi will not be offering demo rides at the IMS, rather it will just have a display. The list also notes the company will be at the IMS in Long Beach, CA from Nov. 17-19 with a display as well.
Moto Guzzi wasn't among the manufacturers participating in the 36th annual tour in 2016-2017, which only visited seven cities. The dates for that tour were not announced until mid-July last year. Dates for the 35th anniversary tour in 2015-2016 were revealed on June 2, 2015.
Just when the dates for 37th tour will be announced isn't known.
The IMS website still contains thank-yous for the 2016-2017 tours and a tease that says, "Stay tuned for the 2017-2018 tour schedule."