LITCHFIELD, CT – The only motorcycle on display at a classic car show tends to get noticed, no matter its brand, model or age. It would be difficult, though, to find a more interesting example of an early brand and model than the entry brought by Peter Downs to a recent show at Litchfield High School.
Downs rode to Litchfield Lions Club's "Biggest Little Car Show" from his home in Warren on the 97-year-old motorcycle that he inherited two years ago from his father, Richard Downs. It's a dark blue 1925 Henderson DeLuxe. 
"It was left to me. My brother got his '47 Chief," Downs said, referring to a 75-year-old Indian that his father handed down to sibling Tim Downs of Falls Village.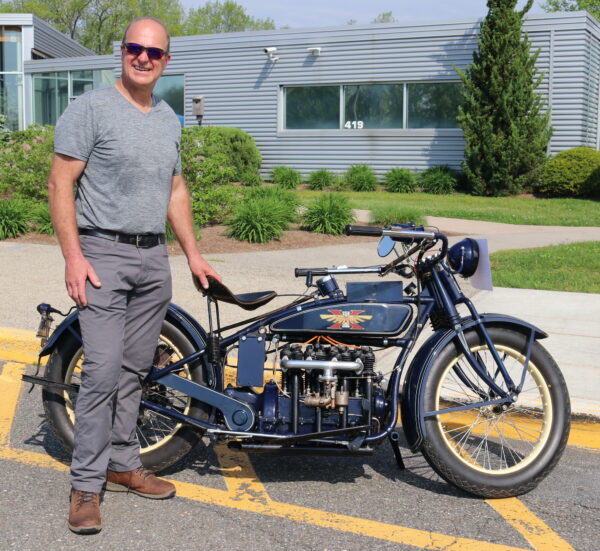 Richard Downs, who lived in Washington Depot, acquired the Henderson in 1986 from a man in Michigan. It came with a sidecar. The previous owner had it since 1965. "It ran but it had a lot of engine issues," he said. "Second gear was pretty much non-existent. It was ground right off."
Over this past winter, Downs took the Henderson apart and did what was necessary to get it running smoothly. The transmission got redone and the pistons in the inline, four-cylinder engine got sanded.
Downs has put 300 miles on the bike since completing the job. He usually rides it a couple of times a week. "It really hasn't gone out of Warren much; changed the oil twice already," he said, reporting that a backroads ride to the show has been its longest trip so far.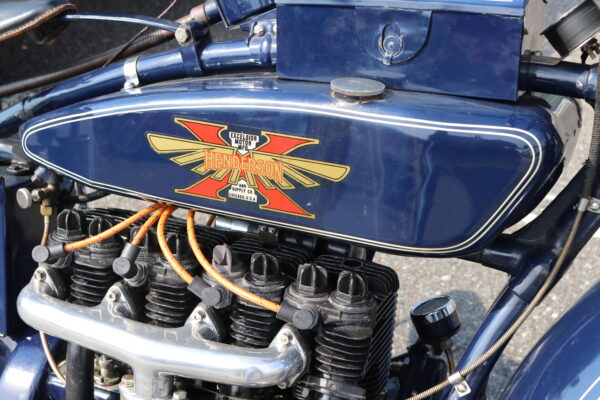 The 1,301cc engine produces 28 horsepower. "I've had it up to 65 (miles per hour). That was enough for the tires," he said, adding that the Henderson's comfort zone is in the 35-40 mph range.
Henderson was founded by brothers Tom and William Henderson and began manufacturing motorcycles in Detroit in 1912. The brand lasted until 1931 and was owned by the Schwinn bicycle company from 1917 until its demise. 
The Henderson DeLuxe has a sprung seat and certainly reflects the time period in which it was built. "You've got to plan your stops a little; you've got no front brakes," Downs said. "It's a rough ride. No rear suspension, very little front suspension."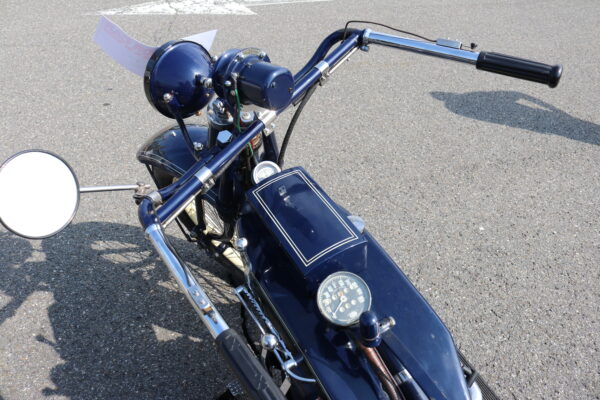 One noticeable element of the Henderson is the handlebar, which wraps around either side of the gas tank. The grips are nearly parallel to the tank, making grabbing them more difficult than on a motorcycle of today. The length on either side also cramps knee room and forces the operator to sit upright.
"It's a handful," said Downs of riding the Henderson DeLuxe, allowing "it's not bad if you're taking off straight on level ground." He is enjoying it. "It's much more fun to ride without the sidecar."
(A version of this column was originally published in the "Republican-American" newspaper on May 28, 2022.)
Hello! If you enjoyed this column, please share it with other riders by clicking on the social media buttons below.