It's another edition of "If You Had Asked Me, I Would Have Told…" It's an items column filled with national and local news tidbits along with a bit of opinion. Here goes:
"If You Had Asked Me, I Would Have Told You…"
Still Waiting For An Official Announcement, But…
The identity of the Connecticut dealership that will soon be selling Indian models is a secret no more. The dealership has seemingly tipped its hand.
At least it seems that way thanks to an overnight email blast from the store. As was mentioned in the last edition of "If You Had Asked Me…," it's hardly been a well-kept secret that Connecticut is getting a second Indian dealer, joining Brookfield Indian Motorcycle.
The specific store has kept mum at Indian's request. Except that last night's email promoting the winter storage of motorcycles from Street Stuff Cycle, the Triumph dealer and custom shop in Norwich, contained a revealing picture.
Atop the email is a picture of an Indian Scout parked next to a Triumph Bobber.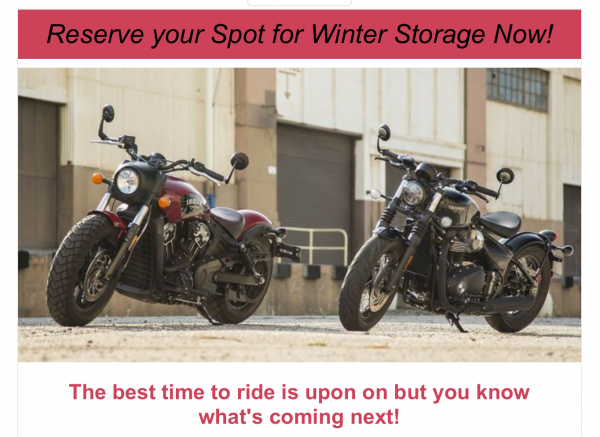 Coincidence? I think not. A tacit confirmation announcement? No doubt. Looks like an official announcement will be made very, very soon.
Street Stuff Cycle / Triumph of New England isn't the only store in the Northeast expanding its offerings. RIDE-CT & RIDE-New England knows of a dealership on Long Island that will soon be adding Royal Enfield.
"If You Had Asked Me, I Would Have Told You…"
Moto Guzzi Plans V100 Sport Touring Model
Full details won't be released until the EICMA show in November, but Moto Guzzi plans a new sport touring model called the V100 Mandello. The model will have a liquid-cooled engine in the 1,000cc range. Pics released by Moto Guzzi show what appears to be a base model (in red) and a 100th anniversary edition (in green and silver).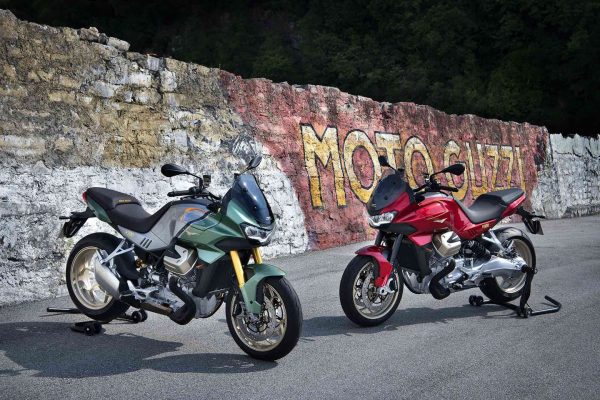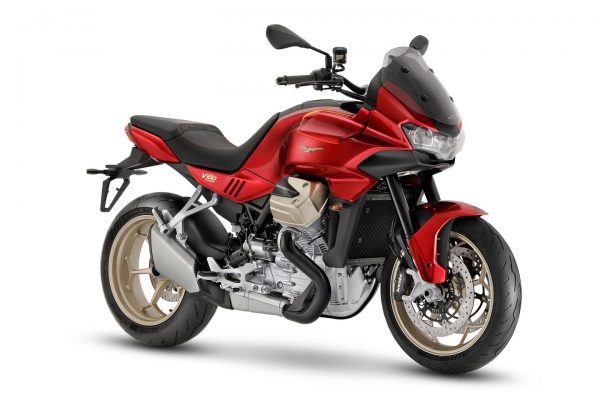 What the pics reveal is a fresh, aggressive model that's truly high tech. In addition to a powered windscreen, it also has panels on either side of the gas tank that flare open to direct wind flow. From a stying standpoint, the V100 Mandello looks magnificent.
It's Always Wise To Look Out For Critters
No matter the season, it's always wise to constantly be on the lookout for wild animals when riding. Two people were injured Saturday when they went down after swerving to avoid a bear on Route 199 near Washington, CT.
Meanwhile, friend Lisa Cheney avoided injury Sunday when a deer ran into her BMW as she was riding home to Connecticut from Vermont on Route 22 in New York. The doe clipped and severely damaged one of her rear saddle bags, sending her bike into a scary wobble. Cheney kept the bike upright, which she credits to rider training. The deer was killed.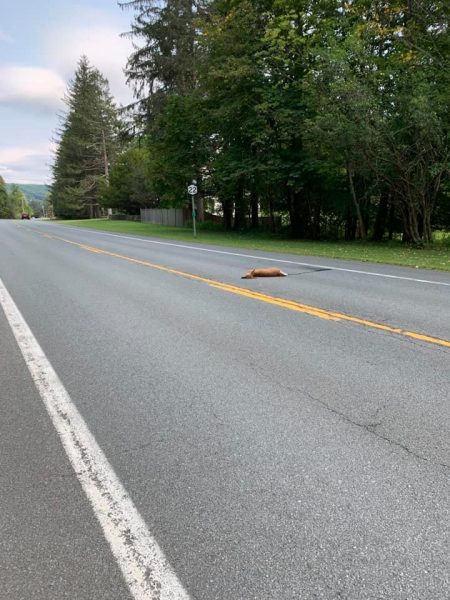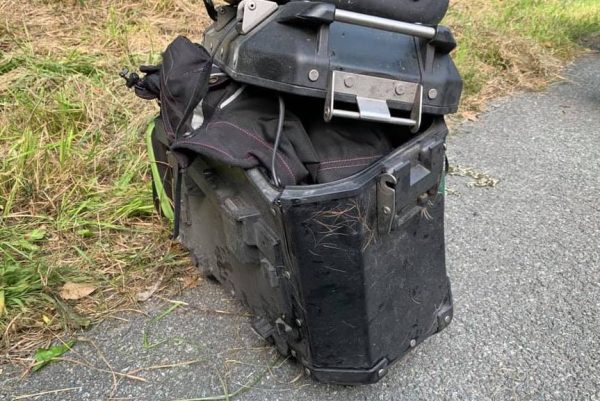 "If You Had Asked Me, I Would Have Told You…"
Opposition To Gas Stations Surfaces In California
This was bound to happen with the gradual shift away from petrol to electric vehicles – opposition to gas stations. In California, Petaluma became the first city in the nation to ban the construction of new gas stations as well as the expansion of existing ones. That happened back in March.
Now, Sonoma County is looking for ways for all nine cities in the county to do likewise. A vote is expected this month. California is requiring that all cars and passengers trucks sold in the state be zero-emission by 2035. "The Guardian" had the details last month.
Before Tennis, U.S. Open Champion Loved Dirt
Long before she won the U.S. Open over the weekend, teenage tennis sensation Emma Raducanu was into riding dirt bikes. A "TBT" post more than a year ago on her Instagram page shows her as a kid on a dirt bike with the caption adding "the good days riding my baby Kawi."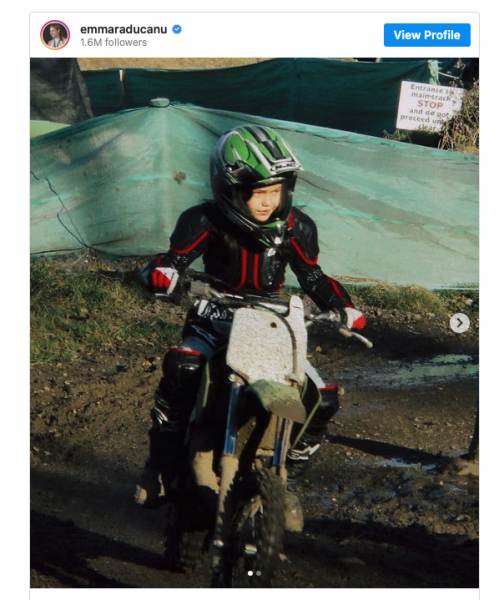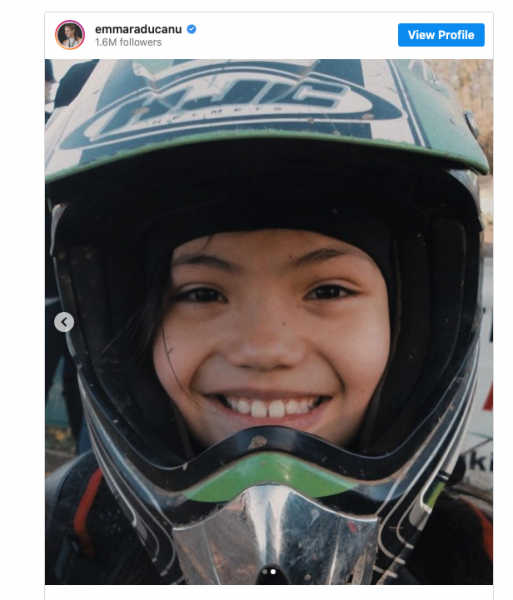 Her expression in the riding shot shows a determined competitor and skilled rider, too, as she's looking well ahead to where she wants the bike to go.
"If You Had Asked Me, I Would Have Told You…"
Apple Advises Camera Mounts Can Damage iPhones
Motorcycles produce vibrations and on some models they can be quite vigorous. In an advisory issued Friday, Apple informed iPhone owners of the danger of attaching the phone to the motorcycle, such as with a handlebar mount.
"Exposing your iPhone to high amplitude vibrations within certain frequency ranges, specifically those generated by high-power motorcycle engines, can degrade the performance of the camera system," Apple reported.
That's because iPhones have "optical image stabilization and closed-loop autofocus." Exposure to "intense high-amplitude vibrations, which are transmitted through the chassis and handlebars" can result in reduced image quality for pictures and videos.
Hello! If you enjoyed this column, please share it with other motorcyclists by clicking on the social media buttons below.