By Bud Wilkinson of RIDE-CT.com
The Springfield Museums' annual Indian Day, which honors the brand that was built from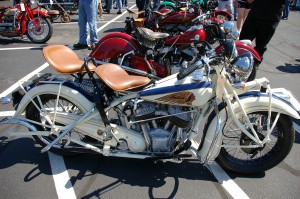 1901 to 1953 in the Massachusetts city, will be held this year on Sunday, July 15.
The rally draws dozens of Indian owners and their machines. Besides providing the opportunity to tour the Indian collection at the Lyman and Merrie Wood Museum, Indian Day also offers a chance to hear countless stories about the marquee and to buy parts from vendors.
—
Victory reports that it will unveil a new model on Jan. 20 on the opening day of the three-day Progressive International Motorcycle Show in New York. Will Honda do likewise? And what about Harley?
—
It's hard to believe it's winter with the weather that we've been having. Put 90 miles on the '74 Honda CB750 Four yesterday, visiting Libby's Motoworld in New Haven and then having lunch at Frank Pepe Pizzeria. (Two mediums – one pepperoni, the other sausage and onion.)
Thanks to Libby's service manager, Joe Mallia, for noticing that my front tire was low on air. He spotted it as our group was getting ready to leave and the saw that both tires got checked and filled quickly. Should have done it myself before leaving home. It nice to know that someone was paying attention.