MONSON, MA – In what will be a fitting tribute, a motorcycle procession will travel from Lombard Funeral Home to Bethany Cemetery here on June 30 for an 11 a.m. graveside service for Indian motorcycle enthusiast and expert Richard "Butch" Baer, who died Monday at 96.
Born in Worcester, MA on March 27, 2027, Baer got his first motorcycle ride as a newborn on a 1923 Indian with sidecar. He grew up in Springfield, MA where his father, Frank "Fritzie" Baer, ran the factory dealership at the original Indian Motorcycle plant.
Baer Became An Indian Expert
After being discharged from the U.S. Army in 1946, Baer "spent many hours at the Indian Motorcycle plant learning how motorcycles were made," according to his obituary.
"He became a master tool maker by trade and developed many tools including the Safe-T-Cut knife. He was the owner of Baer Cycle Sales in Springfield for over 20 years. Butch was a lifelong motorcycle enthusiast and in his retirement years he enjoyed vintage racing."
For decades, Baer collected and restored old Indians. He became a brand historian and expert.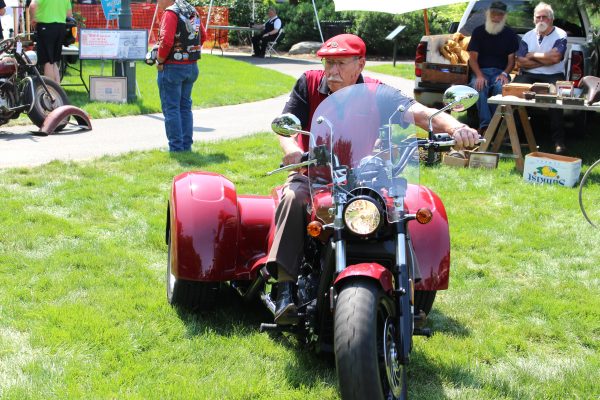 The obituary also reported, "He became a National Champion of Vintage racing and is also in the Springfield Indian Motorcycle Museum Hall of Fame."
In 2017, after a couple of drops in 2016, the Indian Motorcycle of Springfield dealership in Westfield, MA presented the then-90-year-old Baer with a new 2017 Indian Scout Sixty trike so he wouldn't have to give up riding. The trike was presented by dealership owner Dennis Bolduc.
The motorcycle procession will form at the funeral home at 3 Bridge Street between 9:30 and 10:30 a.m. Friends are asked to gathering at the cemetery for the funeral service.