LACONIA, NH – Even as countless images from the ongoing Sturgis Motorcycle Rally in South Dakota show most motorcyclists stubbornly failing to social distance or wear masks, plans are proceeding in New Hampshire for Laconia Motorcycle Week in less than two weeks. The event is expected to draw thousands of riders amidst the COVID-19 pandemic.
While the safety is being preached, and some additional adjustments have recently been made to deter close knit crowds, the 97th annual gathering still carries the potential of turning into a "super spreader" situation.
Laconia Motorcycle Week was originally scheduled for June 13-21 but was postponed in late April until Aug. 22-30. In mid-July, it was announced that vendors would be banned (except booths operated by non-profit groups).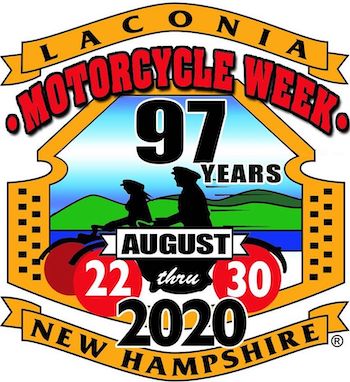 Last week, the Laconia Harley-Davidson dealership in Meredith announced that that it was canceling its plans to go ahead with live music, food and other activities on its property.
In a news release quoted in the "Laconia Daily Sun," owner Anne Deli said, "After extensive conversations with the Town of Meredith, we made the mutual decision to postpone on-site activity. We appreciate the understanding of our community as this was not a decision that was made lightly."
The dealership will be open during Laconia Motorcycle Week and will offer demo rides "following health and safety protocols in accordance with local, state and federal guidance," Deli said.
The newspaper also quoted Meredith town manager Phil Warren, who said, "The town recognizes and supports the actions taken by Laconia Harley-Davidson to not invite vendors on their property this year, knowing that the decision to do so was a difficult one and was made with the safety of all in mind."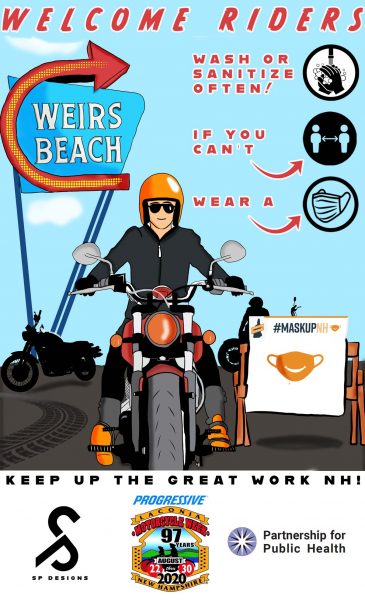 Those behind Laconia Motorcycle Week are stressing safety.
"Our primary goal here is to communicate the importance of appropriate safety measures like we all know – hand washing, sanitizing, staying socially distant and, if not, wear(ing) a mask," Laconia Motorcycle Week Association deputy director Jennifer Anderson told the newspaper.
"It is really our priority to communicate that message to as many people as we can. The city has the same goal. We've created posters, fliers, window decals for area businesses, restaurants, gas stations, lodging facilities, anywhere people go," Anderson said.
The Sturgis Motorcycle Rally is being staged despite the fact more than 60 percent of that town's residents voted against having it. City council determined that riders would show up regardless and felt businesses needed the income from riders.
Laconia Motorcycle Week is likewise going forward because of its economic importance to the area.
The lone other huge motorcycle event in the Northeast – Americade in Lake George, NY – was canceled in early June out of safety concerns.