SPRINGFIELD, MA – The images of classic and modern motorcycles and cars are so vivid, so colorful and so detailed that it's possible to imagine the roar of their engines and the smell of exhaust fumes inside an upstairs gallery at the Michele and Donald D'Amour Museum of Fine Arts in Springfield, Mass.
Some 50 paintings from more than a dozen artists from across the U.S. are on display in a soon-to-end exhibit titled "LUSTER: Realism and Hyperrealism in Contemporary Automobile and Motorcycle Painting."
"These are paintings that are closeups of engines; they are images of full cars; they are images that artists are inspired to create after they go to car shows or, perhaps, they have a motorcycle of their own that they're inspired to paint," explained Maggie North, curator of art at the Springfield Museums.
The umbrella designation of Springfield Museums is necessary because the campus just east of downtown contains five distinct museums, the best known likely being The Amazing World of Dr. Seuss Museum. It is dedicated to the artwork, family photographs and letters of Springfield native Theodor Geisel (aka Dr. Seuss).
There's also the Lyman and Merrie Wood Museum of Springfield History, which is filled with old Indian "motocycles" and a variety of car models that were built in the city. The original Indian company operated from 1901 to 1953 and had a plant nearby.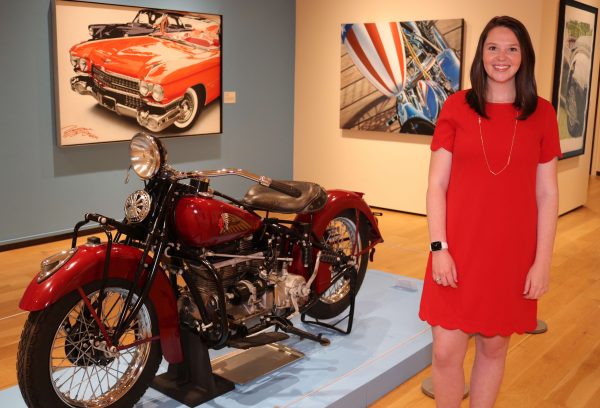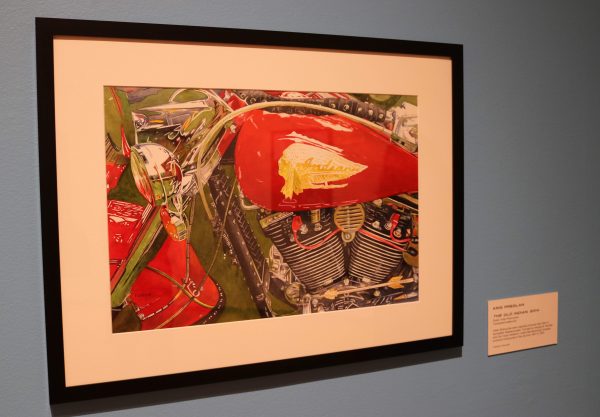 "Springfield has a long and impressive legacy of automobile and motorcycle production," said North. "When we received information about the exhibit we were so, so excited because it's a perfect match with our collection of classic cars and Indian motorcycles."
"LUSTER" is a traveling exhibit and runs through Aug. 23. It debuted in Daytona Beach, Fl. in March 2018 and visited seven other cities before arriving in Springfield in mid-July. It will return to the Northeast in October 2021 at the Lyman Allyn Art Museum in New London.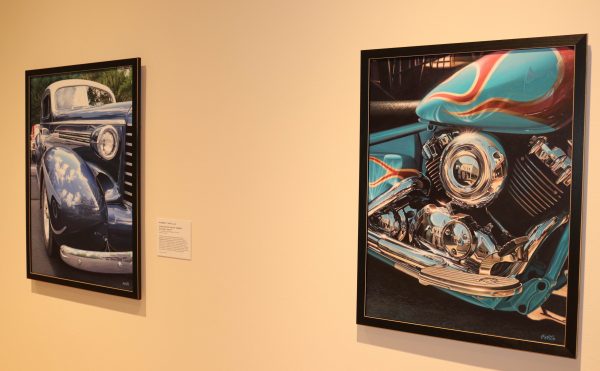 "One of the things that's so interesting about this exhibition is that there are a range of media, so you'll see oil on canvas paintings, more traditional, but you'll also see water color. You'll see paintings that involve the use of an air brush and visitors will also have the opportunity to see paintings that are actually created on aluminum, which gives the effect of that lustrous quality that cars also have," said North.
Besides exposing visitors to the artwork, another goal of the exhibition is to cross-pollinate the museums, and bring car and motorcycle lovers who might already be aware of the Wood Museum into the D'Amour Museum, a vice versa.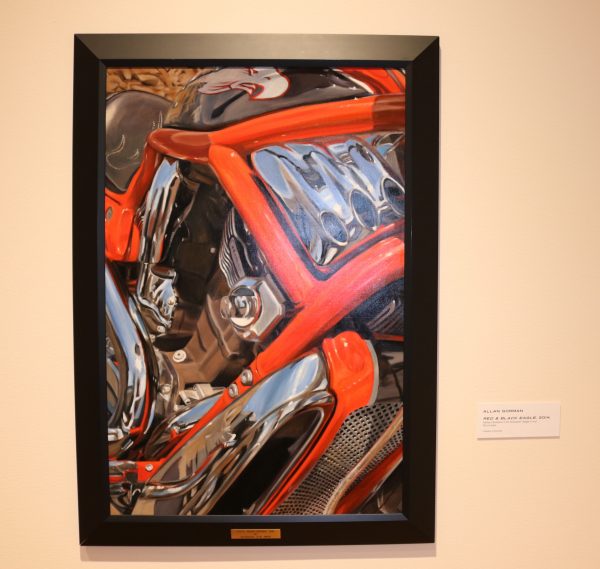 "That sort of cross-promotion and excitement between museums was one thing we were really looking forward to generating here," said North. "We do believe that folks who were aware of the car collection, who were car enthusiasts…, might be coming to the D'Amour Museum for the first time and really enjoying these paintings."
CONNECTICUT ARTIST FEATURED IN SHOW
Among the artists whose works are featured is Ken Scaglia, who lives in Weston, CT. Included in his acrylics on canvas are depictions of a vintage Harley-Davidson motorcycle, an engine from a Cobra, the rear fins of a Chrysler Saratoga 300 and a 1935 Bugatti engine.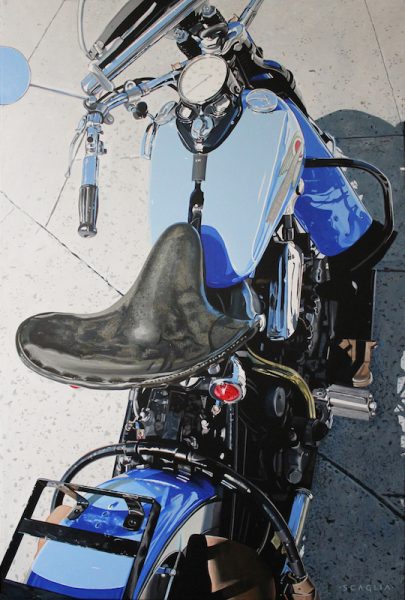 Scaglia traces his affection for old vehicles to growing up in Indiana. "I've always been fascinated with them" he said in a telephone interview. "The Indy 500 was always in the background. I grew up in the muscle car era."
With paintings of cars ranging from a Ford Falcon to a Jaguar E-Type, and motorcycles from a Harley-Davidson V-Rod to a Triumph Bonneville, the exhibition is expansive in recalling the history of motorized vehicles, with Springfield part of that history. Sept. 21, 1893 marked the first time a gas-powered horseless carriage was ever tested. It was a Duryea model and it was done on the streets of Springfield. An exact replica is on display in the Wood Museum.
"This exhibition is not only an exploration of realist painting but it's also a visual history of the design of cars and motorcycles," said North. "Expanding our definition of what art is and what art can be is one of the wonderful things we're always hoping to do here at the Springfield Museums."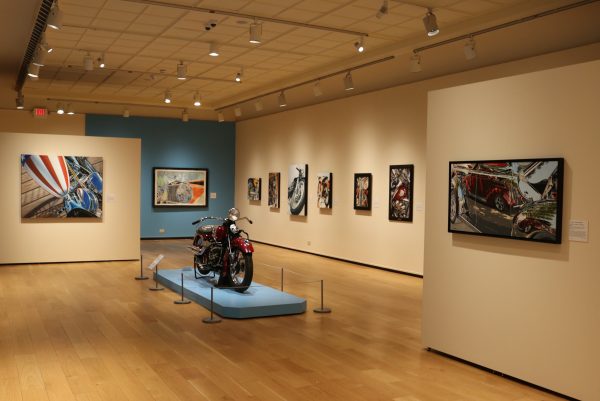 Besides the paintings in the LUSTER exhibit, the D'Amour Museum also has one other realist painting of a car in its contemporary gallery, a Don Eddy painting of a Volkswagen.
The Springfield Museums are open from noon to 5 p.m. Monday, 10 a.m. to 5 p.m. Tuesday through Saturday and 11 a.m. to 5 p.m. Sunday. Masks and social distancing are required and admission is limited.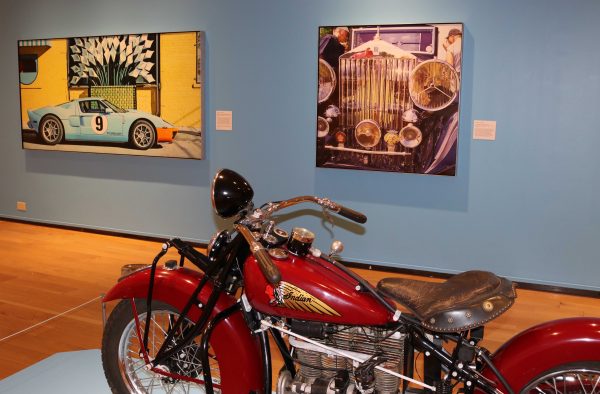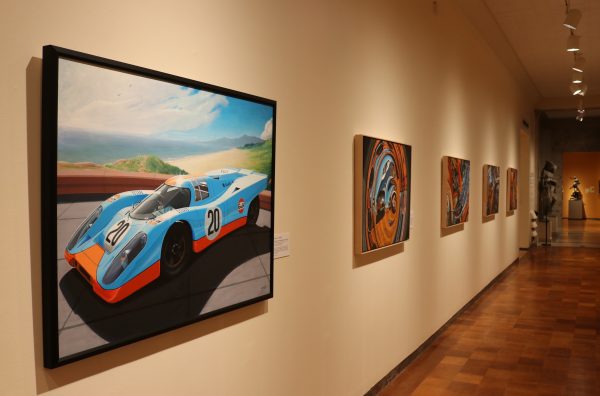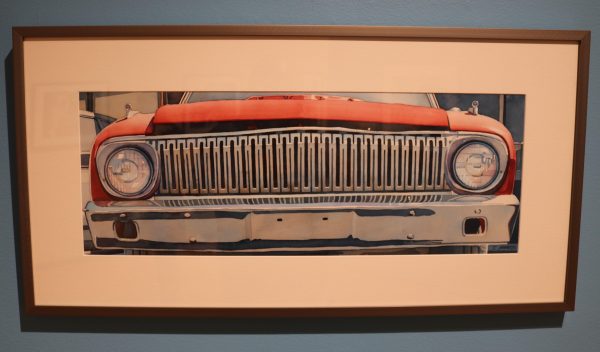 Hello! If you enjoyed this story, please share it on social media by clicking on the buttons below.