BRIDGEWATER, CT – A few weeks ago when perusing ADV Rider, I happened upon a thread in the Northeast Forum: "Ladies-only event: Over And Out, June 22-24 2018, Hancock." After over 40+ years as a female off-road rider, I had never witnessed an actual women's off-road event here in the northeast. It intrigued me to say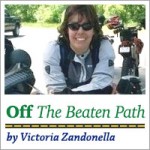 the least!
I promptly followed the links provided and searched the web to find out more about Over And Out.  The organizer of the event, Kelly McCaughey, was kind enough to get back to me to talk live about the upcoming event.  
Upon speaking with Kelly, it was evident that this event would be accommodating to all skill levels and modalities of off-road riding as well as being specifically for women. Sorry, gents, but ladies only. This type of atmosphere provides a comfortable, stress-free environment for female riders to meet, network and learn more about the various types of dirt-based riding.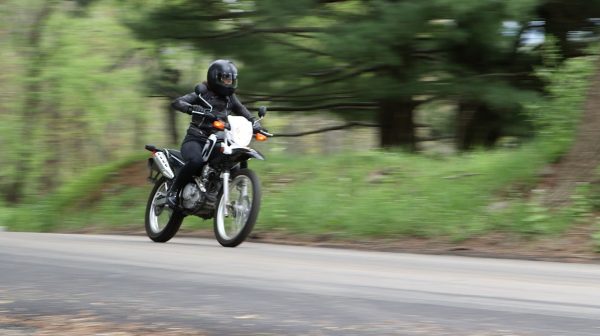 In addition to being a rider herself, Kelly's background is in creative design, marketing and event promotion, which is evident in how well-crafted and organized the event planning was up to that point. She explained the genesis for this event; how she had entered the sport in the last decade and had quickly seen the need for a female-focused event to bring women into the sport.
McCaughey went on to talk about how she named the event, which derives from the terrain options ("Over" enduro trails which go over the mountain and "Out" for the dual-sport and adventure routes which will run out from the epicenter of the event) as well as the joy of signing off from every day life and getting out in the woods with your friends, and yourself!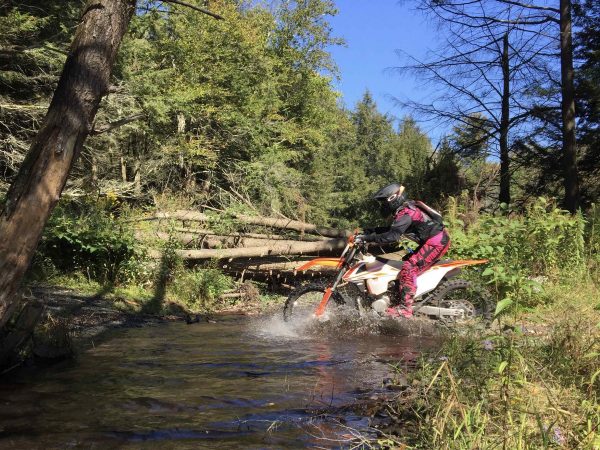 Over And Out is taking place on the Bear Creek Sportsmen property in Hancock, NY – home of the Great Kuggamugga ride and the Quarry Run Dual Sport. They are two very popular northeastern dirt events.  This location, at the gateway to the Upper Delaware, provides a perfect venue for trail riding as well as dual-sport and adventure riding opportunities. While there is a MX track onsite, it will not be used for this event. They will however be using the mini MX track for fun mini-bike games!
The Over And Out team has engaged some great sponsors to support the event like Babes In The Dirt, REV'IT as well as Hanover Powersports who will be supplying loaner Yamaha TTR trail bikes for one-hour group lessons ticket-holders can sign up for in advance of the event.
The event runs from June 22 through June 24 (Friday evening through Sunday). Riding starts on Saturday the 23rd with a mandatory riders meeting at 8:30 a.m. Tickets are $80, which includes a lunch provided by REV'IT, the ability to sign up for the one-hour lessons and many other perks.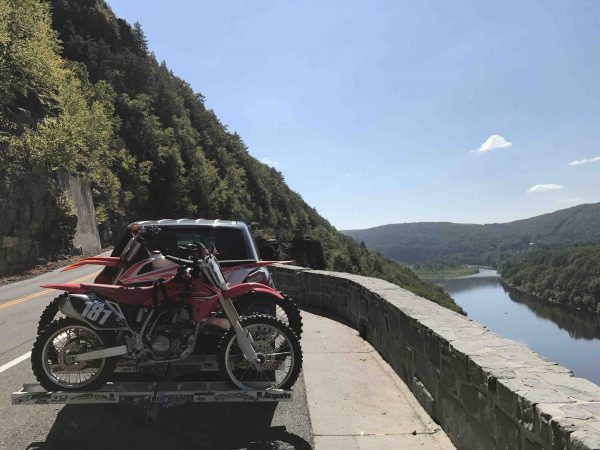 Onsite primitive camping is available for free. There are various lodging options in nearby Hancock proper.  Evening gatherings around the bonfire pit are also on tap. This year's event is limited to 100 riders up to keep the event intimate and enjoyable for attendees.
To learn more about the event, please check out Over And Out's website , FB page or Instagram page.  Join the Facebook Group to ask questions and connect with fellow riders planning to attend.
I'm excited that, for once, female off-road riders have an event to call our own here in the Northeast. I've booked my ticket and will be assisting the team with the dual-sport/adventure focused routes. This venue will provide a wonderful opportunity for participants to meet and network with other female dirt riders.   Thanks to Kelly McCaughey and her team for making it all possible.