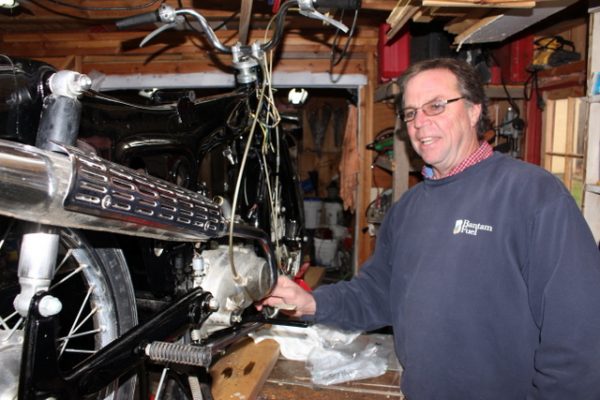 Jeff Crampton spent years in his youth working on Hondas. As a certified Honda technician and later as a service manager, he toiled at several dealerships in New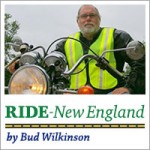 England back in the 1970s. His first motorcycle was a Honda – a 1965 Super 90 – and his current bikes are Hondas, too.
Parked in one shed behind his Northfield, CT home is a 1991 ST 1100 sport touring model, while in another double-long shed and sitting atop a lift is a customized 1977 CB750F. In that same 240-square-foot, heated shed and atop another lift is a 1965 C110 with a gleaming scrambler-style exhaust that's headed to auction.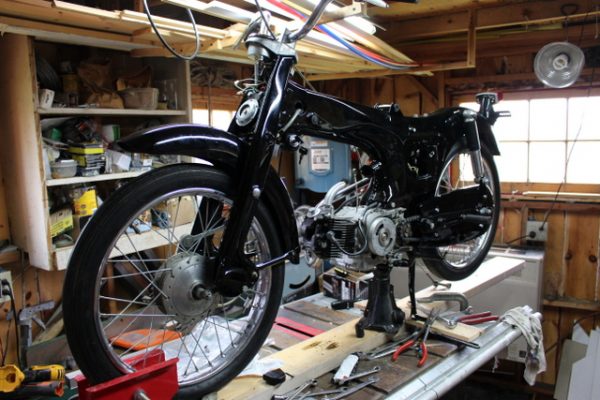 Crampton got the 50cc bike in October from donor Henry Wheelahan of Goshen , CT, who bought it four years ago for $500. "It came in six boxes. That's how I brought my first bike home," said Crampton, referring to the Super 90. He has volunteered to put the C110 together and get it running so that revelers may bid for it at the 25th annual Possum Queen pageant in Litchfield, CT on New Year's Day.
(The Possum Queen charity event, which begins at noon at the Litchfield Inn, gives adults a reason to dress up in silly costumes, participate in silly skits and hand over bribe money to judges. It's raucous and hilarious winter diversion, which RIDE-CT attended last year. )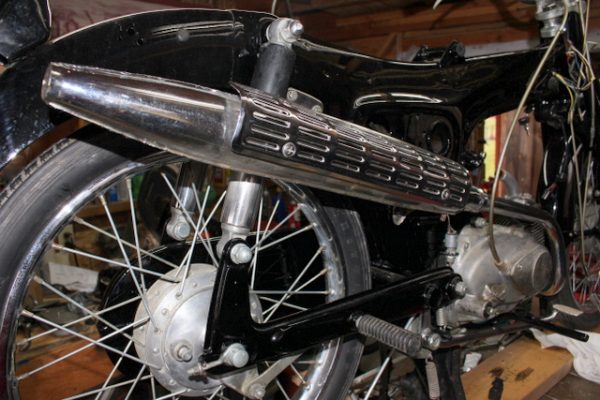 Crampton's journey to rebuilding the C110 started in 1972 when the Litchfield native landed a job at a Honda dealership in North Clarendon, VT.  "I just happened to stop in one day 'cause I had a (lousy) job," he said. The owner hired him, had him factory trained and put him to work.
All was fine until the day he called Crampton in and said, "'I'm going to let you go.' I was dumbfounded. He told me I needed to go back to Litchfield. Vermont was no place to raise a family (because of the education system), so I went home."
Crampton soon found work at Marino's Honda in Middletown as service manager. It was "a brand new dealership, a brand new building – a full bar, shag carpeting, color TV, full shower, lockers and a pet parrot," he recalled.
Business was booming. The dealership was selling 500-600 motorcycles a year. "We'd service bikes all day and then we'd have to set up new bikes at night because we were selling so many. I'd end up sleeping in my car," said Crampton.
He later worked at other dealerships until eventually, with family commitments forcing more reliable employment, he gave up wrenching. Crampton is currently operations manager for Bantam Home and Energy where he has worked for 24 years.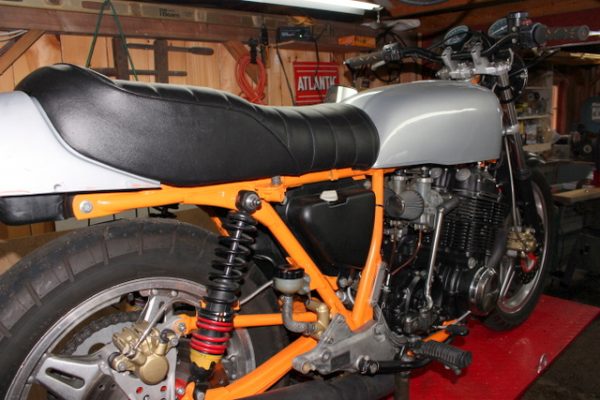 In his spare time, when not riding, he still works on bikes. He got his CB750F in 1979 from a friend in Vermont for free. It had engine issues. His friend told him, "'I can't deal with that bike. Take it home.' It was sitting in his front yard with the spark plugs pulled out," said Crampton, who brought it home and put it in storage.
Over the years, it has been on and off the road. Three years ago, when back in storage in a friend's barn in Bantam, the bike survived a hit when the roof collapsed. At that point, he decided to customize it with an orange frame, black motor and silver tins. "I thought (the frame) should accent the motor," he said.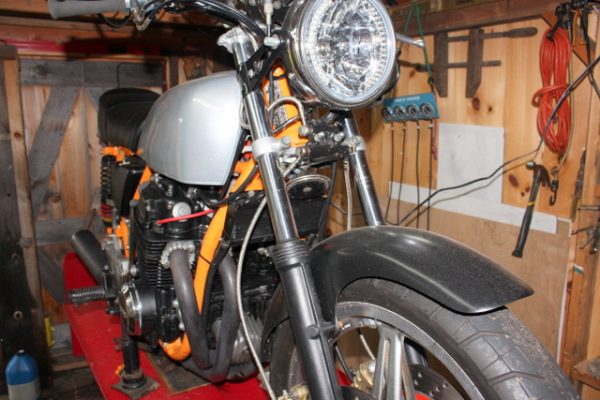 Crampton, who is 60, started riding at 14 on a 1959 Lambretta, a 150cc scooter. He's never been without two-wheeled transportation. His biggest regret is selling a 1979 Honda CBX, a six-cylinder model that the company only made for four years. "That was a hard one (to sell)," said Crampton, noting that the bike went to Ireland. "They didn't sell because nobody wanted to work on them," he added.
Getting the C110 running has taken time. He has worked "two hours at a time" over the past eight weeks. "Nothing missing, everything is there," he said.
Crampton did have to order a new intake manifold from Ohio for $27. The part seller wouldn't take a personal check or credit card, demanding that a certified check be sent. "That was the only one I could find in the United States," he said.
The C110 will be reassembled and running so that it may be rolled in before the crowd at the Possum Queen. "It would be great for anybody's collection," said Crampton, who's hoping that it fetches at least $1,000. Given the model's NADA book value – $1,315 in good condition and $2,420 in excellent shape – his estimate could be low.
(Originally published in "The Republican-American" on Dec. 20, 2014.)