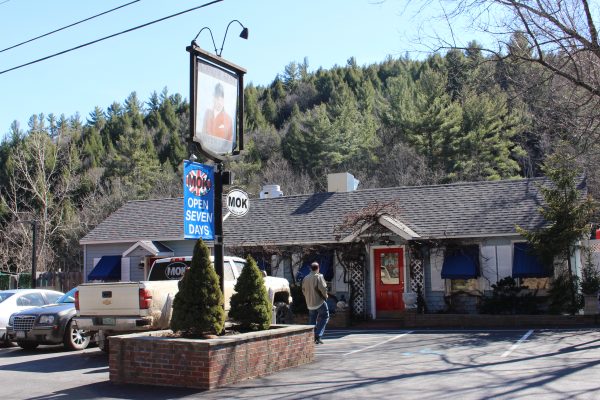 HOOSICK FALLS, NY – Occasionally, plans fall through. When that happens, it's sometimes the spur-of-the-moment alternative that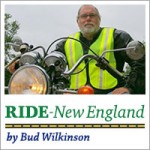 turns out to possibly be even more fun than the original scheme. Such was the case over the weekend. My friend Paul and I had decided to drive to Lee, MA, grab a bite of lunch and then visit the Glass Bottom Brewery to do a little tasting and to pick up a growler or two. Paul doesn't ride and I don't imbibe alcohol when riding, so the car was the only option.
Unfortunately, a check of the brewery's website before departure revealed that its taproom isn't currently open, so I suggested a longer sojourn to the Man of Kent Tavern & Cafe with a side trip to a different brewery, The Beer Diviner. Another friend has long bragged that the Man of Kent offers good food and a fine selection of beer on tap, and I've long wanted to find out.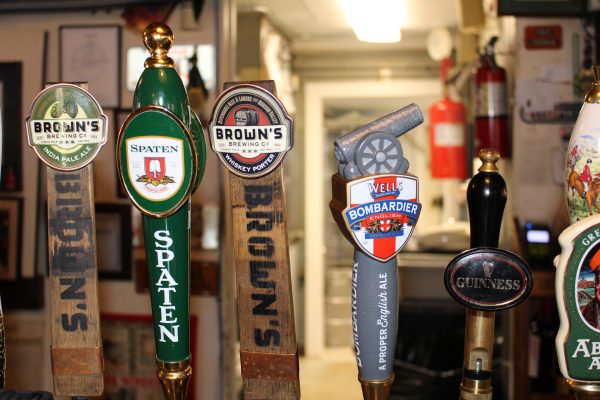 Man of Kent has 16 beers on tap, including some from England
Would it be worth the more than 70-mile jaunt up Route 22 from Millertown, NY? I wondered as the miles passed. MOK, as it's commonly called, is easy to find. Just take Route 22 north until it hits Route 7, take a left and the pub will soon appear on your left. While it was already past the lunch hour when we arrived, the place was still crowded. I found two spots at the bar while Paul grabbed a smoke of his pipe outside. Knowing Paul's preference in beer, I ordered a half-pint of an IPA for him and a whiskey porter for myself, both made by Brown's Brewing Co.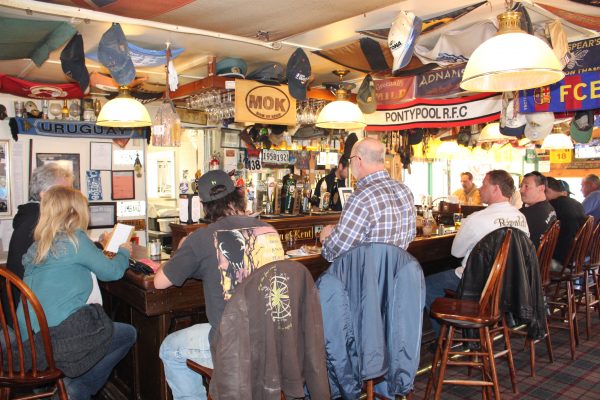 Paul quickly joined me and we settled in having learned from the attentive bartender that Brown's is a local brewery. First order of business was lunch. The menu is, to say the least, extensive. Besides the expected burgers, wraps and entrees, there are also "house favorites," which we opted for. Paul had The West Kent, while I had The East Kent (or was that vice versa?). Both are thickly-stacked sandwiches on grilled farmhouse bread, the former with ham, salami, provolone and the latter with turkey, salami and provolone.
Is this The West Kent or The East Kent?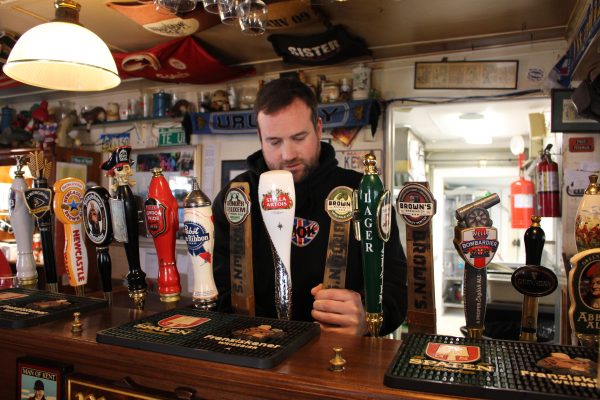 Noting a typo on the menu for The West Kent that mentions "ham" twice, we asked if the sandwich came with double meat? The bartender told us no. It's a good thing that it didn't because the delicious sandwich size was already huge. The bartender reported that most customers don't catch the error. Having been asked whether we wanted "chips," we also wondered whether the sandwiches would comes with fries (as potato chips are called in the U.K.) but, sadly, they didn't.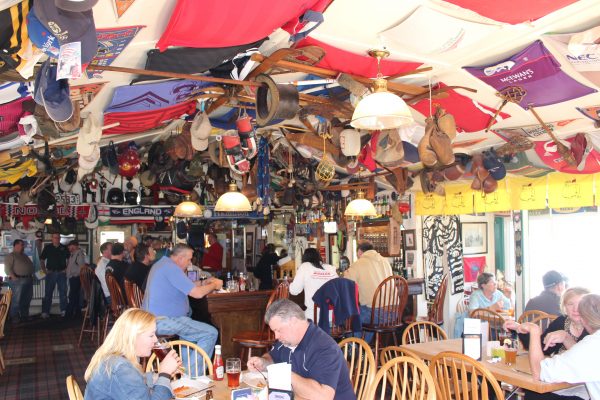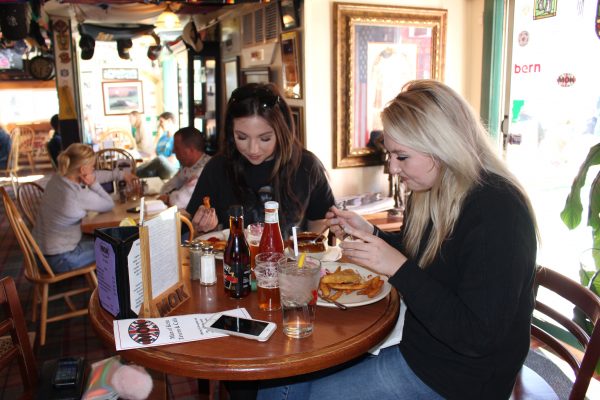 As we ate, we chatted with other patrons at the bar. To my right were Carlo Ripaldi of Hudson, NH and Keith O'Halloran of New Boston, NH. They'd ridden over for lunch – Carlo on a 2016 Victory Magnum and Keith on a 2014 Harley-Davidson Ultra Limited. "I've been here probably seven or eight times," said O'Halloran, adding that he comes for "the burgers and the people." Rinaldi was a first-timer and he noted, "It's an awesome location for a ride."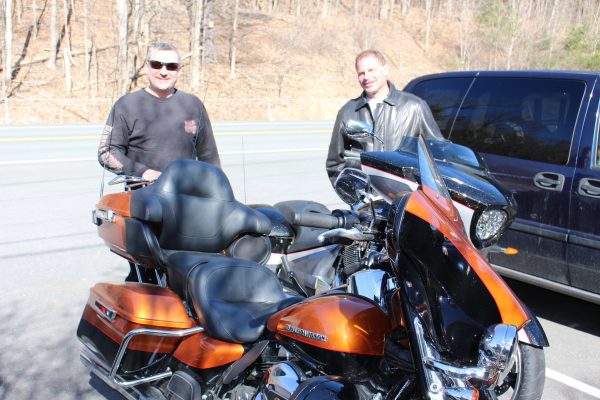 Keith O'Halloran and Carlo Ripaldi at Man of Kent
Having sampled a flight of beers with Paul and having downed a very tasty pint of Fuller's ESB, I was ready to treat Paul to The Beer Diviner – until the guy to Paul's left tipped us that Brown's Brewing Co. has a tasting room that's worth visiting. Following the tipster's careful directions that took through downtown Hoosick Falls on Route 22, we turned left north of town (just beyond the fire department) and went down a small side road that took us alongside a river to the brewery.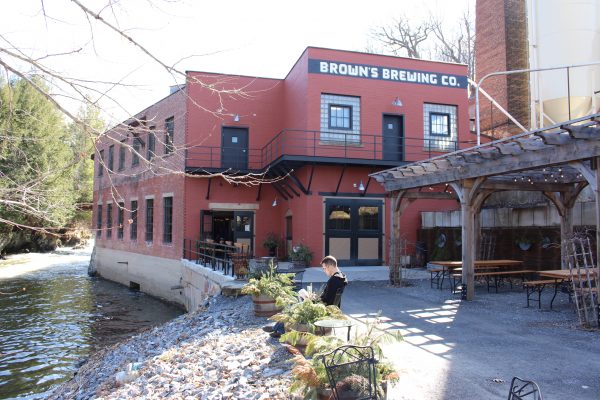 A customer enjoys a beer and a book by the river at Brown's Brewing Co.
What a discovery! Situated in a repurposed 19th Century mill, Brown's Brewery Co. has set up a spacious tasting room, staffed it with knowledgeable and patient employees, and created a spot where beer-lovers can spend hours – whether sitting outside listening to the water's roar or inside enjoying live music.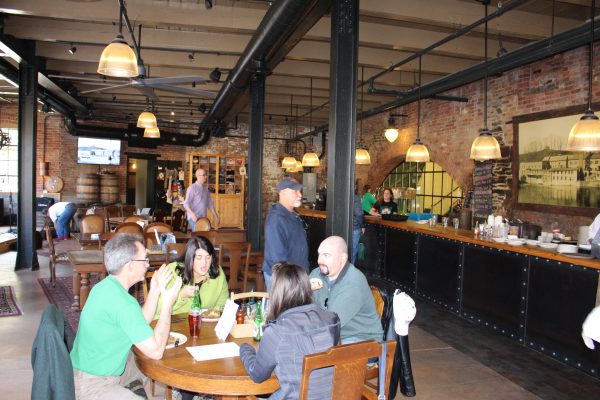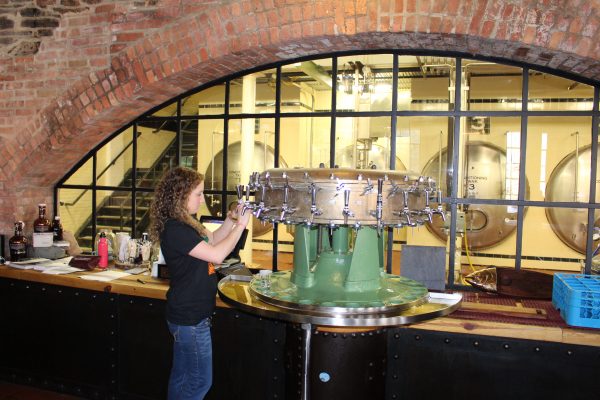 Once again, we tried a six-selection flight – opting for American Sour Red, Riveter IPA, Irish Amber Ale, Cherry Raspberry Ale, Pale Ale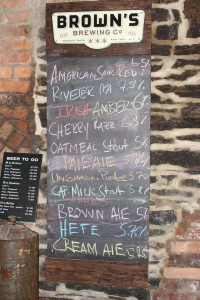 and Cream Ale. The American Sour Red has an intense "pop" upon first taste and a smooth finish. The Irish Amber Ale isn't robust, actually a tad thin in the flavor department, while the Cherry Raspberry Ale is subtle.
Before leaving, I bought a squealer of the American Sour Red and was told to be sure and rinse the bottle not just with water but with white vinegar or bleach once emptied to ensure that nothing grows inside afterward.
From Brown's, we backtracked some 18 miles down Route 22 to Bly Hollow Road and The Beer Diviner. Owned and operated by university professor-turned-farm brewer Dr. Jonathan Post, The Beer Diviner has its roots in Africa where Post grew up. There's a tale here that he's always willing to share.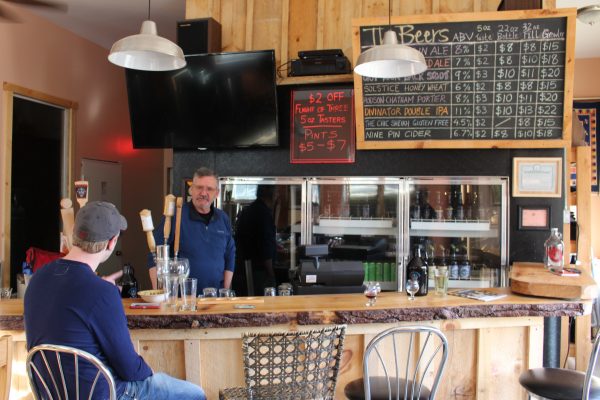 Dr. Jonathan Post behind the bar at The Beer Diviner 
Post formerly had a rather spartan tasting room on Route 22, but has recently built a bar and expansive deck at the farm where his beer – and now cider – are made. "I paid rent over there. Heating costs were huge," he said of his decision to move. His new location is much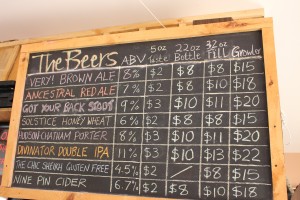 more scenic. "You can see the equipment. I can be brewing and serving at the bar at the same time," he added.
What intrigued me were his new cider blends. He plans five different ciders, all made from local apples. They are as-yet unnamed. I sampled one that eschewed sugar in favor of maple syrup in its creation. It was dry yet flavorful, so polished that it suggested it deserved to be consumed in a wine glass or snifter rather than a pint glass.
While Post wasn't yet offering cider for sale, I convinced him that I couldn't leave for home without taking a full growler with me. Thank you, thank you, thank you. I also bought a tasting snifter with the brewery's logo on it for the cider.
Having hit a trifecta in terms of watering holes worth visiting, Paul and I headed for home – our replenished bottles quietly tapping together in the back seat. With four hours of drive time factored in, our visit to MOK, Brown's Brewing Co. and The Beer Diviner took us almost eight hours – and was well worth it.