MILWAUKEE – A massive recall of nearly 251,000 motorcycles built between 2008 and 2011 by Harley-Davidson is being implemented overs fears that the brakes might fail. More than 30 ABS-equipped models are affected, including Road King, Road Glide, Electra Glide,   Street Glide, V-Rod and Night Rod models. Nearly 175,000 of those bikes are in the United States.
According to the National Highway Traffic Safety Administration, a valve within the ABS hydraulic control unit may become impaired by a build-up of deposits if owners fail to flush the brake fluid in accordance with the recommended two-year maintenance schedule. "These deposits may cause the valve … to stick, reducing braking ability and increasing the risk of a crash," the NHTSA reports.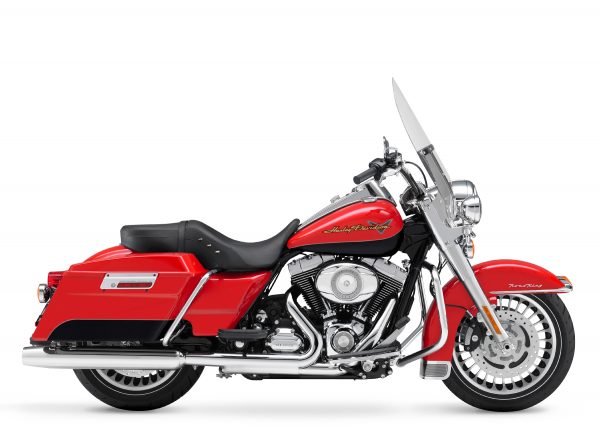 Harley-Davidson is notifying owners of the recall. Dealers will flush the entire brake system, adding new Platinum  Label DOT 4 brake fuid free of charge. The recall is expected to begin on Monday with 174,636 bikes in the U.S. impacted.
The NHTSA has been investigating brake problems with Harley-Davidson models since July 2016 after receiving 43 complaints that noted three crashes and injuries.
Affected by the recall are 2008 through 2011 Touring, CVO Touring and VSRC motorcycles equipped with anti-lock brakes (ABS), including Road King (FLHR), Road King Police (EFI) (FLHP), Road King Police (EFI) (FLHPE), Electra Glide Standard Police (EFI) (FLHTP), Electra Glide Classic (EFI) (FLHTC), Electra Glide Ultra Classic (EFI) (FLHTCU) and Street Glide (EFI) (FLHX), 2008 VROD (VRSCAWA), CVO Road King 4 (FLHRSE4), Night Rod (VRSCDA), CVO Ultra Classic 3 (FLHTCUSE3), Night Rod Special (VRSCDXA), 2008-2010 Road King Classic (EFI) (FLHRC), 2008-2009 Road Glide (EFI) (FLTR) and Electra Glide Standard (EFI) (FLHT).
Also, 2009-2010 V-Rod (VRSCAW), 2009 CVO Ultra Classic (FLHTCUSE4) and CVO Road Glide 3 (FLTRSE3), 2009-2011 Night Rod Special (VRSCDX) and V-Rod Muscle (VRSCF), 2010 CVO Ultra Classic 5 (FLHTCUSE5) and CVO Street Glide (FLHXSE), 2010-2011 Electra Glide Ultra Limited (FLHTK) and Road Glide Custom (FLTRX), 2011 Road Glide Ultra 103 (FLTRU103), Street Glide 103 (FLHX103), Road King Classic 103 (FLHRC103), CVO Ultra Classic 6 (FLHTCUSE6), CVO Road Glide Ultra (FLTRUSE), Road Glide Custom 103 (FLTRX103), and CVO Street Glide 2 (FLHXSE2) motorcycles.
Owners may contact Harley-Davidson customer service at 800-258-2464. Harley-Davidson recall number is 0171.