By Bud Wilkinson of RIDE-CT.com
Max BMW in Brookfield has undergone a makeover since Max Stratton bought what was Cliff's Cycle Revolution. The customer lounge and conference room has been eliminated. That
area is now parts storage, while the area that formerly housed the parts bins and shelves is now devoted to an expanded service area. A large parts counter has been installed in front of service. While the new look is a bit sterile, it certainly makes room for more motorcycle inventory and for having more parts available that can immediately be handed over to customers, as opposed to having to be ordered from BMW.
—
Was out at the "usual spot" – Toymaker's Cafe in Falls Village – yesterday morning and so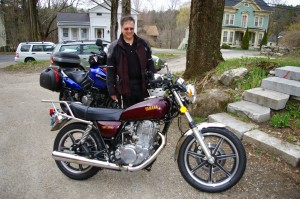 was John Schnabel of West Hartford, a first-time visitor to the place. He was riding a very nice 1980 Yamaha SR 500 that he's owned for two years. It only has 4,733 on the odometer. While RIDE-CT had never seen that model before, " Schnabel said, "There's a ton of them out there." He said they sell for anywhere from $500 to $3,500. He paid $3,000 for his his, which is easy to understand considering the bike's condition.